Amelié and Attila – Vespa Love in Paris
When Esther & Gabe of Bell Studio sent us these cute pictures of Amelié and Attila to feature them on our blog we were totally amazed! "What a romantic idea to go to the city of love just for an after-wedding portrait shooting!" we thought.
But the romance and the rustic charm of this beautiful city weren´t the only reasons for Amelié and Attila to choose Paris. Since they are a young and modern multicultural couple they decided to get married in Attilas hometown Budapest first and to shoot some romantic moments of love in Ameliés native town Paris afterwards.
Their red Italian Vespa is their absolute favourite and so they jumped on it and drove to Paris. And of course the Vespa became part of the shoot, too, as you can see on these adorable pictures shot by Esther & Gabe. The Vespa fitted so perfectly into the concept of Ameliés red shoes, the tulips, her floral wreath and her seducing lips!
We were especially fascinated by the interesting individual locations since they tried hard to avoid typical Parisian motives like the Eiffel Tower or the Louvre. Instead they strolled smitten through dreamy alleys and little cafés where Esther & Gabe of Bell Studio created this lovely world of pictures for us…
Translation: Marina Jenewein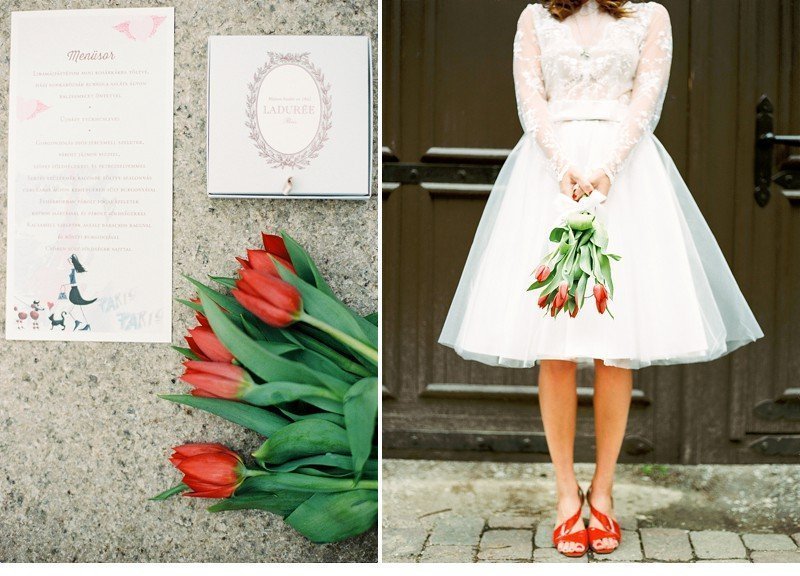 EMPFOHLEN IN UNSEREM SCHATZKISTCHEN:
Esther & Gabe – Bell Studio