Grace Loves Lace – The Golden Hour Collection
The adorable wedding gowns designed by the Australian lable Grace Loves Lace fascinates us for a very long time now.
A creative team of eleven talented visionaries created some lovely designs full of easiness and youthful freshness for todays modern and free thinking brides who want to accentuate their personality with a perfect styling and are not too aligned with tradition. The refined cuts are all handmade in the company owned studio in Queensland, Australia, and made of valuable fabrics from all over the world.
Recently Grace Loves Lace presented their new and beautiful collection "The Golden Hour". They set up a shooting among the breathtaking scenery of Kangaroo Island in South-Australia to eternalize the new models on amazing pictures.
By the way, you can order dresses of Grace Loves Lace online, they will be shipped worldwide.
Let´s get carried away by this heavenly paradise of pictures… And with these words we let you dive into the dreamy atmosphere of this shooting:
"The ground was hallowed, the air un-breathed. It felt ancient, holy even, so much so that we found ourselves speaking quietly, individually taking moments to pause and just look around, drinking of the landscape.
It was the kind of beauty that makes you want to weep tears of quenched wanderlust, the feeling of having seen, felt, and awoken to things you have experienced only in your souls' core and minds' eye. We trod carefully, every footprint de-materialising, immediately fading back to gold as we passed, as though Midas himself were rearranging everything back into glittering order.
The colours were beyond spectral colours, they were of another realm, unnamed, settling softly on our senses and rendering us spellbound, a catatonia of magnificence. Every direction was a leaping postcard of perfection, you could scarcely stop yourself from reaching out and caressing the atmosphere.
Here in this heavenly realm, the pregnancy of focus, vision, inspiration, and excruciatingly hard work came to fruition. We birthed nine long months of passion and dedication to bring to life our beautiful new collection, and it was the experience of our dreams.
With hand on heart we hope that it gives rise to a realised dream for you too, and as you plan your own hallowed wedding day, we aspire to join with you in making truly magical memories you will look fondly back upon all the days of your life."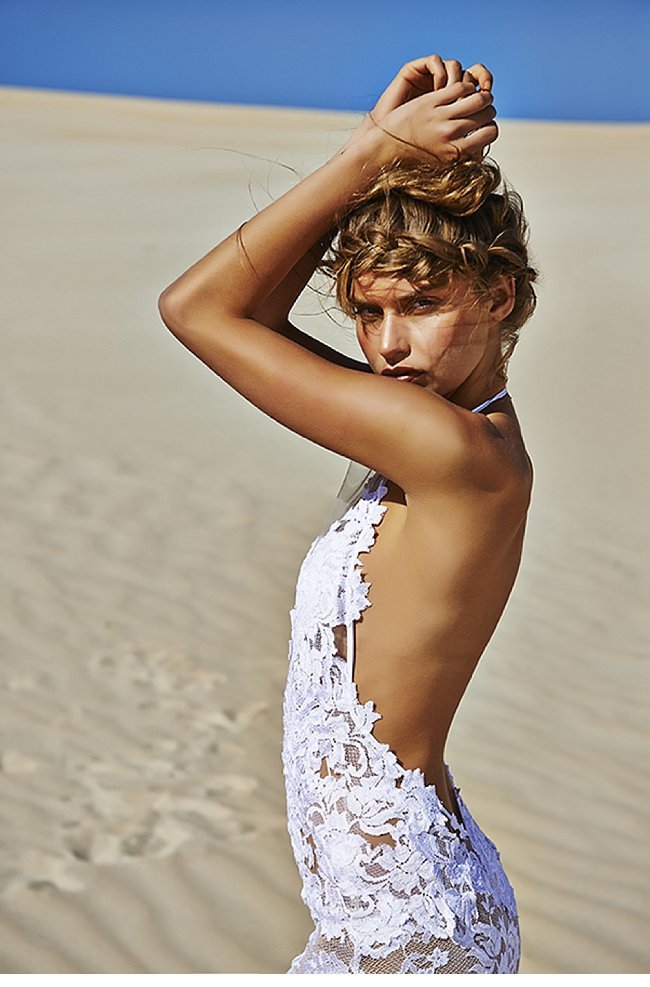 WEDDING GOWNS: Grace Loves Lace
PHOTOGRAPHER: Kane Skennar
ART DIRECTION: Megan Ziems
MODEL: Avril Alexander
HAIR + MAKE-UP: Melissa Smith (Bonjour Cheveux)
LOCATION: Kangaroo Island, South Australia