Jennifer and JOHN – Caribbean Beach-Wedding
We're more than happy to present you this dreamlike wedding on the Caribbean island St. Martin. The pictures shot by Pia Clodi from Peaches & Mint take us far, far away and leave prickling goosebumps behind.
The scenery that Jennifer and John chose for their wedding seems to rise from a picture book: tall palm trees, turquoise water and white sand as far as the eye can see.
Barefooted the bride and her bridesmaid's try to outside the tropical sun.
Pink like the brides shoes, green like the exotic vegetation and dark blue like the bridesmaid's dresses set this days tone.
Their ceremony at the beach is so romantic, Jennifer looks stunning in her white dreamlike dress of lace. And perfectly happy!
A kiss under palm trees seals their love for ever. Time seems to stand still.
The party is in full swing as the sun goes down. The widespread blossoms lay on the beach, together the newly-weds watch the sundown and listen to the sound of the waves. In the background you hear guests laughing and Caribbean music.
Get carried away with us by the breathtaking world of pictures shot by the talented photographer Pia Clodi from Peaches & Mint and get infected by this glorious atmosphere…
Translation: Marina Jenewein
EMPFOHLEN IN UNSEREM SCHATZKISTCHEN: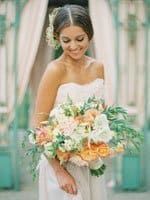 Peaches & Mint