La Dolce Vita
Don't you just love it when small ideas turn into big works of art? When talented artists become an unbeatable team? When tender visions become reality?
With great attention to detail and a sense of beauty and style, wedding planner Franziska Beyer of LOVLUX – Weddings Events arranged this versatile editorial. The atmospheric images of Vivid Symphony take us on a beautiful journey of discovery into a fantastic world of inspiration.
Franziska tells: "The idea of the "Dolce Vita" shooting came to me during the location visit of the wonderful Lichtenwalde Castle and Park in spring 2020. No sooner had I entered the park, seen the very well-kept, Mediterranean-style grounds and the breathtaking view over the countryside, than the idea of an Italy shoot was born. Elegant, romantic, playful but also noble and chic it should be – and with the right service providers, which I had brought on board, this idea was also successfully implemented.
In terms of color, shades of blue, especially dove blue, combined with gold, blush and green tones run through the concept. Anthuriums, delphinium (delphinium), English garden roses, hydrangeas and gladioli were the main floral players, perfectly blending them into the overall picture in terms of color and shape. However, olive branches, rosemary and various herbs must not be missing from a Dolce Vita shoot – they formed the green basis to make the flowery stars shine. To soften the rich green a bit, eucalyptus was also used, which brought in the delicate blue-gray component.
The choice of the perfect bridal model was quickly made with Maria – her Mediterranean roots, beautiful and sensual face and dark, long hair reflected exactly the type of bride I wanted for this shoot. She was the perfect choice, which is easy to see from the stunning shots of her in our dream dress. By the way, the wedding dress was love at first sight – at least at first with the bridal outfitter and when we all saw it dressed at the fitting, the choice was quickly made – classy, elegant, timeless and almost royal. This Aire Barcelona dress combines the royal elegance of Megan, with the touch of romance and playfulness in the form of the lace top with lace sleeves that this Italy shoot needed.
Our gorgeous Bridesmaids also complemented the scene perfectly in their bridesmaid dresses from Twobirds New York – in soft blue, of course, to round out the theme beautifully."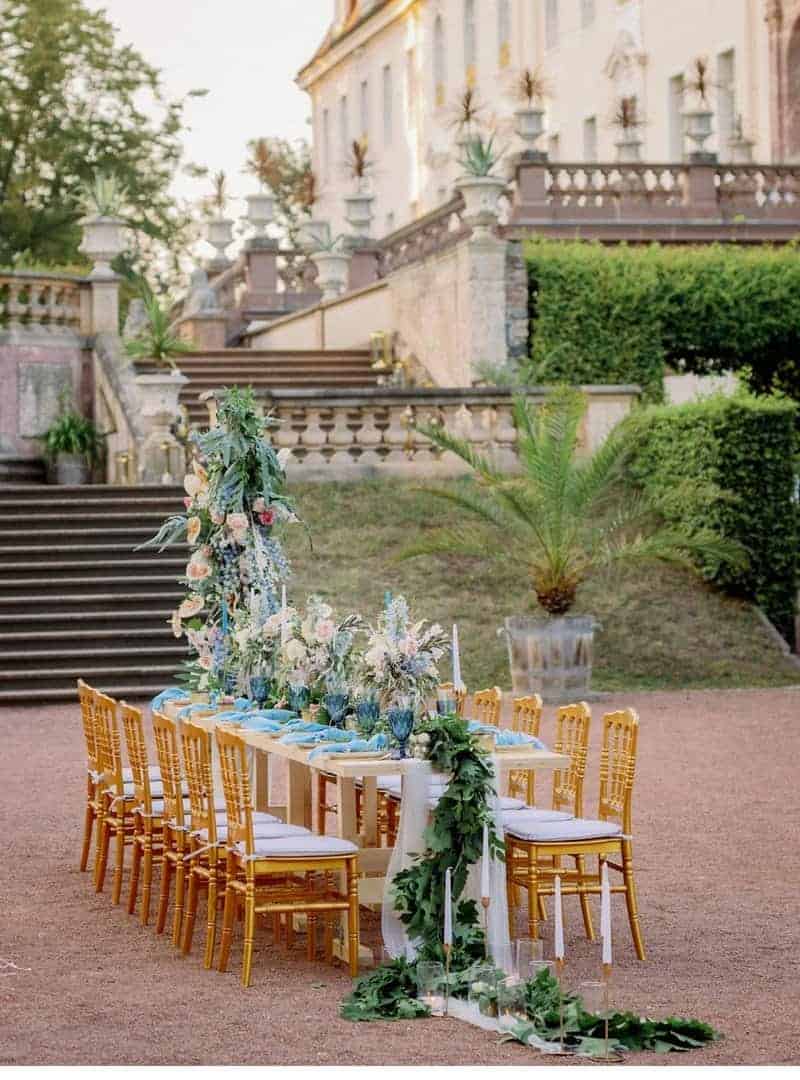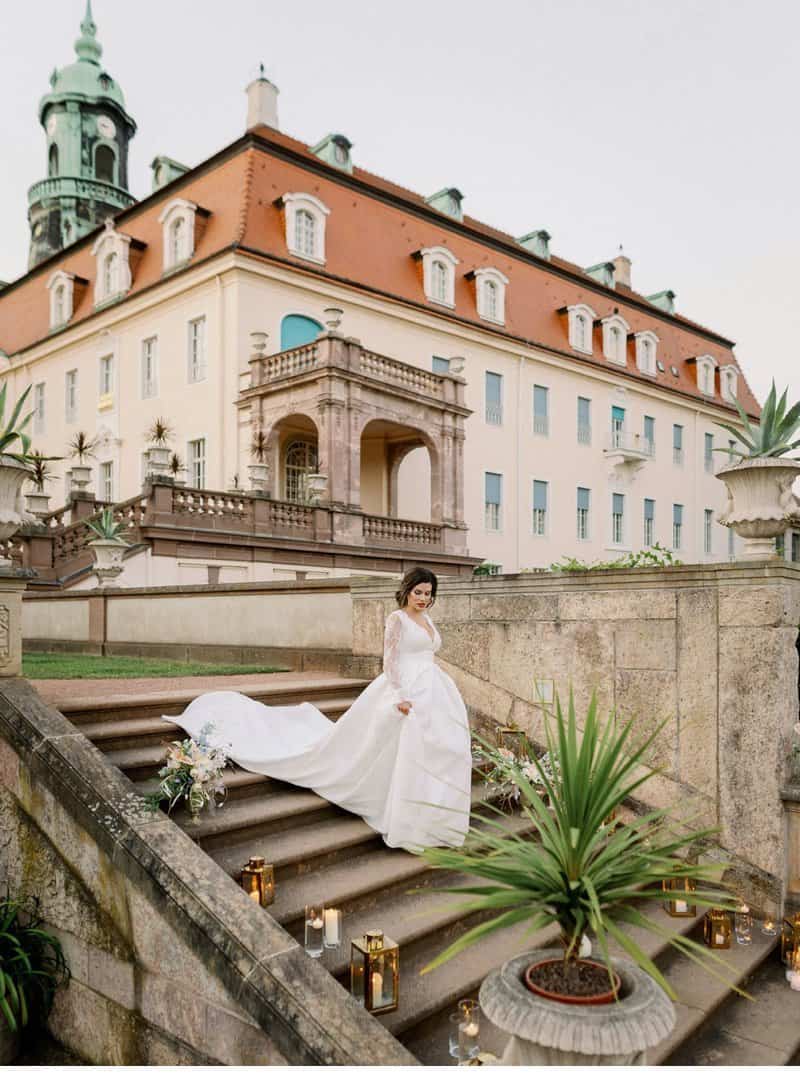 Photography: Vivid Symphony
Planning & Concept: LOVLUX – Weddings Events
Flower Design: Kupsch Design
Location: Lichtenwalde Castle & Park/Restaurant Vitzthum
Bridal Gown: Aire Barcelona
Bridemaid dresses: Twobirds New York
Bridal Boutique: Blush & Bleu
Hair and Make-up: LookUnik
Cake and Sweet Table: Fanny`s Manufaktur
Stationery: Momentini
Fine Art Flatlay Styling & Tools/Props: Marry & Lilo
Rings: Jeweler Sonntag & Sohn
Earrings: Della Bella Gioielli
Ring Box: The Mrs. Box
Shoes: Something Bleu
Models: Maria di Benedetto, Cindy Friedemann, Sandra Niebisch