Luminous Autumn Inspirations
Who doesn´t enjoy strolling through romantic autumnal woods? Nature prepares herself for the upcoming winter season and covers the soft ground with colorful leaves. Last rays of sunlight find their ways through the crowns, tickeling our noses and warming our hearts.
Even though it´s winter these impressive pictures shot by Tanja Wesel by Tausenschön Photography also create heartwarming moments. Luminous orange, juicy green, dark red and warm shades of brown delight our eyes and bring color into grey winter days.
With fresh fruits, adorable flowers and natural elements like nuts and leaves that nature provided – all lovingly draped on wooden boxes and etageres – they created a wonderfully dreamy world that invites us to stay and nibble.
Special highlights were the costly head pieces designed by La Chia. Whether you´re looking for a little floral piece of hair decoration or an outstanding fascinator – La Chias accessories look stunning and turn every bridal style into something special.
Now let´s get inspired by the luscious colors and the gorgeous details to escape for a moment from a sad winter´s day.
Translation: Marina Jenewein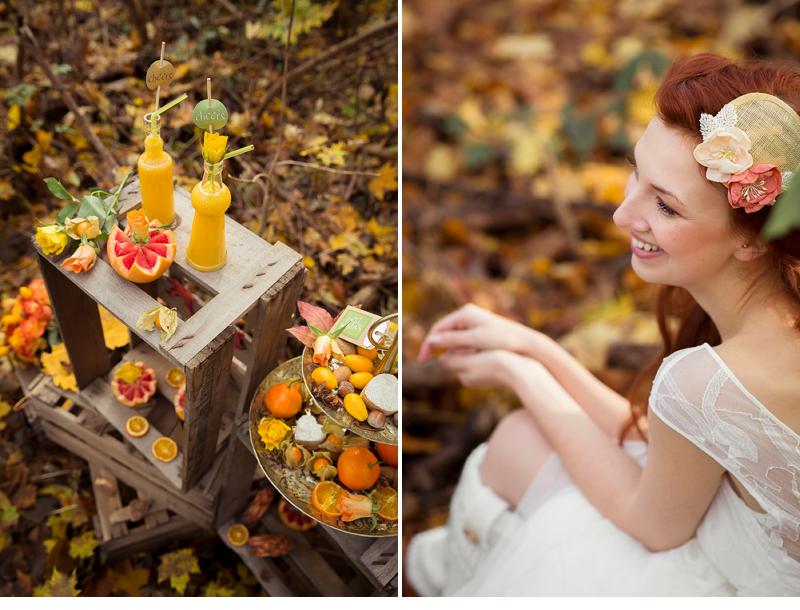 FOTOGRAFIE: Tanja Wesel – Tausendschön Photographie
HAARSCHMUCK: La Chia
MAKE-UP UND HAARE: Maskenraum
KLEID: Anna Kara "Clementine" von perera/rüsche
PAPETERIE: Hakuuna
ACCESSOIRES: shopandmarry
MODEL: Mira
EMPFOHLEN IN UNSEREM SCHATZKISTCHEN:
La Chia Maskenraum perera/rüsche