Perfect Wedding-Makeup With Airbrush
I´m sure you already heard of airbrush make-up. Make-up artist Angie Winkelbauer now tells us everything about the advantage that this fascinating technique offers and why it´s especially perfect for your wedding day:
"My name is Angie and I´m a passionate make-up artist. It has always been the job of my dreams and I´m more than happy this dream came true.
A bride needs to look stunning on her wedding day. But foremost she needs to be herself that day! For me as make-up artist it is important to know what type of woman she is – natural, glamorous or extravagant? In my opinion as a bride you should look like you usually do – just a little more expressive!
Therefor it is very important to choose the right make-up.
I was looking for something new when I encountered the airbrush make-up technique. I´m absolutely thrilled by this kind of make-up because it is sprayed on with a spray gun like a magic wand.
Airbrush make-up is usually based on silicon and grants a spotless complexion.
Your skin appears smooth and eventual skin blemish, enlarged pores and wrinkles disappear. The spray gun generates a fine spray mist that creates a silky, sheer finish on your face – despite the sensational covering power your natural glow remains. And that´s what fascinates me most about this technique!
Women with acne, pigmented moles or other skin abnormalities know how difficult it is to cover their skin with a common foundation perfectly. But with airbrush make-up it is unbelievably easy to coat fine lines and wrinkles as well as pimples and other abnormalities within minutes.
It is 7 times higher pigmented than other types of foundation are. That´s why you need less color that covers better – besides it is perfectly suited for women with sensitive skin and a hygienic option to brushes and sponges.
Dry airbrush make-up is smudge- and tear-proof and lasts up to 16 hours!
A face peeling 1-2 days before the wedding will bring your make-up even more to bear.
The right type of skincare is the determining factor for every type of make-up. No make-up will look perfect without the right preperation of the skin.
Cleansing water, moisturizer and eye creme are the indispensable base.
A primer perfectly prepares your skin for the airbrush-application and enables me to create an even more evenly result while a concealer covers eventual eye circles and grants your eyes a beautiful freshness.
As soon as the airbrush make-up is applied I fix it with a very delicate powder to ensure its durability for the whole day and to deaden your complexion a little.
Afterwards a bronzer will give your face a tiny "sunkiss". With a bronzer and highlighter I outline your face to highlight its amenities.
Now there´s nothing standing in your way any more for a perfect wedding make-up."
Photographer Melanie Nedelko attended Angie Winkelbauer at an airbrush make-up appointment with her camera. Look at her pictures to get a better impression of this fascinating make-up technique. By the way Angie also created this beautiful hairstyle…
Translation: Marina Jenewein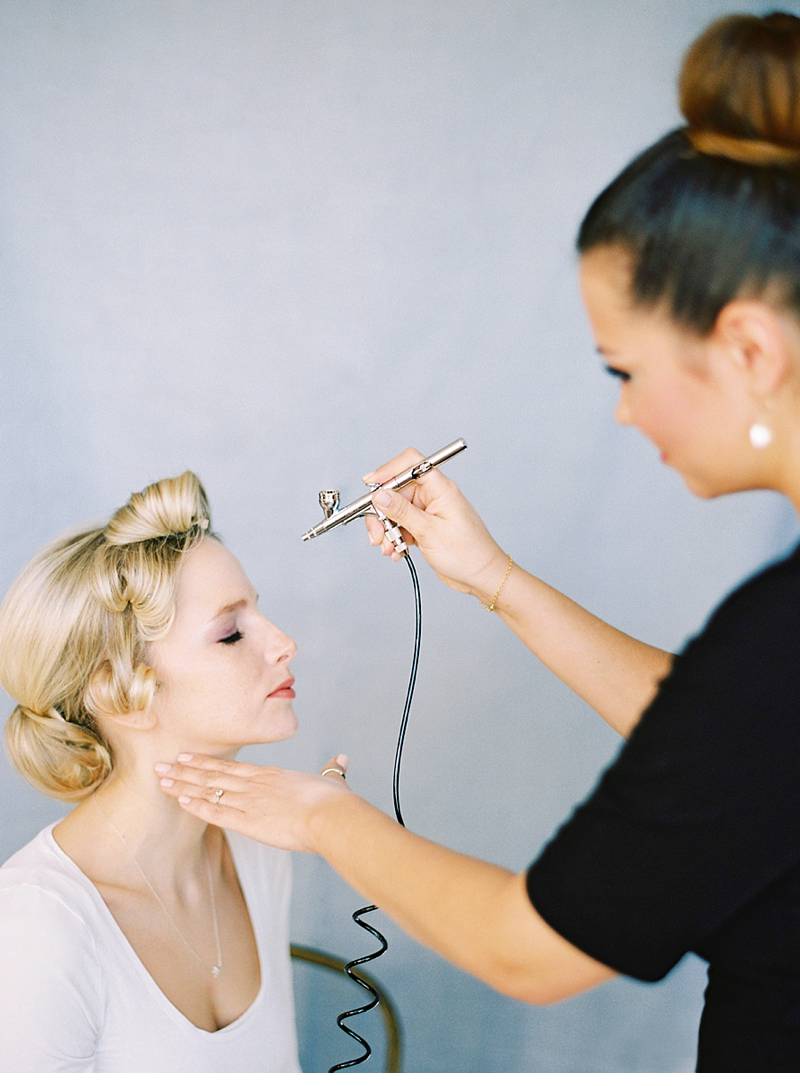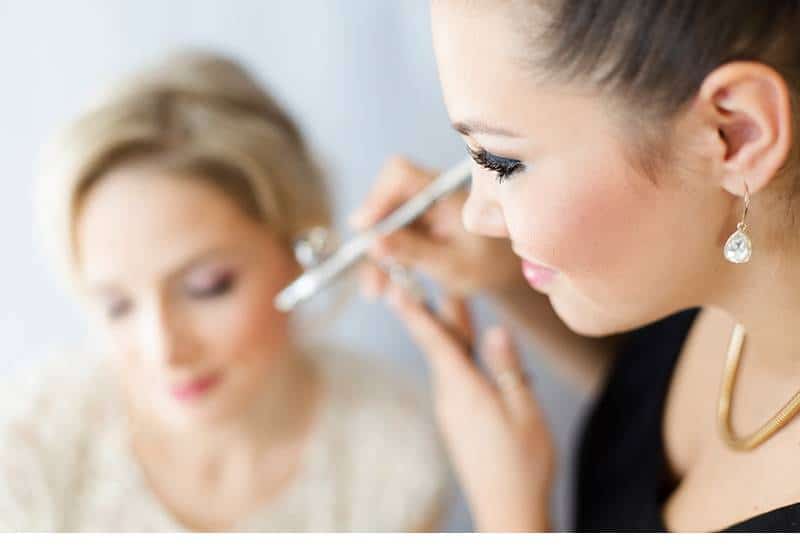 MAKE UP ARTIST ANGIE
Angelika Winkelbauer
+436505432676
Email: winkelbauer.angelika@gmx.at
Facebook: www.facebook.com/angie.winkelbauer
Instagram: www.instagram.at/angiemakeupartist