Sabine and Daniel – Romance At The Lake Wolfgangsee
Among the beautiful mountainside of the Salzkammergut, right next to the gleaming and crystal clear lake Wolfgangsee, Sabine and Daniel exchanged their vows and promised to love and cherish each other for the rest of their lives.
Daniels proposal already could not have been more romantic. On their third anniversary he decorated the whole apartment with candles, arranged fifty red roses on the table and formed a huge heart out of countless roses. In the middle he put a little valuable box and wrote "Marry Me" with rose petals. Moved to tears Sabine was not able to say more than "Yes"…
Now 1,5 years later the bridal couple celebrated the party of their lives: classical, traditional, lovingly and organized with a lot of passion.
Lots of DIY elements – a costly co-operation of the couple and their friends and families – granted their ceremony an individual charm.
Green, white and light pink fit harmonically into the location and became an unbeatable color-trio.
Sabine wore a plain dress with lots of tulle. A golden belt gave the dress a special glance. A long veil completed her gorgeous style. Luck and satisfaction filled the air as the bridal couple exchanged deep and intense looks.
Tender peonies adorned the pretty wedding-table, afterwards everyone was welcome to gormandize at the green and white decorated candy bar.
Surrounded by an ocean of lights and sparklers they shaked a leg to a traditional wedding dance and floated into their luck.
Let´s get becharmed and inspired by the romantic pictures shot by photographer Thomas Steibl…
Translation: Marina Jenewein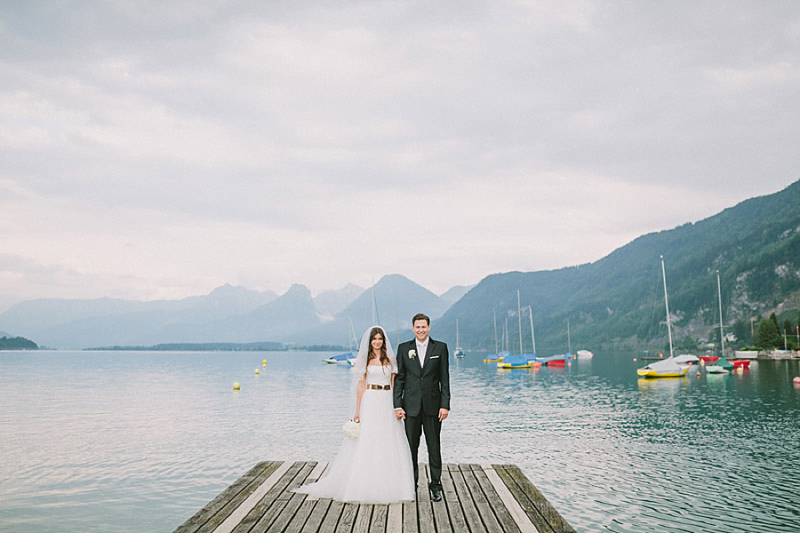 FOTOGRAFIE: Thomas Steibl
BRAUTKLEID: Ladybird
ANZUG BRÄUTIGAM: maßgeschneiderter Anzug + Hemd von Rene Schielin
HAARE UND MAKE-UP: Frisör Jörg Durstmülller
FLORISTIK: Blumenwerkstatt Röthlin, Wels
TORTE: Mayer Schokoladen
Cake Pops: Silvis Cake Pops
DEKORATION: Tischkult Wels
LOCATION: Hotel Gasthof zur Post
EMPFOHLEN IN UNSEREM SCHATZKISTCHEN:
Thomas Steibl