Shelby and Chris – Southern Chic Wedding
It was love at first sight when Shelby met Chris during her business trip to New York City, and only four months later, moved from Oregon to New York to be by her lovers side. For Chris, it was equally just as clear, and not long after,in a circle of family and friends, he asked for Shelby's hand in marriage.
As special as the proposal, should also be their wedding, and what better way to commemorate this memorable event, than as a spectacular party, and not just a traditional wedding.
The Lowndes Grove Plantation near the Ashley River, where the guests can appreciate the famous southern flair and atmosphere of the Charleston Era, was simply made for their September wedding.
Shelby proves that a bride does not need a white dress to celebrate her big day. Instead, she wears a beautiful blue robe and fantastic stiletto heels. Her high set chignon and white veil, accent her outfit perfectly.
The ceremony takes place outside, overlooking the river, where the guests are privileged to witness the couple pledge their vows to one another, and seal it with a kiss.
For the wedding dinner, the couple organized a fixed seating plan with a simple table setting. The guests are served on vintage dishes, an array of specialties: shrimp, sushi, pasta, Paella, salads and as a sweet topper, the gorgeous wedding cake.
Another highlight is undoubtedly the outdoor dance floor with the mobile bar. The drink menu is presented on a vintage mirror, and there are numerous pieces of retro style lounge furniture in brown leather, and an impressive blue or classic red velvet, to ensure the ultimate comfort level for their guests.
After sunset, under the star like chain lights and old chandelier, Shelby and Chris share their first dance. Only the DJ is able to interrupt the newlyweds, and with his uplifting beats, lure the rest of the wedding party to the dance floor, where they dance the night away.
The breathtaking pictures shot by the exceptional artists Sean Money + Elizabeth Fay captivated us with the many details and spread pure fascination. Let's get carried away by this magical world of pictures!
Translation: Heather Treven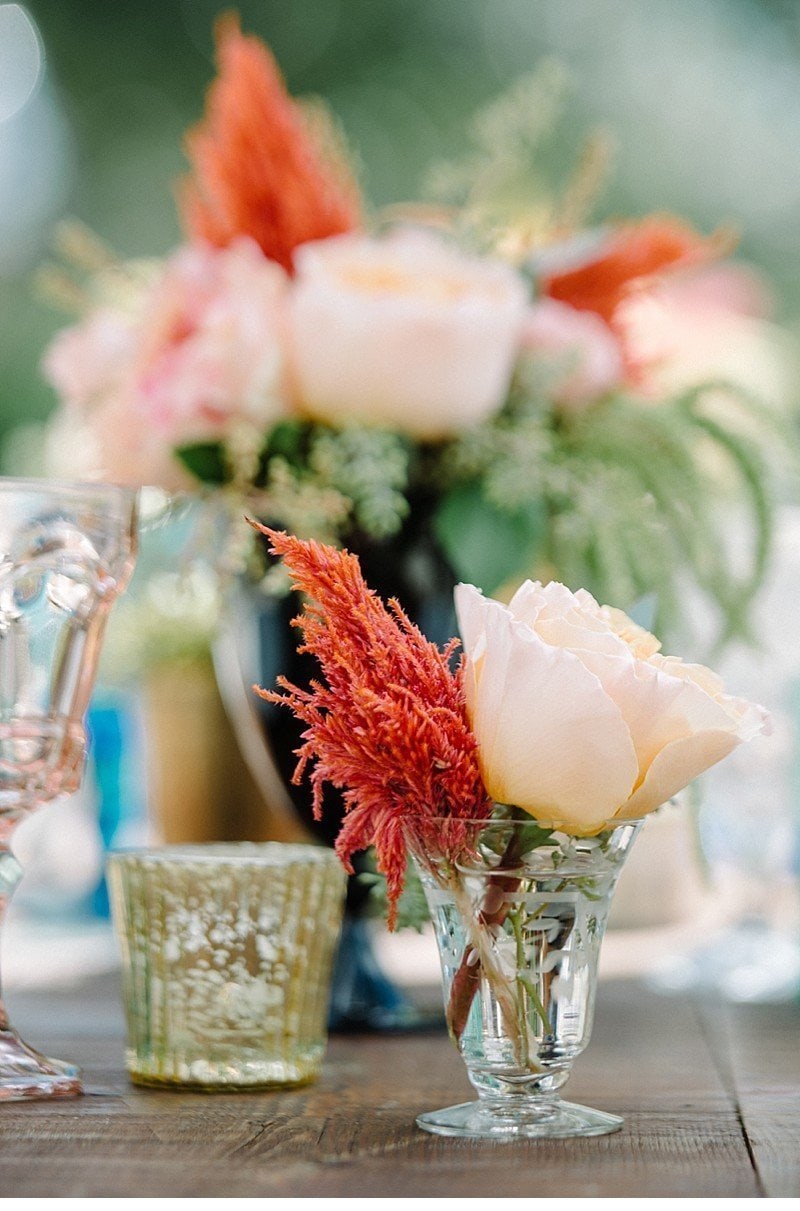 FOTOGRAFIE: Sean Money + Elizabeth Fay
LOCATION: Lowndes Grove Plantation
TAGESKOORDINATION: Julie Romero
FLORISTIK: Out of Hand
CATERING: Fish
DEKORATION UND MIETMÖBEL: Ooh! Events
GESCHIRR UND GLASWARE: Polished
PAPETERIE: Sincerely Yours, Diane
BRAUTKLEID: YolanCris von London Bride Couture
BRAUTJUNGFERNKLEIDER: BCBGMAXAZRIA und Roland Mouret
HAARE: Justine Porteraj
MAKE-UP: Pamela Lesch Make-up
ANZÜGE: Hugo Boss
ZELT UND TANZFLÄCHE: Snyder Rental
MUSIK: DJ Wade of Other Brother Entertainment
BEFÖRDERUNG: A Charleston Wedding