Sunny moments – endless love
Summers are bright, blitheful and shine colorfully in all our favourite colors. But when someones favourite color is yellow then love gleams in this very color and spreads cheerfulness, easiness and happiness!
By creating this romantic and playful wedding shoot on a beautiful summers day at the "Träumerei" this wonderfully creative team showed that every color has many different facets. The flower arrangements, the decoration, the dresses, the paper-work and even the sweets – everything was yellow and fitted perfectly into this romantic location. In combination with the green trees and bushes, the rustic wooden chairs, the blazing pompoms and various flowers like buttercups, dianthus and sunflowers the scenery got a very romantic atmosphere.
While bride Marie got her summerly make-up and couldn´t wait to get into her long wedding gown groom Max chatted laid-back with his groomsman in between the vineyards. There´s where we espied the first yellow highlights: yolkcolored socks on the grooms feet, a button on the groomsmans´ lapel and pins which perfectly matched the black bow ties and the cool suspenders.
Besides that sunglasses were waiting for the guests for "shiny looks into luck", paper-fans for "a cool head" and adorable honey jars as little presents for the guests because "love floats".
Thanks to the save-the-date- and invitation-cards guests could already assume that this wedding was going to be pretty yellow. The whole paper-work was designed in endless shades of yellow, playful forms and a selection of different paper variations.
This concept also continued at the sweet-table where lots of delicious treats were organized: sweet lemon cake pops which showed the "way into luck", vanilla love cupcakes for "little breaks" and "wedding cookies" as sweet little kisses let the hearts melt… Marie bedazzled in her long robe: subtle strapes layed on her tender shoulders and pretty lace accentuated her cleavage.
Around her waist she wore a yellow bow and her loosely pinned up hair was peppered with a floral chaplet made of yellow and white roses, dianthuses and freesias which brought her beautiful golden curls out. The bridal bouquet matches her chaplet perfectly although it was complemented with flowers like lysianthus, craspedia and echinacea.
Even her bridesmaid was enchanted by the bouquet which also matched with her short yellow dress and her tender hair decoration.
Marie and Max got married in an open-air pavilion where they exchanged the rings and had "golden moments" in the confetti-rain. Happily married they cut the four-storied "white chocolate wedding cake" which was adorned with handmade sugar blossoms. Together with their guests they celebrated, laughed and cried happy tears troughout the night…
Everywhere at this styled-shoot we discovered yellow stylistic elements like the decorated lemons right next to the lemonade. Romantic kisses among the wineyards shined with the evening-sun, moments of pure luck were to feel and last but not least they sent a helium balloon with wish-cards into the universe…
With these pictures photographer Marie Bleyer once again proofed her knack for photography! Skillfully she put the bridal couple into the "yellow" light and made us feel the impressive ambience of the "Träumerei". Her grasp for details also showed the "love for details" of all the involved artists.
To activate the releaser at the right moment is often difficult. But if an organisation talent and wedding planner like Sabrina Ullman – The Perfect Day takes care of everything before, during and after the shoot nothing can go wrong.
Translation: Marina Jenewein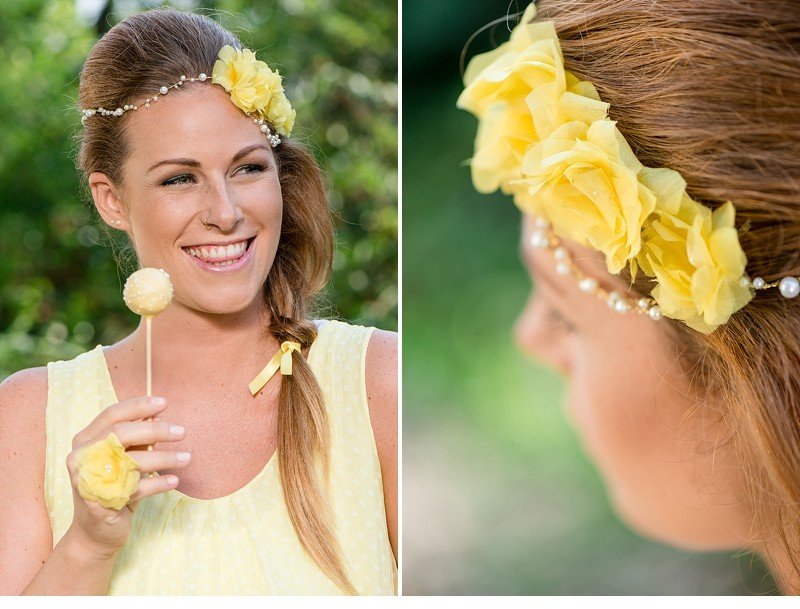 … und hier noch das hinreißende Making-of Video von Simon Casetti mit vielen traumhaften Details – und einfach süß, dass sogar das gesamte Team hinter der Kamera gelbe Akzente in der Kleidung hatte…. das ist wohl Leidenschaft!
ORGANISATION & KONZEPT: Sabrina Ullmann -The Perfect Day
FOTOGRAFIE: Marie Bleyer
MAKING OF VIDEO: Simon Casetti
DEKORATION & INSZENIERUNG: Katharina Kimm – Heyday
PAPETERIE: Evi Strobl – Project-Pinpoint
FLORISTIK: Evelyn Kühr – Lebendiges Gestalten
PATISSERIE: Dagmar Pauser –KUCHENmitSTIL
MAKE-UP & HAARE: Alexandra Condopoulos
HEADPIECES & SCHMUCK: Edita Rosenrot
BRAUTKLEID & BRAUTSCHUHE: Heyday
RINGE: Rosa Mar Lene – Rosa Marlene
STORY UND TEXTE DER PAPETERIE: Angelika Schön – Schöngeist
LOCATION: Die Träumerei
MODELS: Helene, Tamara, Aljoscha, Alexander
EMPFOHLEN IN UNSEREM SCHATZKISTCHEN:
Heyday Project-Pinpoint KUCHENmitSTIL Alexandra Condopoulos