Tender Persephone bridal shoot
The picture artist Kelly Sauer always dreamt of a tender Grecian-styled gown.
When she met boudoir designer Janie of Sarafina Dreams she got the opportunity to catch this dream on breathtaking pictures.
From Kelly Sauer: "A passerby on a bicycle gave this shoot its name – "What is this?" he asked, "Persephone rising?" And so this little DIY editorial shoot became our "Persephone Spring," the story of a young girl gone Grecian goddess on a lovely morning in the early spring, when the pussywillows were in bloom along with all her hopes and dreams.
The mythical Persephone was the daughter of Zeus, associated with the newness of spring, and she is often portrayed robed, carrying a sheaf of wheat. Replacing Persephone's sheaf of wheat with an armful of Jersey willows (also known as pussywillows), the team threaded gold and grey and the soft, elegant pink of a few orchid blossoms into an exquisite ode to the fresh inspiration spring brings on after a long, cool winter.
Her sweet model brought the perfect, girlish honesty and youth to the picture, creating a nuanced, natural feeling for the bride who loves organic details and hopes to create her own wedding with the sweetest – and simplest – of her girlhood dreams."
These poetic pictures shot by the exceptional artist Kelly Sauer put beauty in perspective and take us to a place somewhere between reality and seventh heaven.
Translation: Marina Jenewein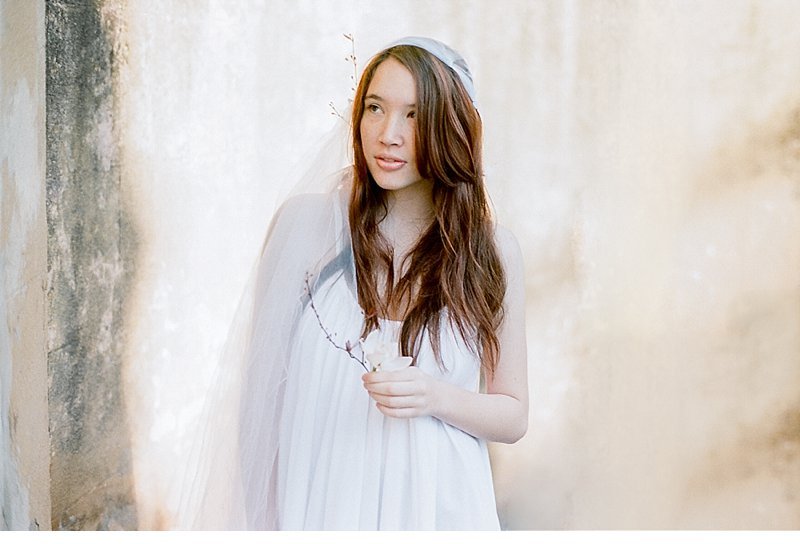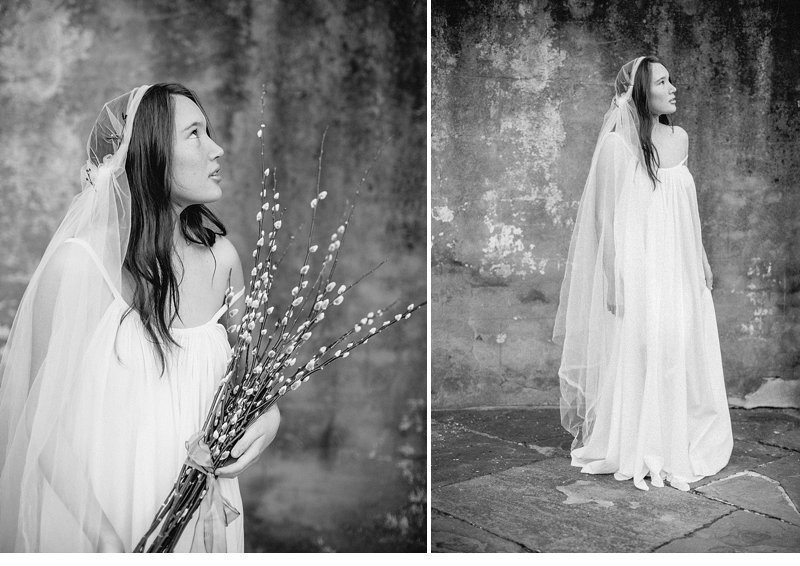 PHOTOGRAPHY: Exquisitrie by Kelly Sauer
FILM LAB: Richard Photo Lab
GOWN: Sarafina Dreams
EARRINGS: World Market
VEIL, HEADPIECE & BAREFOOT SANDAL: DIY
LOCATION: Private Residence, Charleston, South Carolina
STYLING & FLORALS: Kelly Sauer Ltd. Co.
STYLING ASSISTANT: Pam Crocker
MODEL: Emily S., Millie Lewis Models & Talent