The Enchanted Forest – charming and magical
Nothing could be more magical than a hidden place in an enchanted pine forest, shortly after sunset, when dwarfish creatures of nature appear and dance through the night.
Could it be the love potion of fairies and goblins, responsible for the inspiration of this stunning shoot?
With a great deal of imagination, passion and attention to detail, the talented team of "The Pretty Blog" have succeeded with such a tremendous concept and their ideas skillfully transposed by photographer Yolandé Marx, triggers in us a veritable 'I DO' euphoria.
The selected color scheme reminds us of still green foliage with brittle, yellow-brown accents that add a touch of Autumn feeling. Pillows and woven carpets with different patterns – checkered or flowery – are spread over one another on the forest floor and covered with pine needles to create a cozy haven.
Using only simple tools and a white lace tablecloth, a tent is pitched. Just as easily, unconventionally and therefore perfectly fitting, the flower arrangements blend effortlessly into the concept.
In addition to her beautiful dress and gossamer veil, the bride wears a garland of flowers, which enhances her already extraordinary appearance.
The equipment and accessories for the feast, were wildly thrown together, to underline the desired effect: wooden benches and a wooden table are set with vintage and unique cutlery with rustic wooden handles, along with charming stationary, all of which is bursting with with detail.
The beautiful images of Yolandé Marx provides loose bohemian lifestyle, equally as well as, the rustic style, which is currently finding its way into the wedding trends.
Translation: Heather Treven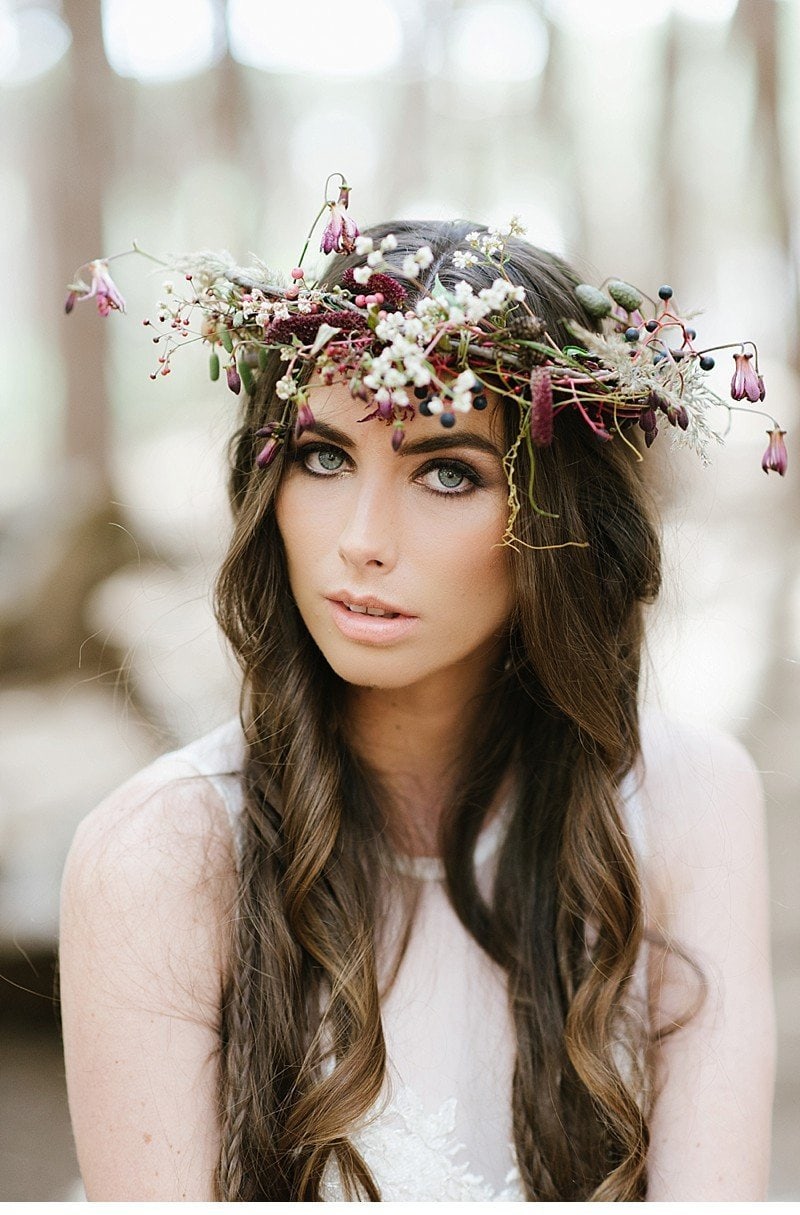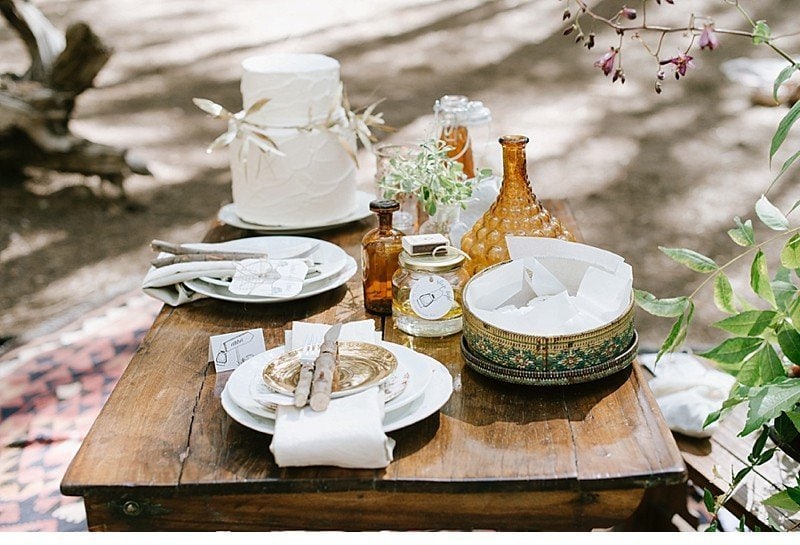 PHOTOGRAPHER: Yolandé Marx
PRODUCTION & DESIGN: Anneke Roux & Nicola Pretorius from The Pretty Blog
DRESSES: Rosenwerth
LEATHER ACCESSOIRES: Strauss Leather
HAIR: Sanmarie
MAKE-UP: Alicia Buckle
FLOWERS: Flowers in the Foyer
CAKES: Nelle Cakes
JEWELLERY: Dear Rae and Ayala Bar
COOKIES: Food by Preserve
STATIONARY: Sugarpenguin
CREAM PLATES & NAPKINS: Gister
PLATES, TIN, COLOURED VASES: Nest Vintage Shop
KELIM: Okasie
VENUE: Mountain Breeze Resort
MODELS: Helen Blaine & Jade Ashton Scully