The fabulous world of the "Kaffeeschwestern"
Today we are more than happy to dive with you into the wonderful porcelain world of Brigitte and Ursula – Die Kaffeeschwestern.
They share their passion for coffee, old porcelain and beautiful dinnerware and love strolling across flea markets and old garrets looking for treasures of old times. By now they have a remarkable collection of nostalgic dinnerware.
Their passion became their job and so they opened a porcelain service rental.
At the "Kaffeeschwestern" you can now get either nice english Bone China porcalain or the classy porcelain mostly from german and bohemian manufactories and the times between the art-deco era and the 1960s.
Adorable coffee-, mocca- and tea-cups and -cans, sugarbowls, milk-cans, cake-plates, etageres or plates with floral motives in different sizes and colors, with ornaments, golden edges, in pastel colors or pure white will get your wedding an unique flair.
All place setting can be easily combined with each other or mixed and matched individually. Especially the "mix and match" of the two styles creates a special allurement of this vintage dinnerware.
Besides the porcelain Brigitte and Ursula offer accessories for candybars or sweettables, lace doilies, vases, bird-cages, old wine-boxes and many things more.
We are totally impressed by this idea and the zest for action of the two girls and their visions which they realize with so much love.
Let's get inspired now by "Die Kaffeeschwestern" lovely porcelain and the dreamlike pictures shot by Manuela Kalupar.
Translation: Marina Jenewein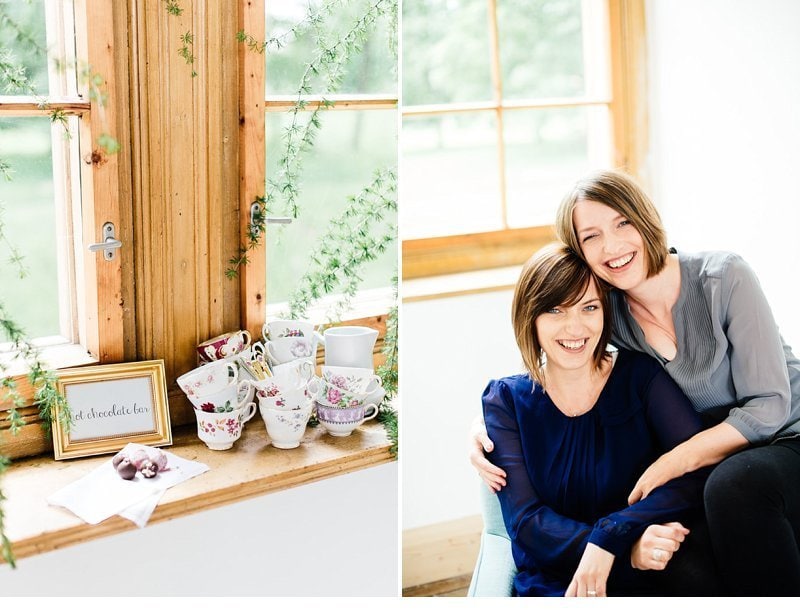 VINTAGEGESCHIRR: Die Kaffeeschwestern
FOTOGRAFIE: Manuela Kalupar Photography
TORTEN UND GEBÄCK: Silvie's Cake Pops
FLORISTIK: Naturfabrik
PAPETERIE: Papierhimmel
WIMPELGIRLANDEN: Mademoiselle Fée
MAKE-UP: Feengleich Make-up
EMPFOHLEN IN UNSEREM SCHATZKISTCHEN:
Manuela Kalupar Papierhimmel