Unforgetable moments: getting ready
Getting ready is probably one of the most special moments in every brides´ life. Full of anticipation and with butterflies in her stomach she pays the best of attention to her styling.
What a lucky feeling to celebrate these moments with a best friend and to share sparklilng wine and delicious sweets with her…
Elisabeth Feldner of die Elfe Photography, the designer of hair decoration Niely Hoetsch and a carefully elected team of fantastic service providers created an extraordinary shooting concerning this topic.
We are more than happy to take you on expedition now and to marvel with you at the many inspiring details.
Within the Deluxe Suite of the Grand Hotel Vienna they found the perfect scenery for the two girls who are getting ready for their big day.
Perfectly styled hair and a tender make-up were as important as the perfectly chosen lingerie underneath the wedding gown. Adorable hair decoration, seducing shoes and breathtakingly beautiful dresses created a sensual look and emanated delicate fascination.
Classy paper-work and amazingly arranged floral decoration formed a charming and ceremonious atmosphere.
The variety of wedding-inspirations and the impressive world of pictures shot by die Elfe Photography have such a magical attraction that captivated us right away…
Translation: Marina Jenewein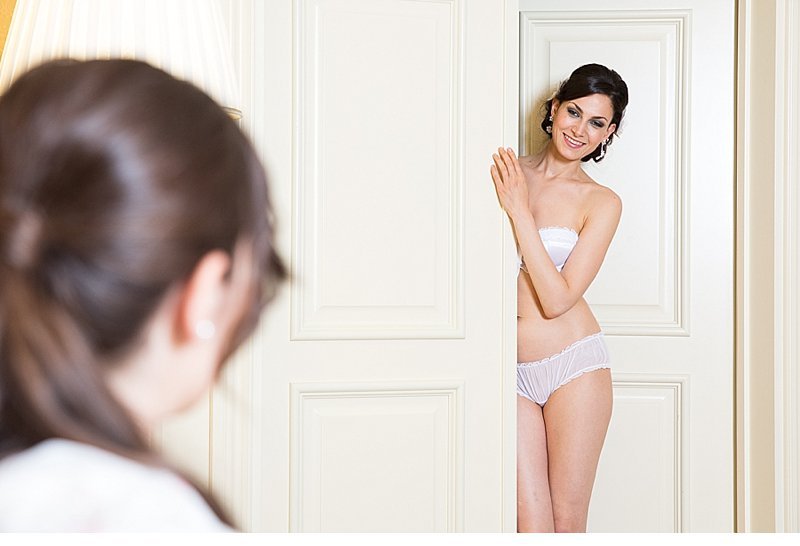 IDEE, PRODUKTION UND FOTOGRAFIE: Elisabeth Feldner von die Elfe photography
STYLING: Niely Hoetsch
LOCATION: Grand Hotel Wien, Deluxe Suite
BRAUTKLEID: Solaine Piccoli
KLEID DER TRAUZEUGIN: Michele Mayer
LINGERIE: Lingeria Macchiatto
HAARSCHMUCK: Niely Hoetsch, Jenny Packham by Das Weddings
SCHMUCK: Jenny Packham by Das Weddings
SCHUHE: Jimmy Choo, Salvatore Ferragamo
HAARE UND MAKE-UP: Claudia Fromaschits von Gilbird
PAPETERIE: Herz & Co
DEKORATION: Perfekte Hochzeit
GLÄSER, KARAFFE, SEKTGLÄSER: Lobmeyr
FLORISTIK: Birgit Feichtinger
CUP CAKES: Cupcakes Manufaktur
PRALINEN: Wittes, Schoko & Co
MODELS: Ana Ivanova, Claude
EMPFOHLEN IN UNSEREM SCHATZKISTCHEN:
Gilbird die Elfe Photography