A Modern Fairy-tale Wedding in Shades of Sunrise
Have you ever stopped to admire the beautiful swirls of colour painted across the morning sky during a sunrise? Planned and designed by Stories in Bloom, this nostalgically romantic editorial shoot tells the story of a modern fairy-tale wedding inspired by shades of sunrise. From misty greys, to peachy pinks, burnt oranges and golden amber hues, the colour palette from this shoot is as dreamy as it gets.
From Marika Duda von Stories in Bloom: "The editorial took place at 10-11 Carlton House Terrace, a timelessly fashionable, Grade I listed townhouse. Located just a short walk away from Westminster Bridge and Buckingham Palace, it's the ultimate city chic wedding venue for the modern, style conscious couple looking for an ultra-romantic interior in the heart of London. The bright and airy space lent itself perfectly to the fine art, natural light photography style of Pauline from Jacob and Pauline, who expertly captured every detail of the day.
For this shoot we imagined that our couple first met on a bridge overlooking the river Thames, when they both suddenly stopped to take in the breath-taking view of a sunrise unfolding in front of them that morning. To commemorate that special moment in their love story our wedding stationer Rebecca Richards Designs prepared a bespoke stationery suite featuring a hand-painted watercolour image reminiscent of that memorable sunrise scene above the Thames.
The classic, bright interiors of the Music Room lent themselves perfectly to the fine art, natural light photography style of Pauline from Jacob and Pauline, who expertly captured every detail of the shoot. The talented team from Blue Sky Flowers highlighted the exquisite Edwardian mantelpiece with an enchanting, airy floral arrangement. To enhance the effortlessly elegant, organic feel of the space, the ceremony area was styled with wooden crossback chairs from Wedhead.
The feminine dessert table featured a selection of delectable treats prepared by Kate Alexandra. This included an artistic wedding cake adorned with floaty, delicate rice paper detail and topped with a golden halo crown, together evoking an image of a sun rising in a cloud-filled sky. We finished off the look by accessorising with some vibrant orange Ester and Erik candles.
The ceremony area was later transformed into the reception with a gorgeous tablescape, styled with just enough touches of gold in the cutlery, gold-rimmed glassware, and the brass candlesticks. We created visual interest on the table by incorporating décor items of various heights and textures and combined warm hues with cooler tones to soften out the look. The swoon-worthy tableware was provided by Duchess and Butlerand Helene Millot.
The groom looked dashing in his trendy khaki linen suit and grey floral waistcoat from Favourbrook, while our beautiful bride wore two spectacular gowns from Morgan Davies Bridal. She looked like a princess walking down the aisle in a flowy Erza Atelier ball gown, and later changed into a sexy figure-hugging number from Alon Livné. Each look was accessorised with a pair of dazzling Freya Rose London shoes, a yellow diamond simulant ring from Shiny Jungle Jewellery, and a dainty Hermione Harbutt headpiece with matching earrings.
The hair and make-up artists, Timea Breban and Sylwia Kunysz, each went for a romantic, natural bridal look for the ceremony, which they later transitioned into a more sophisticated, chic evening look fit for a party queen.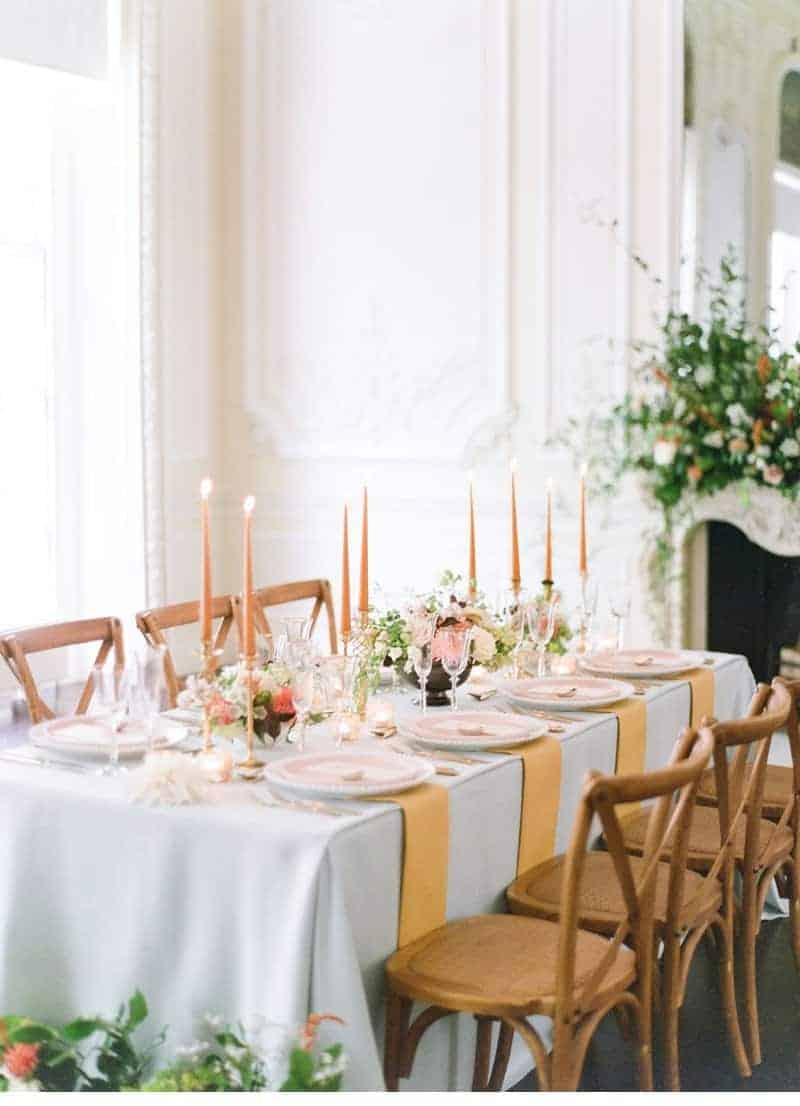 Planner, Designer and Stylist: Stories in Bloom
Photographer: Jacob & Pauline
Venue: 10-11 Carlton House Terrace
Florist: Blue Sky Flowers
Cake Designer: Kate Alexandra
Stationery Designer: Rebecca Richards Designs
Dresses: Erza Atelier and Alon Livne via Morgan Davies Bridal
Bridal Shoes: Freya Rose London
Ring: Shiny Jungle Jewellery
Hairpiece and Earrings: Hermione Harbutt
Halo Crown: Carbickova Crowns
Hair Stylist: Timea Breban
Make-up Artist: Sylwia Kunysz
Furniture Rentals: Wedhead
Linen Rentals: Just 4 Linen
Décor and Tableware Rentals: Hélène Millot, Duchess & Butler
Groom's Attire: Favourbrook
Cufflinks: Badger and Brown
Planning and Styling Assistants: Lost in Yesteryear, Rhiannon Barraclough
Models: Sophie O-Neil and Miles Horsham-Batley, BAME Models