A vibrant Loft Winter Wedding
With this atmospheric unique and elegant winter wedding we invite you today to a somewhat different world of inspiration.
The completion of this modern editorial was provided by Susanna Nordvall with her unique pictures.
With bright coral tones and warm candlelight, Nord & Mae's event planners created a wonderful contrast to the sober and cool walls of a loft in Fiskars Village.
The modern bridal couple with their contemporary look blends harmoniously into the overall picture.
The beautifully designed table is also in tune with the season. Dried and fermented berries and an elaborately arranged floral decoration enchant the observer.
From Nord & Mae: "An open loft space, snow falling outside. The setting would have you imagine a cozy winter wedding in greys and whites. We wanted to re-imagine this. Make it modern and vibrant, but with a distinct winter vibe to it. A winter wedding can be whatever you imagine. So, we did just that. We swapped bright coral and blush tones to more muted versions. Used cosy, soft velvet as tablecloths instead of summery linens.
Florals are designed from seasonal foraged and dried materials mixed with roses in cappuccino and rust tones. The result is a contemporary wedding design with the perfect amount of cosiness that will make your guests feel welcome after coming in from the snow."
 With the pictures of fine art photographer Susanna Nordvall this inspiration offer a lot of space for dreaming.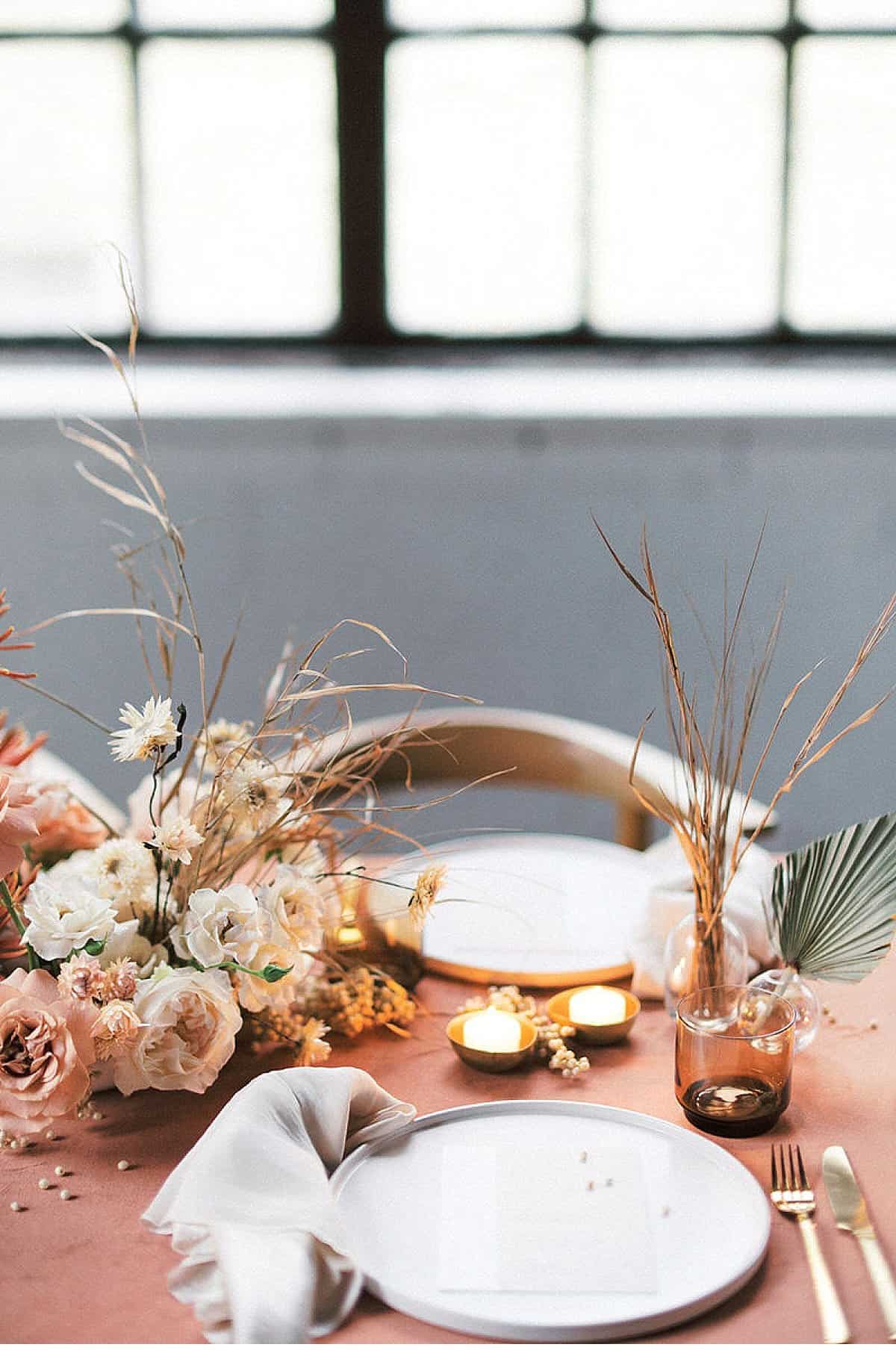 Photography: Susanna Nordvall
Planning & Design: Nord & Mae
Floral design, styling & stationery: Nord & Mae
Location: Musta Sali in Fiskars
Dinner catering: Kuparipaja, Fiskars
Hair & make-up: Rosa Hawela 
Bride's skirt: Heidi Tuisku
Groom's suit: Turo 
Bride's rings: Keski-Pomppu
Earrings: Pioni Design
Silk napkins: Seidenband
Bouquet ribbons: Froufrou Chic