An unforgettable love story in Venice
A great intense love story, in the heart of a special city, Venice, between words and images that hit the heart and become a single stream of colors and emotions, with the bride and groom Sarah and Henry, two young Americans in love.
Accompanied by wedding planner Caterina Lostia, this couple lived their dream day with many unforgettable moments.
Bride Sarah told: "Ours was a chance meeting during the Venice Film Festival: me, Sarah, a journalist, and Henry, a photographer. We look at each other, we look for each other, we meet, we like each other, we elude each other, we chase each other through the "calli" and then we clash, alone, at Punta della Dogana, while the light of dawn caresses our lips and the magic of our first, very long kiss.
Love is a vortex that, like in a movie, started from the lagoon city to New York and then back to Venice, the inevitable setting of a perfect dream, our wedding.
We wanted to relive Venice with our lifelong friends and close relatives, who shared the good and difficult moments of our history, all those who are part of us.
We wanted bold colors and historical settings but, revisited in a graphic mood, and Wedding Producer Caterina Lostia helped us in this, suggesting a palette of white, black, and yellow.
We left the circuits of the usual venues in Venice to set our wedding in unusual, small but evocative spaces. So much intimacy and emotion combined with the madness of the carnival.
We understand how important it is to select and collaborate with suppliers. We feel lucky to have chosen the best, with Caterina's suggestion, of course. Each of them has been very professional, helpful, efficient, and respectful of our suggestions. Without each of them, we would not have been able to see our dream day come true.
I can't talk about my dream that of the wedding dress. And here I must confess that in reality I had never dreamt of a wedding dress and so I found myself a little lost in choosing it. Only when we set the date, by now Venice was our city, and it was Carnival time, I understood that my wedding dress had to be vintage style. While searching the internet I came across Grace Kelly's wedding dress. I no longer had any doubts about what my dress should look like. It was Caterina who found it, she suggested an Atelier in Milan who had this model in their collections. With my measurements, taken by myself during our meetings on Skype, Elena and Tania, from Talea Couture, created a dress that fit me without a fitting. Then my dress was completed with the lace-edged veil and the wool embroidered tulle stole. With this stole, soft and warm, and with Harry's hugs, I warmed up on that cold but beautiful day during our walks through Venice.
Our wish was to experience the carnival of this wonderful city and share its atmosphere, laugh, and walk around the calli. We got what we wanted, and everything was immortalized by the talented photographer Roberta Perrone. Her photos are unique and creative, the cues always original. She knows how to capture emotions in a very natural way. She is so discreet when she works that even the shyest person can be captured without being embarrassed.  I don't know how she does it … It's magic, as well as skill, talent, professionalism, and a bit of madness. She is daring… she, in my opinion, would not hesitate to climb a tree, if necessary to capture your good moments, and the results are always fantastic. We will never stop thanking her!
Very excited we were all staying at the Locanda La Corte, so we had breakfast together at Rosa Salva's in Piazza SS Giovanni e Paolo. You could hear and see the carnival in the streets. We had time to take some photos and then we prepared ourselves.
For the ceremony, the Church of S.Maria dei Derelitti was chosen: a jewel of the Venetian 18th century, small and cozy, with character, and lights and organ sound to create a magical atmosphere. The ancient and original organ, played by maestro Marangoni, spread the magical music of JS Bach-prelude Mib major BWV 552, prelude C major BWV 553, I stress the importance of these pieces with joy because I chose these very pieces in memory of my grandmother. I was very excited to hear them at such an important moment.
Thinking about it, there was so much music present that day at our wedding! The Music Hall inside the Ospedaletto complex for the reception, for example. In this hall, Vivaldi held the concerts and in the choir I prepared myself. The choice of small and out-of-the-ordinary venues was to experience Venice during the carnival, on the street, not staying indoors in a location.
We went on foot to the church because it was very close to the Locanda, then with friends we took a wonderful tour around the canals mixing with the carnival on the Sweet Molly of classic Boats Venice, and we couldn't miss the gondola ride for the sunset photos.
A film experience. And in fact, it was the big screen that became the accomplice of a special declaration with which Henry asked me to officially accompany him on a special set, that of life. And I accepted it.
I could tell for hours how beautiful, how perfect that day was. How beautiful were my bridesmaids, best friends, how good our cake was, how they pinched the bubbles in the champagne, how our friends liked our gift boxes, that they found in the rooms and that mimosa became my favorite flower… I could go on for a long time, but maybe it's time you look at Roberta's pictures. And there is also the video by Daniele Giacometti. I've said many things, but I won't tell you how many times I saw it and saw it again. And every time I feel like I am reliving our wedding day.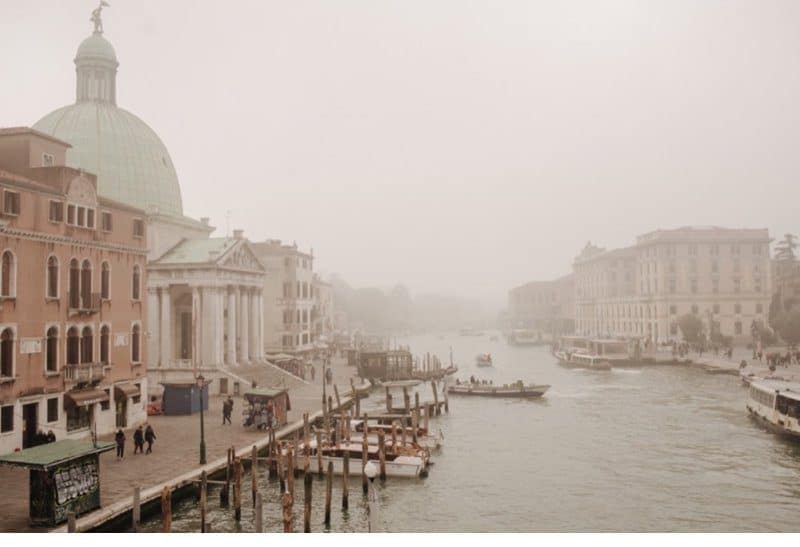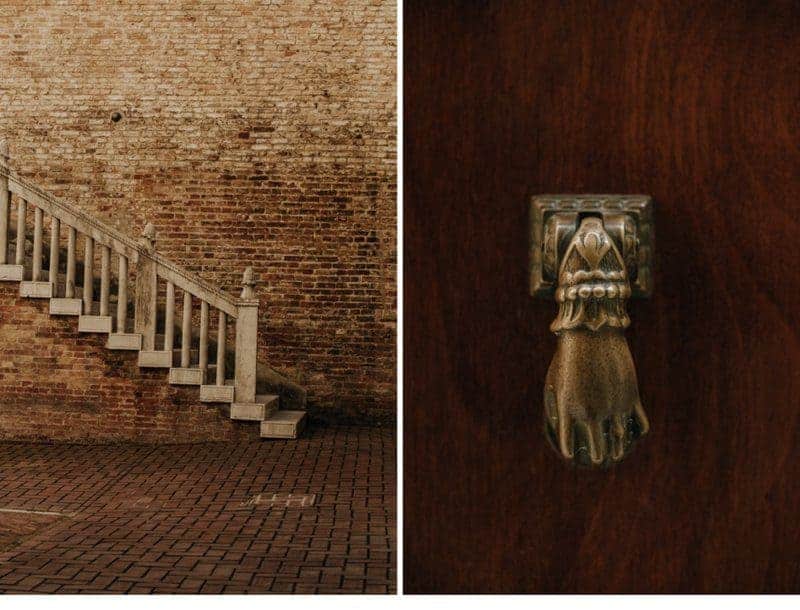 Photographer: Roberta Perrone
Wedding Producer: Caterina Lostia
Venue: Complesso dell'Ospedaletto 
Flowers: Pretty Flowers
Decor: Amanda Casassa
Stationery: Manifattura Calligrafica 
Wedding Dress: Talea Couture
Bridemaids' Dresses: La Nuova Sartoria 
Shoes: Bella Belle
Make-up: Elisa Cuccu  
Hairdresser: Barbara Guasto 
Videographer: Daniele Giacometti
Jewelery: Romano Diamonds 
Cadeaux: Acqua di Parma 
Wine: Bottega Gold  
Catering: Flyfood
Rentals: Oltreilgiardino
Confetti: Confetti Gentile 
Music: Gualtiero Marangoni
Boat: Classic Boat Venice