Atmospheric forest wedding at the Hallgarter Zange
What a summer evening, what a casual dance, what a symphony of violin sounds, forest rustle and cicada song! It was the love of freedom, or rather real love and true freedom, that brought Melissa and Philipp to this place.
Since childhood, Philipp felt uncomfortable and confined amidst the skyscrapers, apartment blocks and noisy streets of the Chinese metropolis where he was born and raised. He loved looking at the sky, growing various plants on the windowsill, and remembered with longing the time when, as a child in the village, he helped his grandmother in the vegetable garden and his grandfather, an auto mechanic, repair old cars.
His first encounters with nature and the endless distance around Frankfurt, where he enrolled as an environmental science student, made his heart beat faster with excitement. This was what he had always unwittingly longed for.
His heart beat even faster when he got to know Melissa, a pretty fellow student, who loved preparing for exams on a sunny park bench as much as he did. Unlike him, Melissa, who came from a small town in the Rheingau region of Germany, had been fortunate enough from a young age to fully embrace her love of the outdoors. Despite their differences, they had so much in common. Neither were homebodies and both loved being outdoors for days at a time. Jogging, hiking, discussions around sustainable biotechnologies and much, much more brought them closer and closer together. Philipp even followed Melissa's example, who was vegan, and decided to try out what it was like to be vegetarian.
The pandemic period brought the couple even closer together. The two lovers avoided crowded places and crisscrossed the picturesque countryside on their bicycles until Philipp proposed to Melissa on the banks of the Rhine one spring evening.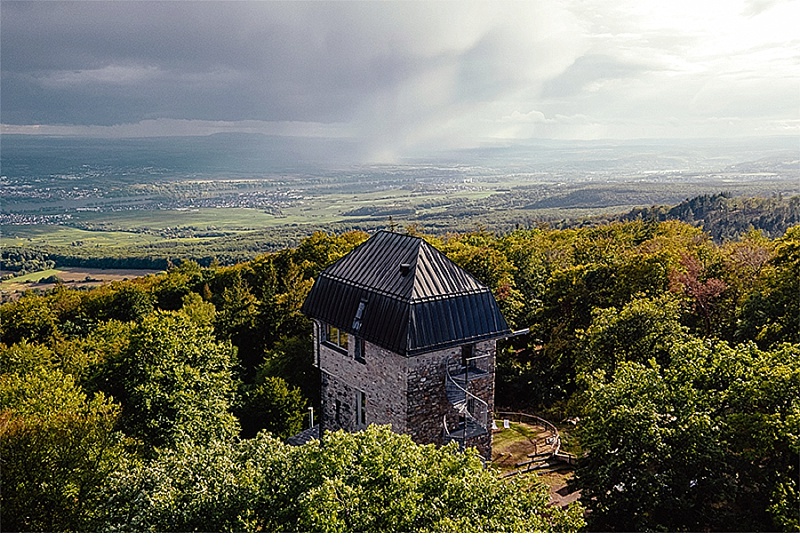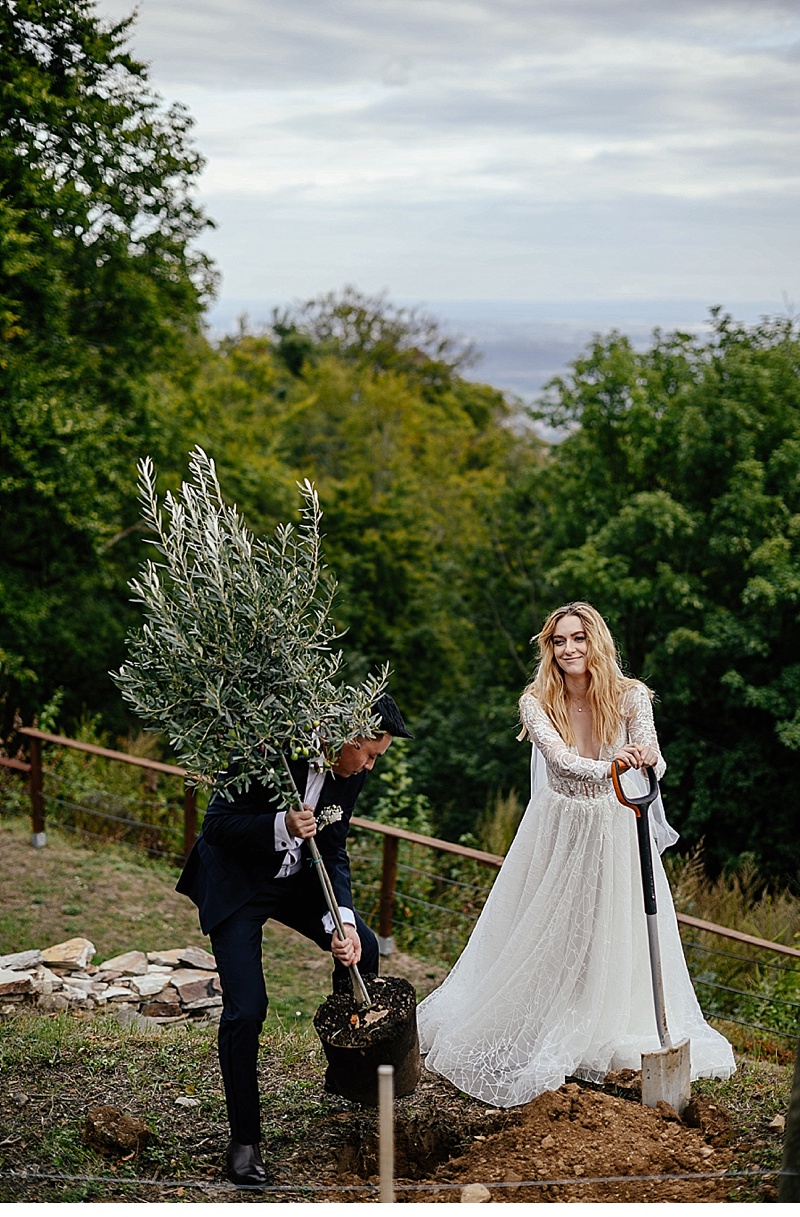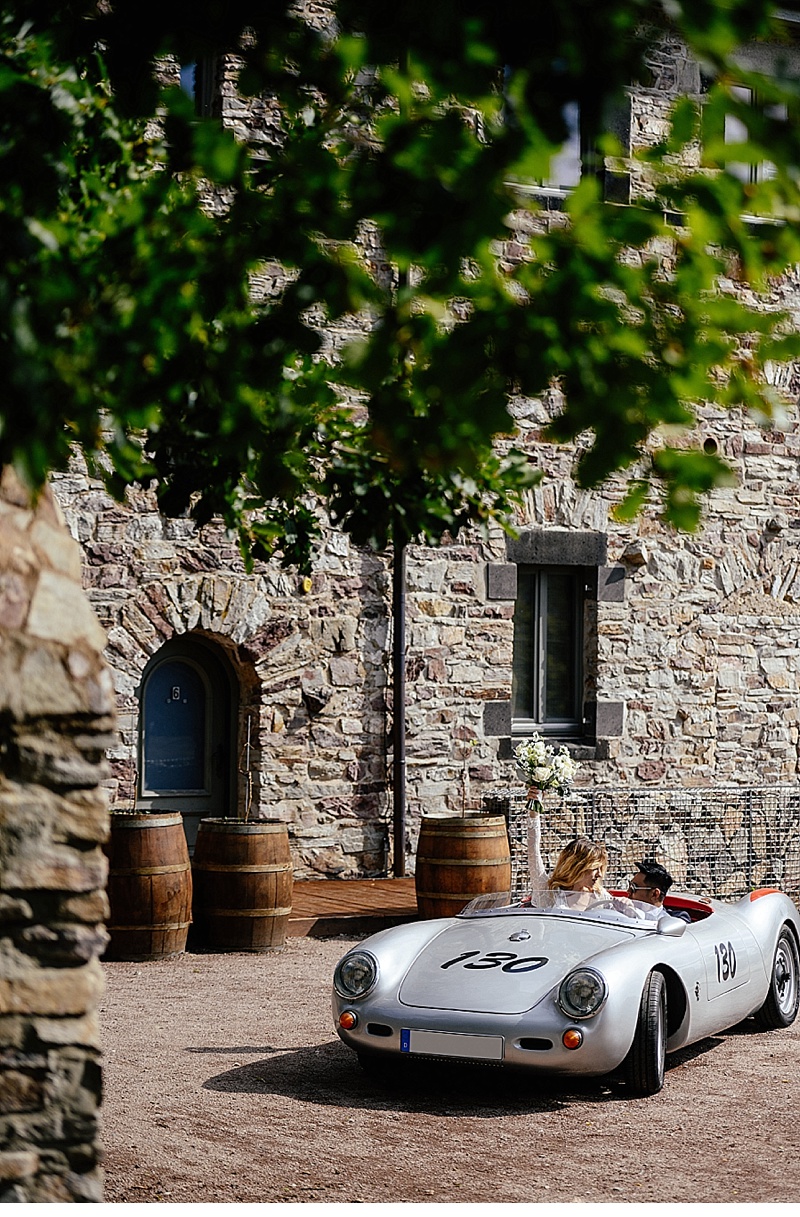 They wanted a small, atmospheric wedding in the same area with which their love story was closely intertwined. The celebration should be to their taste, to the taste of nature and freedom lovers, but the eternal classical elements would also be great and appreciated by all the guests. Friends were to be invited, Melissa's extended family with children of different ages, Philip's mother and sister would also arrive. Not to be forgotten would be Melissa's dogs, who would become full family members on D-day. How on earth were they going to reconcile all of this and make it nice for everyone?
When Melissa showed Philipp the Hallgarter Zange, he immediately agreed that it was the perfect location: a summer forest wedding in this hilly green place under the open sky was a dream.
To their delight and surprise, the team of Woltana Weddings and More together with Irina from Agentur Wedding Kitchen prepared the whole concept of the wedding. They catered to absolutely all nuances and wishes and even offered more ideas that the couple loved. Woltana Weddings and More and Irina from Wedding Kitchen agency have diverse styles in their offer and can easily and flexibly organize a mix wedding.
Melissa had a clear idea of the ideal wedding dress. The Woltana team, which accompanied the couple through the entire preparation period, recommended Atelier Reverie to her. The designs were tailored to Melissa's type and taste, and weeks before the wedding, a hand-tailored classic, but completely original dress was hanging in her dressing room.
Woltana Weddings and More and their partners were always there to save the couple stress and so they could look forward to their wedding day with unadulterated anticipation.
It would be a real shame to spend hours of their gorgeous wedding morning on styling. For this reason, two professionals were appointed at once: Hanna Shapovalova and Anastasia, who professionally and nimbly did Melissa a chic hairstyle and stunning makeup that Philipp was totally delighted with.
As the bride and groom were finishing up, a vintage Porsche Charmonix Spyder from Oldie-S arrived on the forest path with a chauffeur. Philipp was especially looking forward to the shoot in this unique vintage car, which looked so much like James Dean's car and which his grandfather, the car mechanic, had also been so enthusiastic about.
Woltana Weddings and More, together with Viktoria from Frankfurt Flowers and florist Irina, took care of a decoration that brought the fairytale forest atmosphere to the large wooden terrace where the tables for guests and the dance floor were located. Gorgeous and lush floral bouquets of white roses, baby's breath and creamy wild seasonal flowers with greenery were deliberately done in natural color schemes that both looked festive and reflected the colors of the summer forest. They decorated the entire space, including the archway under which the bride and groom were to exchange rings, transforming it into a sunny woodland meadow.
Philipp, knowing his bride's passion for horses, ordered two horses, foxes, from VetFit Physio Rheingau as a surprise. These graceful but gentle animals also got Melissa's little nephews excited. It was also a pure experience for four-pawed guests.
Patrick from Gasthaus Schöne Aussicht in Usingen provided delicious organic dishes and snacks, although most of the treats were vegan, meat lovers should not miss out. In addition to non-alcoholic soft drinks, there was a whole selection of exquisite wines from the local winery Weingut Meine Freiheit, whose brand name and summery flavors simply harmonized perfectly with the atmosphere of this forest wedding.
A very special highlight was the outstanding pyramid of champagne glasses: The groom skillfully poured the fragrant sparkling wine of the winery "Meine Freiheit" (Roter Riesling brut 2020, white pressed) for all guests.
Of course, the spectacular champagne pyramid could not replace the wedding cake and all the desserts, artfully and deliciously handmade by Julia from Just Nice Torten. Anastasia took care of the candy bar, gingerbread and for refreshing fruity homemade lemonades for in between.
Before the sun set, as a symbol of eternity and fidelity, and also simply as a good deed for the environment, the lovers planted an olive tree near the Hallgarter Tower. This heat-loving tree, exotic to Germany, will take root, just like their love, and grow up among native deciduous trees. In the years to come, the new family will love to visit the little tree for their wedding anniversary and enjoy a dinner for two or a picnic in its shade with a glass of wine.
A romantic evening dawned, the setting sun illuminating with warm tones the sea of forest canopy that surrounds the Hallgarter Tower. The children were exhausted after a fun program of games in the forest. The birds fell silent, giving way to the chirping of the cicadas and the violin music of violinist Esmeralda, a magical mix of classical and gipsy style.
In front of the whole universe, under the starry sky, accompanied by these soft and passionate sounds, the lovers said yes and exchanged rings, artfully made by Juwelier Fein from Bingen. After that, they danced long and joyfully, so that the white flip-flops, thoughtfully provided by Woltana Weddings and More team, proved to be very useful for tired dancing feet.
All the moving moments of the big day were immortalized and mounted on film by photographer Dmitri Zubkov and videographer Anastasia from Omega Studio. These are priceless memories, both for the bride and groom, and for the numerous colleagues who creatively worked for the forest wedding. Because so many things were celebrated here: love, the fulfillment of dreams, the bond with nature and freedom. These are eternal values that the team of Woltana Weddings and More, very much.
Photographer: Dmitri Zubkov
Wedding Planner: Woltana Weddings and More and Agentur Wedding Kitchen
Venue: Hallgarter Zange
Video: Omega Studio
Dress: Atelier Reverie
Decoration: Rozmarin Eventy
Florals: Frankfurt Flowers
Hair and Make-up: Hanna Shapovalova and Anastasia 
Jewelry: Juwelier Fein
Catering: Schlemmer Boutique  and Gasthaus Schöne Aussicht
Cake: Just Nice Torten
Sweets: Pastry Anastasia Khilinichenko
Videographer: Omega Video Studio
Music: Esmeralda Violin Show
Wine: Weingut Meine Freiheit
Horses: VetFit Physio Rheingau