Awakening of the senses
Our enthusiasm for fine art, for aesthetics and minimalism, and our passion for creativity and innovation finds its perfection in this editorial by stylist Sofia Ferreira from Brancoprata .
Sofia Ferreira tells: "This is a study on the involvement of the five senses in everything we do and how everything transforms in our sensory memory. The perfect opportunity to explore the main natural elements: air, fire, earth and water and thus find balance with the Earth.
Sensory memory retains the information that comes to us through sight, hearing, touch, smell and taste. This is an immediate and constant memory.
How can we explore this concept, presenting a result that above all is sustainable, unpretentious and authentic. That reflects environmental concerns, that makes you think, of the concept of  "less." May we take a step back in a society that is mostly consumerist and disposable.
We want to stop and rethink the way we live, analyze our values and see if we are, in fact, doing everything we can to make this world a better place to exist.
Our actions today reflect the attitudes of our children, tomorrow.
In a very subtle way, we wanted to recognize in each image and frame created, not only the elements that inspire us but also the exploration of the five senses in order to make this editorial (a potential inspiration for a wedding) something real and genuine. The way we feel the drops of water on our skin, the warmth of the candles during a dinner party, the breeze passing through the fabrics and the food produced in an organic way, perfectly presented in a modern and intelligent composition.
It is these elements that awaken the five senses,  and help to turn the memory of a special day into something tangible and serene. The need to stop and evaluate what we are, what we have and what we really need to truly exist. A reflection of what we want to leave for future generations."
These principles are subtly and impressively reflected in the delicate flower compositions, the delicate stationery of Etc & Company and the elegant cake of TBakes.
The enchanting concept of table decoration takes us into the emotional world of fragility and tenderness. Bronze cutlery is arranged with modern, white ceramic vessels and simple candles to create a small work of art.
Colors, shapes, light and shadow are perfectly formed by Andre Teixeira from Brancoprata in expressive pictures. Impressed, we dive into this artistic world and let ourselves be inspired by the visions of this great team. The videographers Vanessa & Ivo with their moving pictures and their touching words under the skin.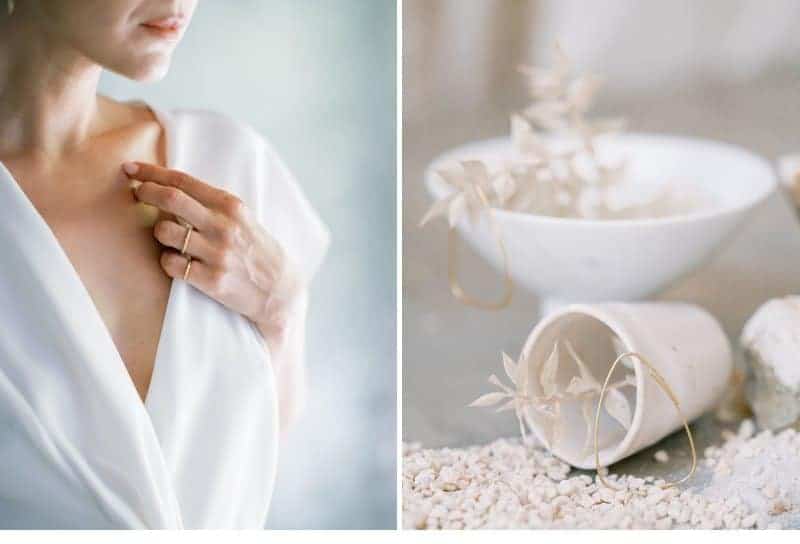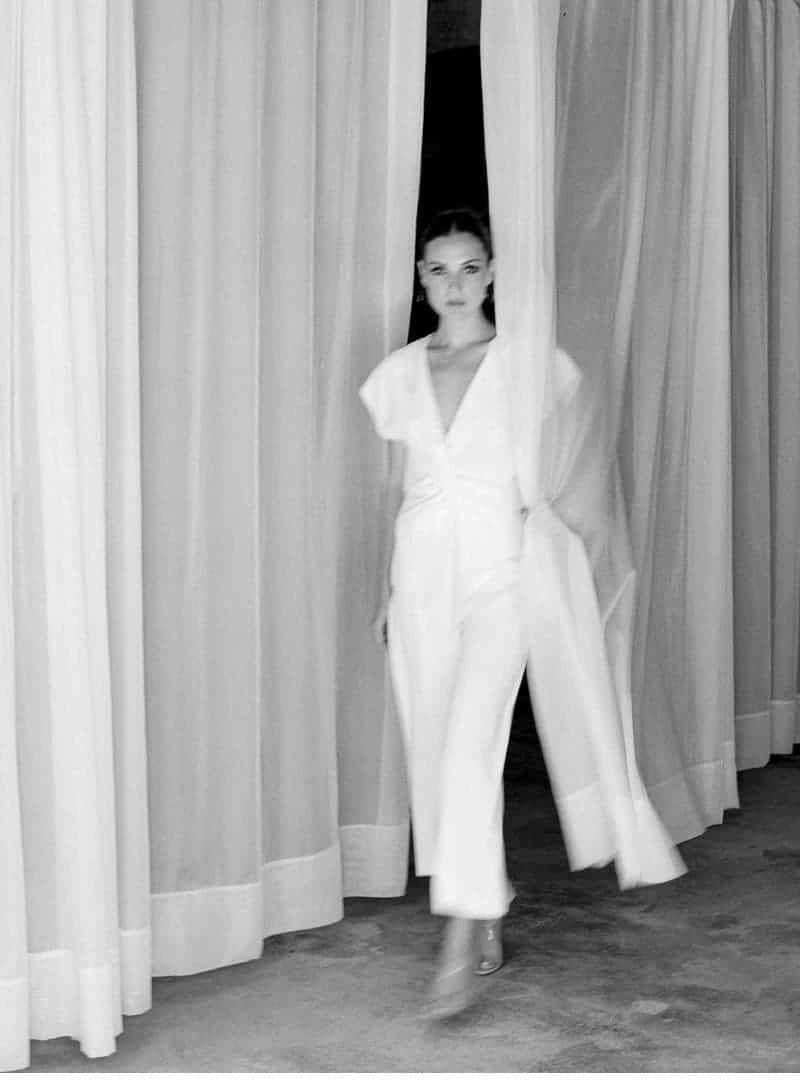 Creative direction and florals Sofia Ferreira from Brancoprata 
Photography Andre Teixeira from Brancoprata 
Second shooter Claudio Mobarbosa for Brancoprata 
Videography Vanessa Ivo Films
Make Up and hair Pretty Exquisite
Jewelry Dalila Gomes Jewellery
Model Uliana via Bestmodels Agency
Stationery Etc & Company
Venue Quinta dos Machados
Wedding cake TBakes
Rentals Maison Christina
Dinerware Studio Neves
Styling Surface Saava Studio