Beach Inspirations with Mustard Yellow Tones
Photographer Michaela Brandl shows us how to create a wonderfully refreshing and heavenly carefree atmosphere with the new wedding color mustard yellow, which she brought to us in unique beach inspirations from the Baltic Sea island of Usedom.
Whether as an accessory in the bridal outfit, flying ribbon on the bridal bouquet or delicate bow on the stationery, the powerful color sets accents exactly where they have the greatest effect and harmoniously round off a motif.
It gets perfect when mustard-yellow elements are seamlessly integrated not only in the assorted color palette but also in the natural environment, as the team around florist Conny Hiermann of Florietta has managed to achieve under less than perfect conditions.
"Unfortunately, our shoot was accompanied by bad weather."she told us."Nevertheless, the yellow matched perfectly with the grass on the beach of Usedom as well as the yellow of the sand. Everything matched perfectly."
Who knows? Maybe it needed that mystical, cloudy mood to make the unique mustard yellow concept and all its details shine so brightly? Maybe the lovingly prepared stationery by Stephanie Köppl of Paper la Papp, would not have been fully exploited in clear sunshine? And maybe you would have pushed the restrained sparkle of Nathalie Bleyer's filigree jewelry just on the sun's rays?
But thanks to the expressive images of photographer Michaela Brandl, we can be sure that each of these precious puzzle pieces beamed, shone and glittered out to merge into a glowing overall picture.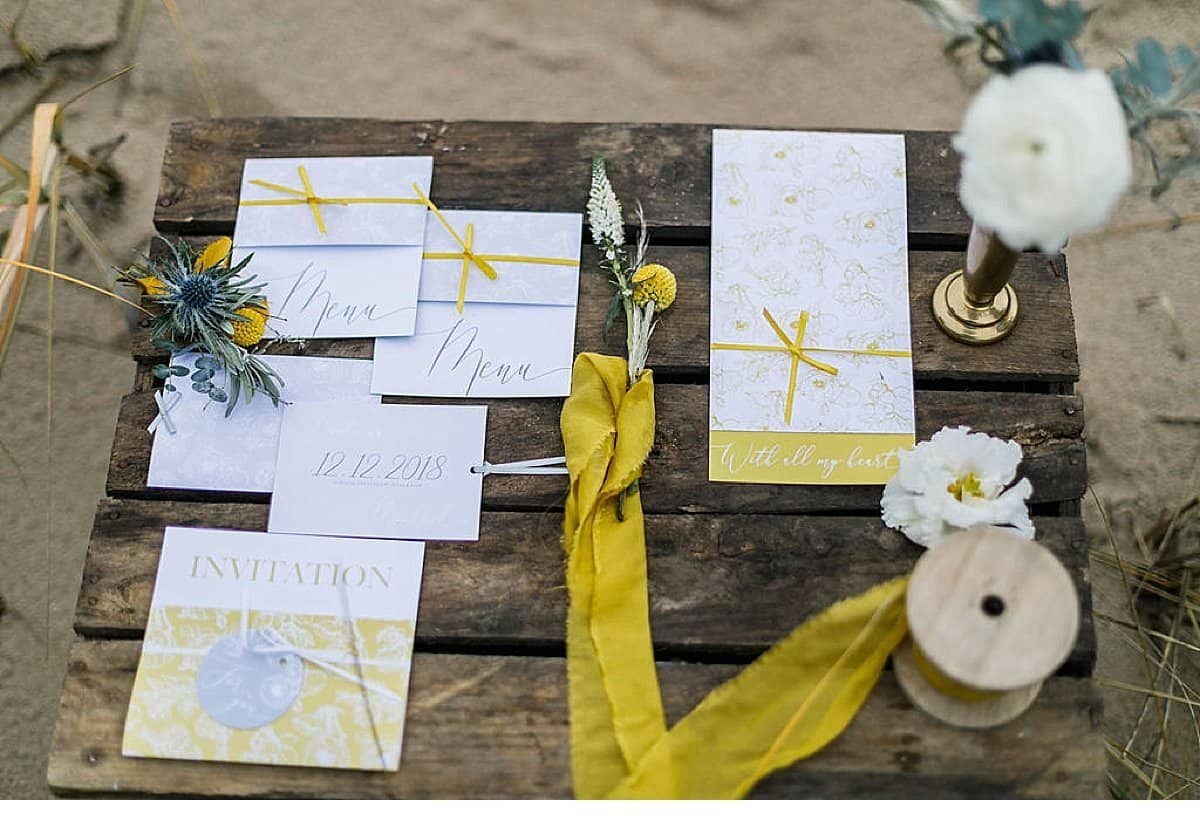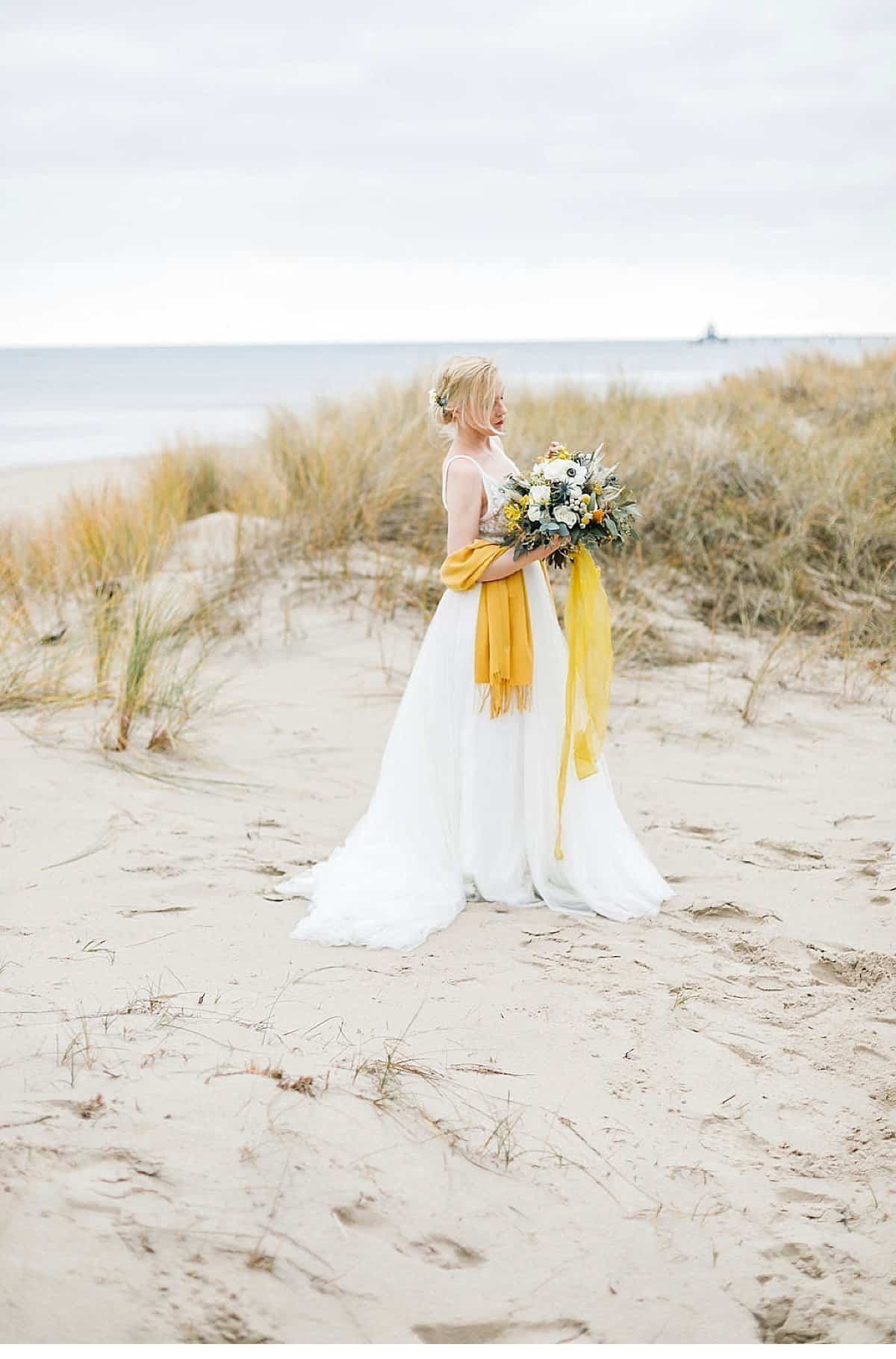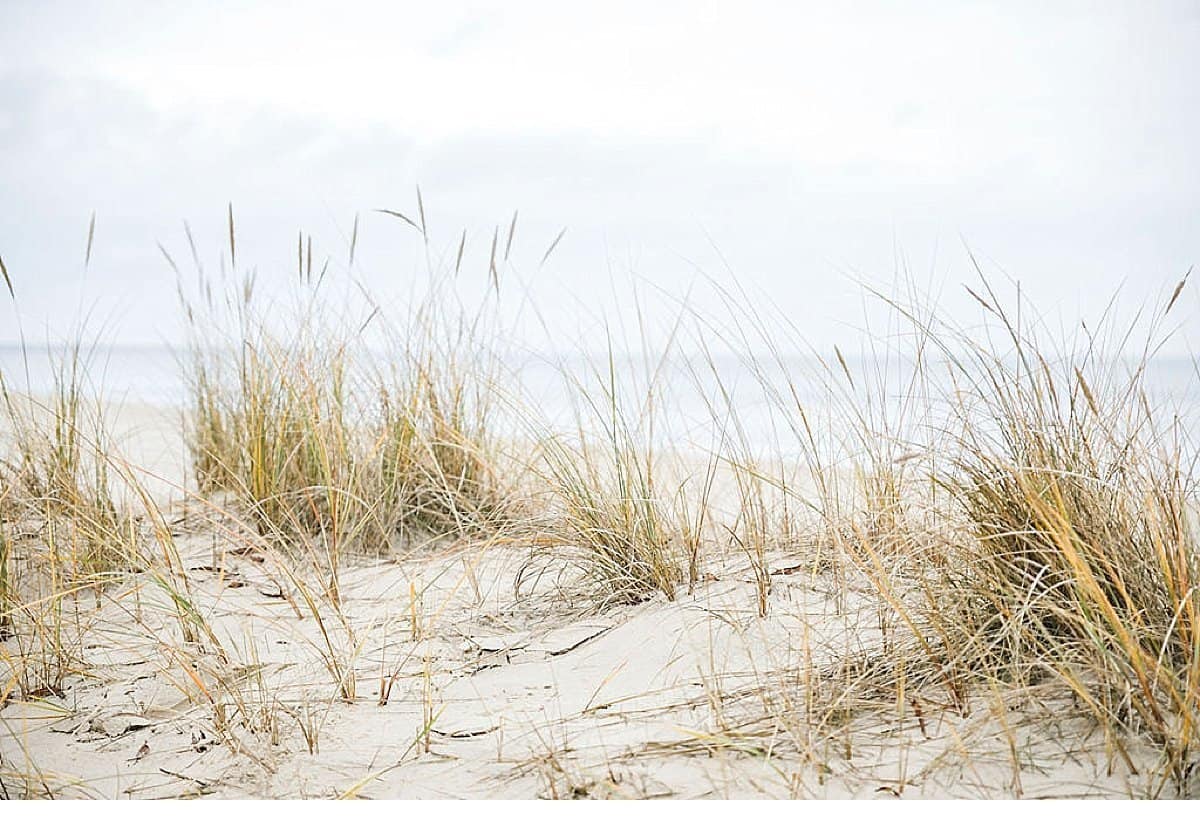 PHOTOGRAPHY: Michaela Brandl
FLORAL DESIGN: Conny Hiermann von Florietta
STATIONERY: Stephanie Köppl von Paper la Papp
JEWELRY: Nathalie Bleyer
BRIDAL DRESS: Weddingcenter Wien
Model: DieUschi