Beautiful symbiosis of art and nature in lavender field
We are in picturesque Provence in a small village near Bagnols-sur-Cèze. Like a soft, fragrant blanket, lavender stretches across endless fields. This floral paradise is magnificent and beguiling, yet playful and light at the same time.
During  Christophe Serrano's  recent workshop,  The Wild Moon's  event designers and a creative team came together to showcase the charm and character of this southern French landscape in a beautiful editorial. The visions reflect a minimalist and artistic style and an intimate atmosphere of a wedding couple loving each other.
Ricci Floral Creation conjured up a romantic bouquet of flowers, creating a beautiful symbiosis of art and naturalness. The eye of the beholder is gently drawn to the striking beauty and enchanting blooms and is allowed to enjoy the harmony of the color palette.
Infatuated with the scent of lavender, a young couple dances around among the purple blossoms, carefree, carefree and in love. One could almost think that the world belongs to them alone, and probably at this moment it does indeed revolve around them.
The bride is radiant in a dress dream by Marion Fera, enchanting us with a touch of pastel and wing-like sleeves that gives an ethereal and light feeling.
We are completely in love with the feather-light color combinations and dreamy details and get lost in the stunning film images by Ezechiel Photography.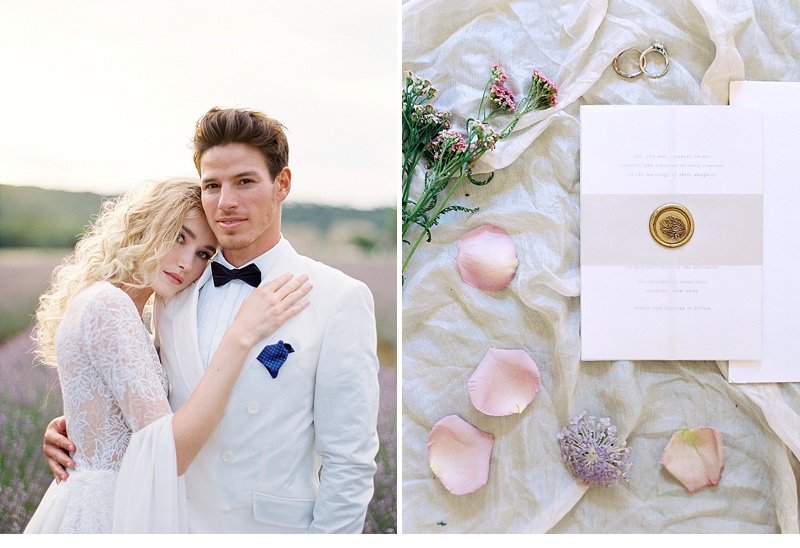 Photographer: Ezechiel Photography
Photographer Workshop: Christophe Serrano
Speaker: Fayolle Stephanie of  Wep in Provence
Wedding Designer & DA: The Wild Moon
Wedding planner and Officiante: Les Romances de Marie
Second shooter: Matt Kobi 
Video: Wedd'in Time 
Accessories: The Wild Moon
Stationery: Promesse Graphique
MUAH: Anne Simonin
Assistante makeup artist: Nathalie Heu
Flowers: Ricci Floral Creation
Dress: Marion Fera
Shoes: Bella Belle Shoes
Suit: D & Guys
Bijoux: Mohedano
Models: Alex and Océane