Bloomy Grace
Vibrant peach, rich pink and bold yellow are why soft pink and flawless white also shine. Contrasts that push each other instead of outdoing each other. A symbol of love.
But it's not the color choice alone that makes this shoot by Laura Krause of Die Hochzeitsgefährten special. It is the art of combining clean lines and soft curves. The talent to combine elegance with playfulness. And the knowledge of how to artfully blend these and other elements with an eye for naturalness.
Photographer Ondina Baier-Yanez lets the magical wedding inspirations merge with her images into an impressive overall concept.
From Laura Krause of Die Hochzeitsgefährten: "The couples want to celebrate. The couples can celebrate. And they want to show that to everyone – loud, colorful and full of joie de vivre!
Just like our bride and groom Kara and Daniel, who were allowed to symbolize their wedding in the Kloster Bronnbach as part of the Styled Shooting. The feeling of joie de vivre that bridal couples experience again after a long time is expressed by the choice of colors and the variety and quantity of flowers. Pantone predicted that the colors Bubblegum Pink and Coral Rose will be among the top colors of spring and summer 2022. Our concept is based on this and puts the focus on these two colors besides more subdued color variations, gold and crystal glass.
Lovingly selected details symbolize the uniqueness & exclusivity
The styled shoot 'Bloomy Grace' showcases a fine art style wedding and emphasizes selected details in particular. These include high-quality stationery made of handmade paper and watercolor drawings by Miss Hanami, unique pieces of jewelry as well as carefully selected and exclusive flower arrangements by Blumenhaus Heermann.
The shooting focuses on the couple's entire wedding day. The day starts with the Getting Ready and continues with the wedding ceremony and the dinner. In between, there is a dress change, where the bride exchanges the dress of the wedding ceremony (Galatea by Willowby by Watters) with an evening, short wedding dress with bow by Michele Weiten (MAJKE – Couture Line 2022). The bride wore this for the couple shooting, as well as for the celebration and toast together in the evening. The day was rounded off with a romantic photo taken during the golden hour, which completed the firework of emotions.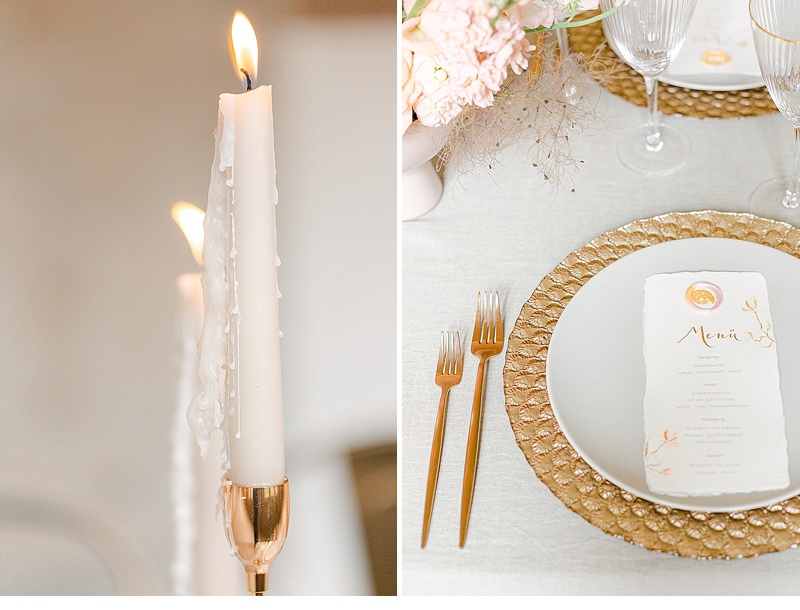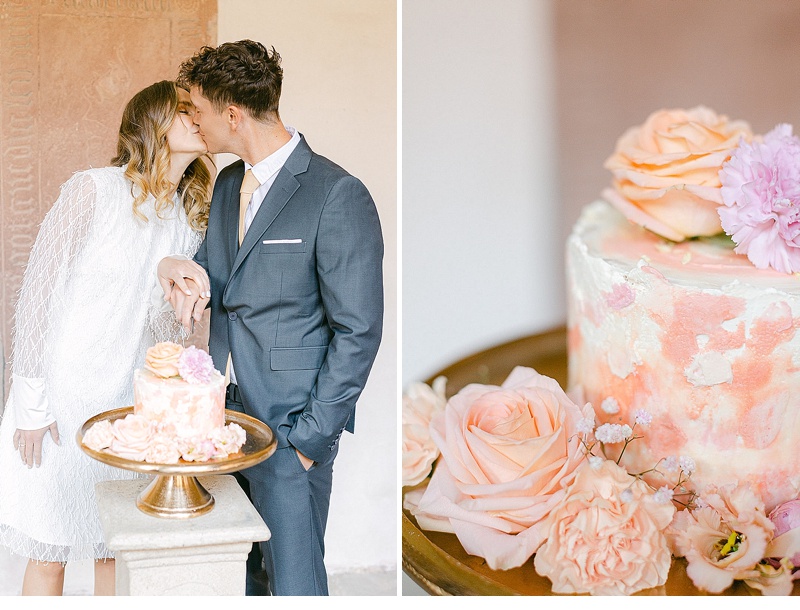 Photographer: Ondina Baier-Yanez
Planning & Concept: Laura Krause  – Die Hochzeitsgefährten
Video: Artur Michel (Michel Films)
Florals: Blumenhaus Heermann
Location: Hotel Kloster Bronnbach / Kloster Bronnbach
Stationery: Tizia Şen / Miss Hanami
Decoration & Rental: de Waay Design
Hair & Make-up: Laura Posteraro
Cake: Kasia Sweet Dream
Jewelry: Juvelan
Bridal Dress: Kloster Festfein Boutique
Groom Outfit: Gentlenero
Rings: Ewige Ringe
Bridal Shoes: Bella Belle
Couple: Kara & Daniel