Blown Away
Roughly Irelands winds flow through the tender robes of a bride. Even her hair can not resist the gusts and gives itself up to the power of nature.
With every blast the grass leans towards the ground a little more and the remains of this Irish estate knucke down to the change of time, too. Dried out and covered in moss and ivy they devote themselves to mother earth.
The bride however seems unaffected by all that. Neither her beauty nor her grace seem to fade. Her thoughts might be blown away by the wind but her hopeful eyes focus strictly on what lies ahead.
Sara Donaldson is an impressive photographer blessed with unbelievable sense for unique moments. Her passion for photography reflects in every single one of her pictures.
Sara: "A perfectly sunny day in Ireland swiftly turned moody and cold… Winds arose, turning and whipping Abby's dress and hair, and deconstructing Amy McVey's beautifully styled hair and makeup. Cold rain came and went as we hurried from location to location, but somehow…there was magic happening. Abby's soft beauty cuts through the darkness of the day, showcasing that in any weather, a woman in her bridal gown is a remarkable sight."
Now give yourselves over to the impressive pictures shot by Sara Donaldson and get carried away into the breathtaking landscape of Ireland…
Translation: Marina Jenewein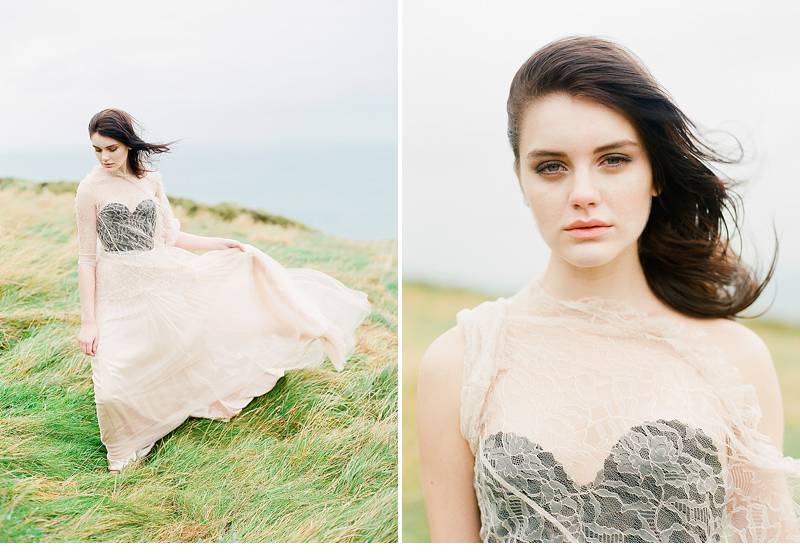 PHOTOGRAPHY: Sara Donaldson Photographs
DRESS: Emily Riggs Bridal
VEIL AND HEADPIECE: Melinda Rose Design
MAKE-UP AND HAIR: Amy McVey
ONE-ON-ONE WORKSHOP WITH: Erich McVey
VENUE: West Coast of Ireland field, ruins near Liscannor
FILM SCANS: Richard Photo
MODEL: Abby Harris with Distinct Modeling Managment in Dublin