Bridal Inspirations In The Intoxication Of Perfumes
The scent of blooming flowers, the aroma of fresh fruit and the smell of dead candles fill the cathedral in Königslutter, where a team of great artists presents us bridal inspirations in the intoxication of perfumes.
Not only scents, but also the grace of these two beauties arouse our attention and catapult us wordlessly into a bygone time. Their long, wavy hair and flowing, bulky dresses by Cathy Telle remind us of one particular movie…
 "The main inspiration from this shoot came from the movie "Perfume – The story of a Murderer" by Patrick Süskind." photographer Diana Frohmüller revealed. "We were inspired by two women of this movie, Laure with her softness, beauty and her opulent dresses and the women, who sells plums seeming so vulnerable."
Based on these two personalities, the story should now be rewritten. The successful wedding photographer got help from Wedding and Floral Designer Madita of Grace and Flowers, who was in charge of the implementation of the concept and the harmonious styling of the impressive location.
"For the color palette Madita worked with a mix of soft blush and bold colors like gold, burgundy and orange, topped with highlights of brass." Diana said.
With the stylish stationery by Ligia Pauls, the team rounded off not only their story, but also the entire ambience harmoniously.
Diana Frohmüller has captured every little detail in her incredibly professional way. And we are sure that if her pictures could smell, we would lose ourselves in the sweet perfume of her impressions…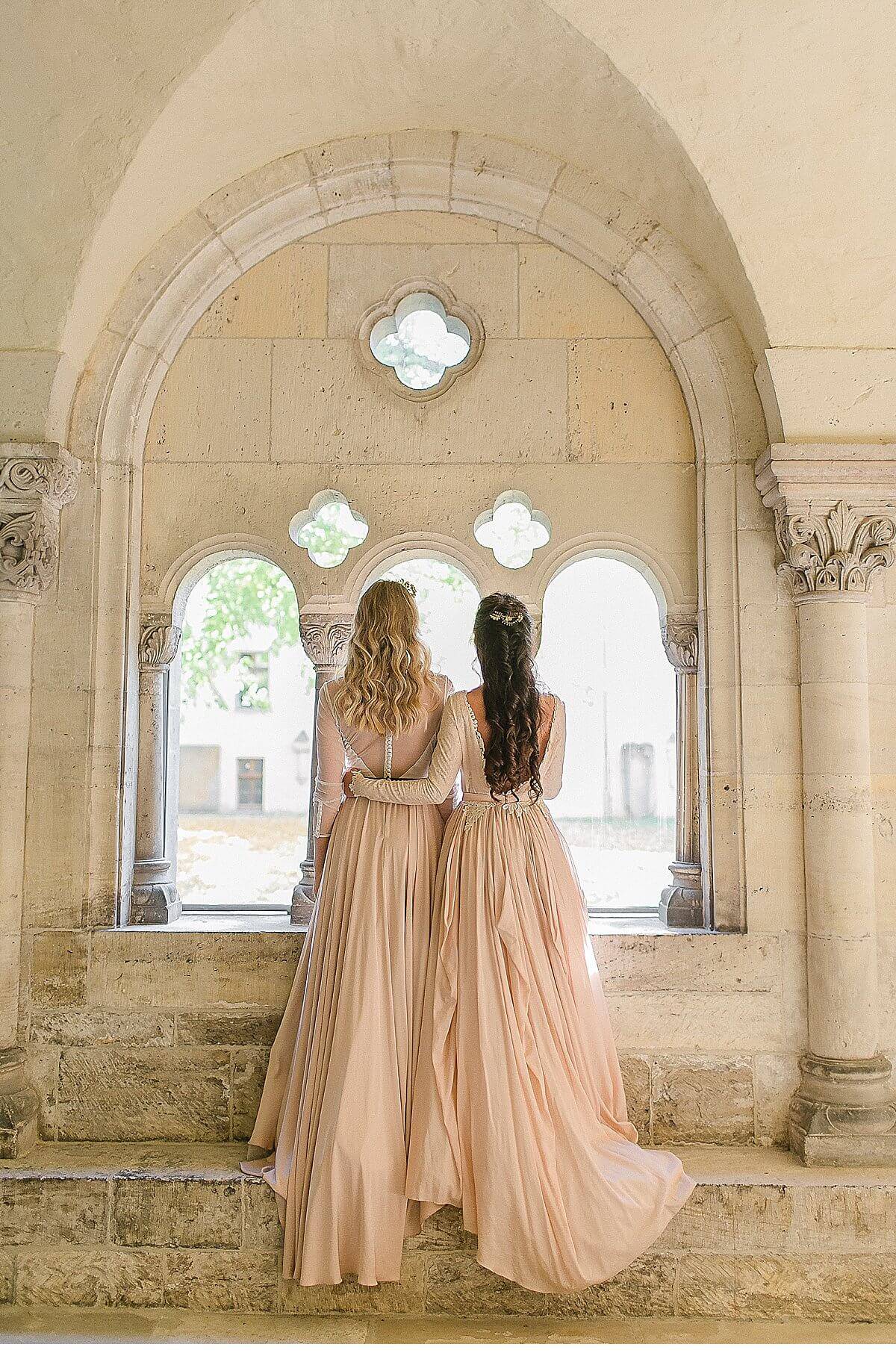 PHOTOGRAPHY: Diana Frohmüller
FLORAL DESIGN, DECORATION, CONCEPT, STYLING: Grace and Flowers
HAIR AND MAKE-UP: Prinzessinenzauber
GOWN DESIGNER: Cathy Telle
STATIONERY: Ligia Pauls
TABLE RUNNER, NAPKINS, SILK RIBBONS: Silk & Purl
RINGS: Grafengold
VELVET JEWELRY BOXES: Voeu du Coeur
ANTIQUE TIARAS: Polly Mc Geary
PHOTO SCANS: Carmencita Film Lab
MODEL (blond hair): Alix Meier-Wätjen
MODEL (brown hair): Laura Göcht