Bridgerton wedding in Virginia
This wedding inspiration features a day filled with luxurious details, flowing florals and sophisticated fashion. Fine Art meets still life in this new design by Kristin Shockley of Lustre Theory set against the dramatic European details of Dover Hall Estate. Beautifully captured photographically by Christopher Frost of Frost Artistry.
Dover Hall is a refined English Tudor-inspired estate elegantly nestled in the rolling hills of Manakin-Sabot, Virginia. The stationery with different textures, floral pattern, gold leaf and seal was perfectly matched to announce this extraordinary mood.
Exquisite table decorations with Herend porcelain, lush flowers and rich floral linen patterns adorned the table in front of the fireplace. Gold, blush, green and plum colors were chosen for the Bridgerton-inspired design.
The two dresses by Marchesa were original, luxurious and atmospheric. No classic wedding dresses, but special highlights with elaborate applications. The first in white with gold embroidery, hat and matching shoes. The second colored dress with fine cape was worn by the bride outside in the estate, where the horses were integrated into the wedding shoot.
It's worth looking at all the pictures several times, because the lavish table decorations with the finest tableware, crystal glasses and golden monkey candlesticks with artichokes and berries, and also the fantastic dresses offer so many details that can be seen only at second glance.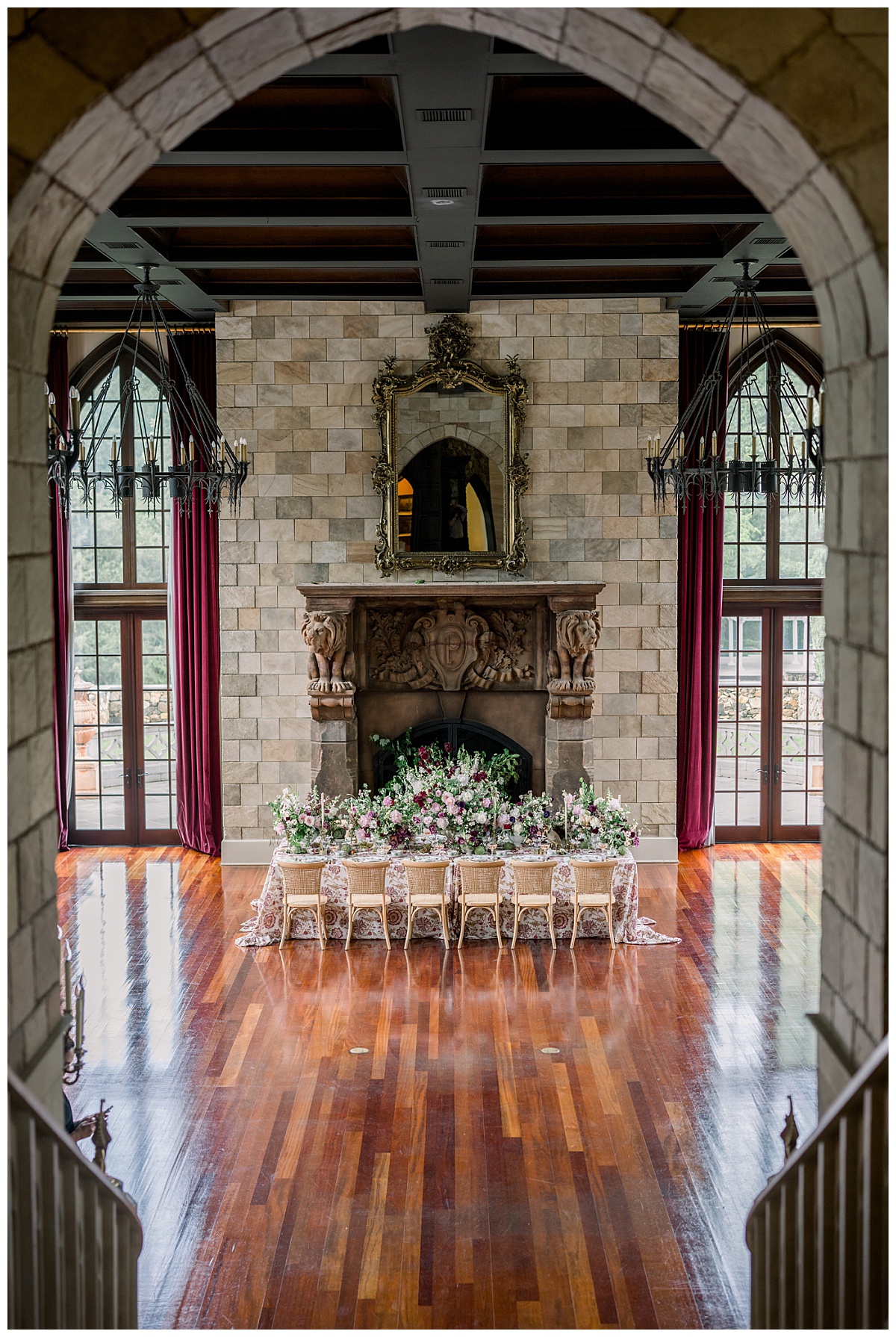 Photographer: Frost Artistry
Workshop Hosts: David Able & Lustre Theory
Creative Direction & Styling: Lustre Theory
Floristry: Darling and Daughters
Lead Videographer: Kristen Beatley
BTS Videographer: Schoen Films
Venue: Dover Hall
Hair & Make Up: Jen Lagers
Dresses: Marchesa
Shoes: Femmes Sans Peur
Millinery: NJ Miller Millinery
Earrings: Denise Nader Jewelry
Rings: Susie Saltzman
Table Decoration: Globe Fine Gift & Home & Herend & Juliska & Baccarat
Tablecloths: Nüage Designs
Chairs & Couch: Paisley and Jade
Creative Assistants: Amber Justine Events & L. Hewitt Photography & Elegant Moments Wedding & Event Planning