Colorful and feminine bridal inspiration
The inspirations of today's photoshoot shows us in a spectacular way how to use textures, colors and movements to capture aesthetics and style in a tangible way.
Floral and event designer Kahina and photographer Daria Lorman interpret their concept of a fine art bride in an exciting way.
Kahina designed a colorful, artistic bridal bouquet with peonies and garden roses. And she decorated an enchanting dinner setup for 8 people, which shows post-Covidian brides a way to hold their celebration in an intimate setting.
Hair and make-up stylist Tatiana Zinchuk says: "I want my styling to bring out the image of my bride. She is smart, mischievous, sensual, with character, she is feminine, sexy, modest, friendly, gentle, with a sense of style and humor, she is graceful. And I am happy when a new look changes a woman.
I am always inspired by the beauty of the woman, the decoration and design of the dress, the fabrics, the accessories, the flowers, the style of photography, and the place".
The first dress from Les Merveilleuses Paris has a subtle Greek look and we imagine it being worn by a modern bride at her wedding in Santorini.
Stylist Tatiana created a slightly wavy hairstyle and weightless bridal make-up in shades that matched the stunning bouquet and decoration of Kahina Events.
The look was completed with beautiful handmade earrings by Della Bella Gioielli, and a feminine necklace and engagement ring by jewelry designer – Djoline Joailliers.
The second dress is for the brave, individual bride: extravagant, elegant, daring. Tatiana created a trendy beauty look for the modern bride. She used a white eyeliner and created a low half tail. Finally, she decorated the hair with an incredible number of pearl hairpins.
The golden vintage mirror from Kahina Events provided the perfect setting for these contemporary bridal portraits, which were captured by Daria Lorman in her light and airy artistic style in a perfect picture world.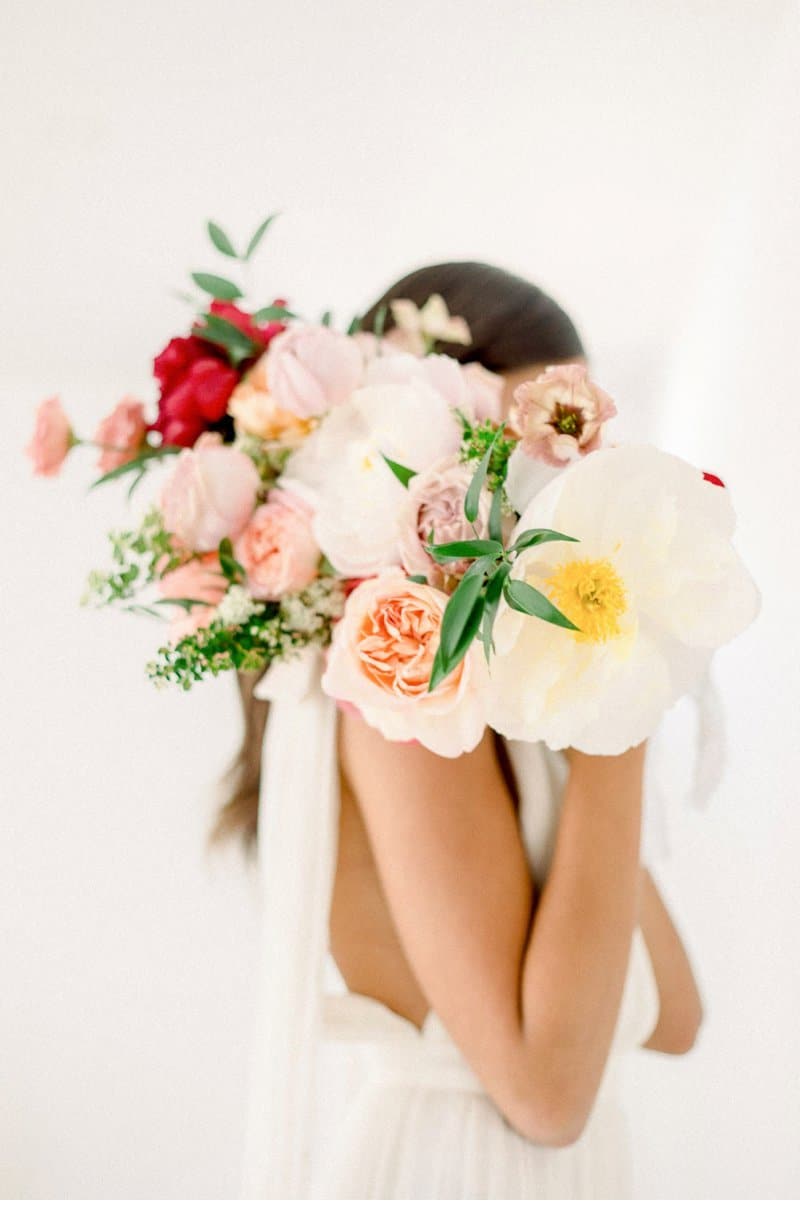 Photography: Daria Lorman Photography
Floral design and Decoration: Kahina Events
Hair & Make up Styling: Tatiana Zinchuk
Wedding Gowns: Les Merveilleuses Paris
Jewellery (rings & necklace): Djoline Joailliers
Earrings: Della Bella Gioielli
Stationery: La Pomme et La Pipe