Influenced by the drastic experience of a worldwide pandemic which felt as if our previous life got "frozen", sociologists and trend scouts observe an increased appreciation of close relationships as well as things that radiate permanence. The experience that many things can be lost all too quickly has become universal and tangible for everyone. No surprise that sustainability in the various facets of this word has gained also emotional significance for us.
Chris Schöning from Wild Malva Photography was inspired by this theme to create an expressive editorial, which she designed together with a fantastic team with a lot of passion and attention to detail.
Set in the beautiful 16th century Weser Renaissance moated castle – a place that symbolizes the dualism of permanence and change like no other, we discover two brides in graceful wedding dresses by Cosmopolka and bespoke rings by Grafengold that combine personality and sustainability.
The diverse ideas were impressively captured by Chris Schöning from Wild Malva Photography not only on modern digital photography, but also partly on film.
From Chris Schöning from Wild Malva Photography: "With this shoot concept, I wanted to contrast this aspect of constancy with a second one: that of flow, of change. Because for many of us, this experience has become also more tangible than ever before: Every week, even every day, we have to follow new rules, information needs to be gathered, and everyday life has to be adjusted again and again. This creates a constant pressure to change – which is demanding. At the same time, the longing for change is growing, the longing for everything to flow again, to become carefree and light once more.
Following this dualism of constancy and flow, we came together as a team of creatives and developed further the 2020 highly regarded trend "Cottagecore" with its nostalgic and slightly sweetish touch. So this styled shoot relies on a timeless fine art aesthetic paired with the flowing, vaguely suggestive elements of wabi-sabi. We intended to give bridal couples an inspiration on how to create a classic and precious, yet modern and light ambiance for their loved ones."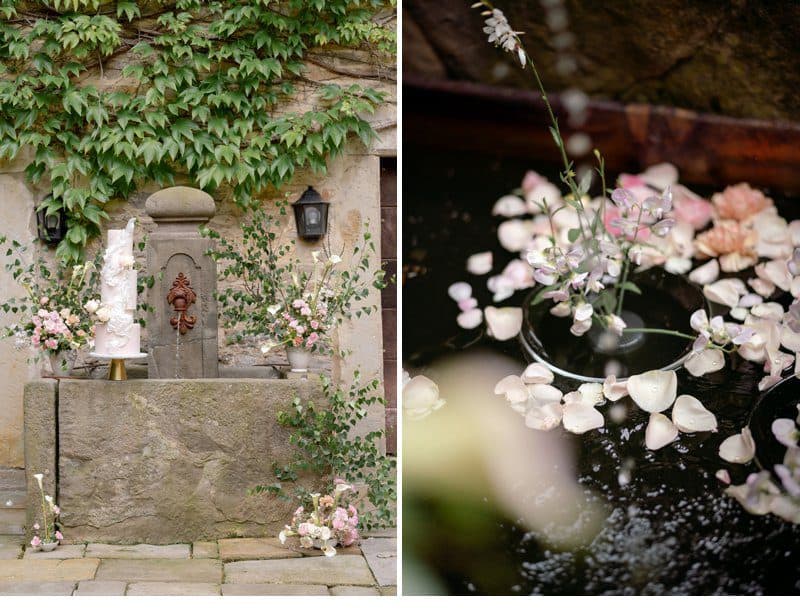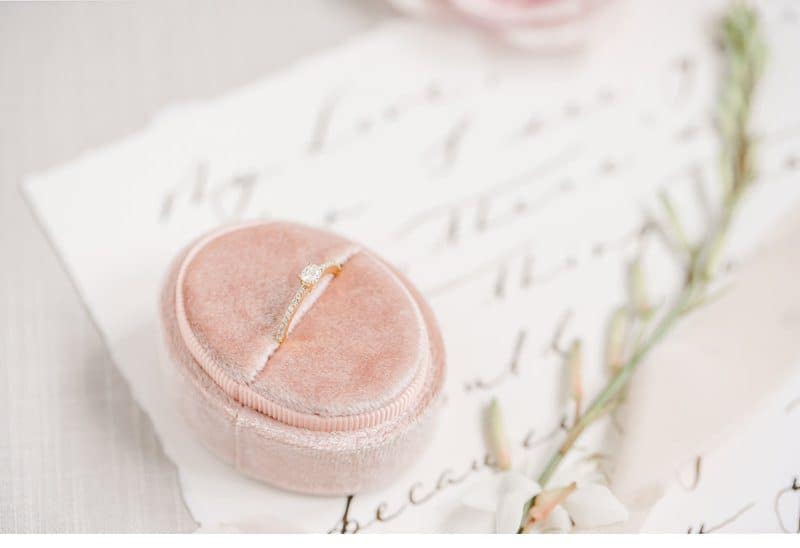 Photography, Concept & Art Direction: Chris Schöning
Wild Malva Photography & Storytelling
Venue: Moated Castle Hülsede
Tablescape, decor & accessories rental: Magnolias on Silk 
Bridal dresses: Cosmopolka
Bridal robe: Christian Dior via Magnolias on Silk 
Shoes with pearls: Bella Belle Shoes  
Golden Shoes: Baldowski via Cosmopolka
Flower design: Blossom & Dust
Patisserie: Berries & Brides 
Tableware, glassware & flatware: Vista Alegre via Magnolias on Silk 
Table linen & bed cover: Leinenfabrik
Jewellery: Grafengold
Calligraphy & stationery: Peace & Paper
Furniture rentals: Love Events Möbelverleih
Hair & make-up artist: Rebekka Masterstylistin
Models: Ayleen and Merle
Film processing & scanning: Mein Film Lab
Behind-the-scenes reel: Sebastian Gehrken
Set catering & photo assistance: Nina Gehrken