Country wedding in Belgium
Nina and Hugo had actually envisioned a tent wedding, but when they discovered the Ferme de Baligue, they fell in love with the location and planned a country wedding from then on. They liked a classic style and chose white, pastel abricot and dusty blue as their wedding colors.
The two organized their wedding on their own, without a Wedding Planner. Instead, they had loving help from family and friends. The day before the wedding, the two already brought some things to the location and set up decorations together.
Styling was also on site at the stylish country location. Since tradition says that something borrowed brings good luck, Nina borrowed her mother's pearl earrings. The bride looked magical in her breezy and elegant wedding dress by Rosa Clara. The groom, in a custom suit from Suitsupply, waited outside for his bride for the "First Look," the moment when the groom sees the bride for the first time. Some couples enjoy this for two before the wedding ceremony. Nina and Hugo shared this special highlight with their closest circle of family and friends, who stood around and rejoiced.
Traditionally, the couple started the laic wedding ceremony: the groom came in with his mother and the bride with her father. The bridesmaids and groomsmen played the song "Can't help falling in love" for the occasion. In front of the wedding arch, there was a touching ceremony with speeches from both mothers and a mutual personal vow. To celebrate the two, guests sprinkled lavender and flowers over the happy couple walking out. Originally, the ceremony was to be held outside, but since the weather didn't permit it, the ceremony was set up inside. In retrospect, everyone felt this space was especially beautiful and very intimate.
In the afternoon the weather brightened up and the couple was accompanied by photographer Elisabeth Van Lent and beautiful couple photos were taken. In the meantime, the room could be transformed so that guests could sit at long tables for dinner with the pretty wedding arch by florist Céline of Essence of Shade in the background. This was made of wood draped with dusty blue fabric and adorned with white and pastel flowers and green leaves, which also made a lush appearance on the long table. The couple enjoyed a wonderful evening with their guests well into the night.
As a conclusion for the planning, Nina and Hugo give the following advice: "I would say don't stress too much, even if it is easier said than done… not everything will be perfect, but the most important thing is to be with the right person for the rest of your life. And try to sleep, we couldn't!"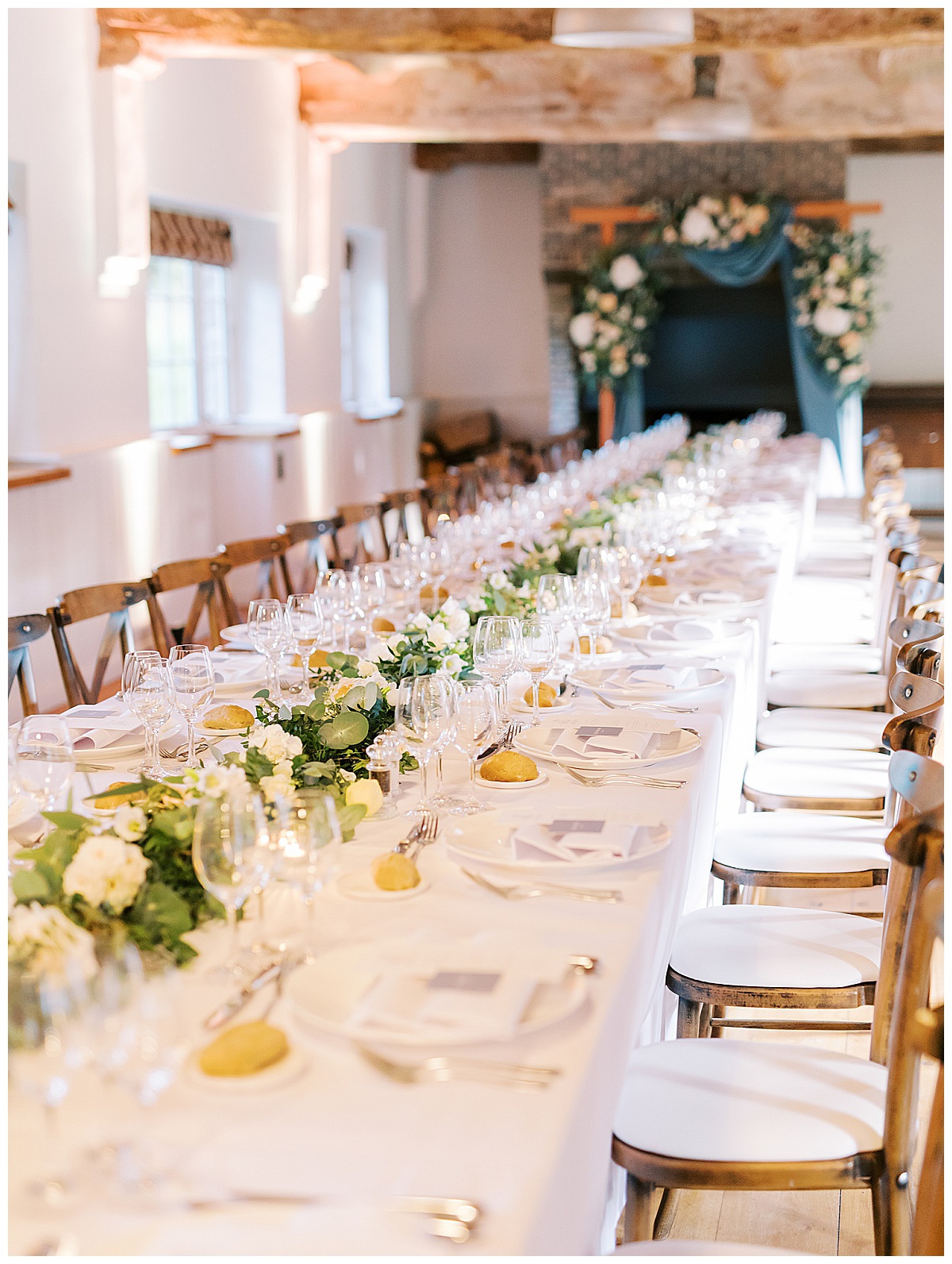 Photography: Elisabeth Van Lent
Location: Ferme de Balingue
Wedding Dress: Rosa Clara from JPC Collection
Groom Suit: Suitsupply
Catering: Great Traiteur
Florist: Céline from Essence of Shade
Stationery: Design by the bride, printed from Handley
Make-Up & Hair: Vivyane Dewals