Desert Sun
"And still, after all this time,
The sun never says to the earth,
"You owe Me."

Look what happens with
A love like that,
It lights the Whole Sky."

– Hafez –
Are you ready for a fireworks display of bridal inspiration? Then look forward to extraordinary wedding dresses, unique locations and exciting subjects as we take in the fantastic work of fine art artist Jeremy Chou.
The photographer himself tells us how it all began: "The down-to-earth environment of our location Korakia Pensione was the source of inspiration for our editorial. We wanted to blend the bright and luminous walls and rustic colors of the property with the natural light and dark tones to create a feast for the eyes."
What sounds like poetry ended up being so much more than that. It was about a tribute to the beauty of a woman. About the harmony between the bride and groom. About the symbiosis of man, nature and architecture. And about three breathtaking wedding gowns, which the team around producer and stylist Carrie Moe of Type a Society staged with dedication and flair:
"We really wanted to shoot the romantic iron stone gown in the bright sunshine because it let the bright light shine through. We loved how the dress played with the wind and created a mysterious magic along with the tender pampas grass." recalls photographer Jeremy and adds: "On the other hand, we combined the Toni Maticevski gown with the straight lines and geometry of the stairs, which gave the motifs a modern touch. Plus, with the one sleeve and cheeky ruffles on the side, it fit our groom perfectly."
As so often in life, however, the best comes at the end. And for good reason, as we learn: "We knew we had to save the biggest, visual highlight for the last setting. So we waited until the sun set and put a soft glow on the property. We asked Floral Artist Felisa from Of the Flowers the Headpiece of a sun queen to design for us and got a real masterpiece. When we saw how sweeping the stunning headdress was we knew it would go perfectly with our Sophie Et Voila dress with the royal sleeves."
And so it was. With the combination of opulence and simplicity, the team literally crowned its visions and and ended the day with a brilliant finale.
Dive in with us and be a part of these spectacular bridal inspirations so artfully captured by Jeremy Chou!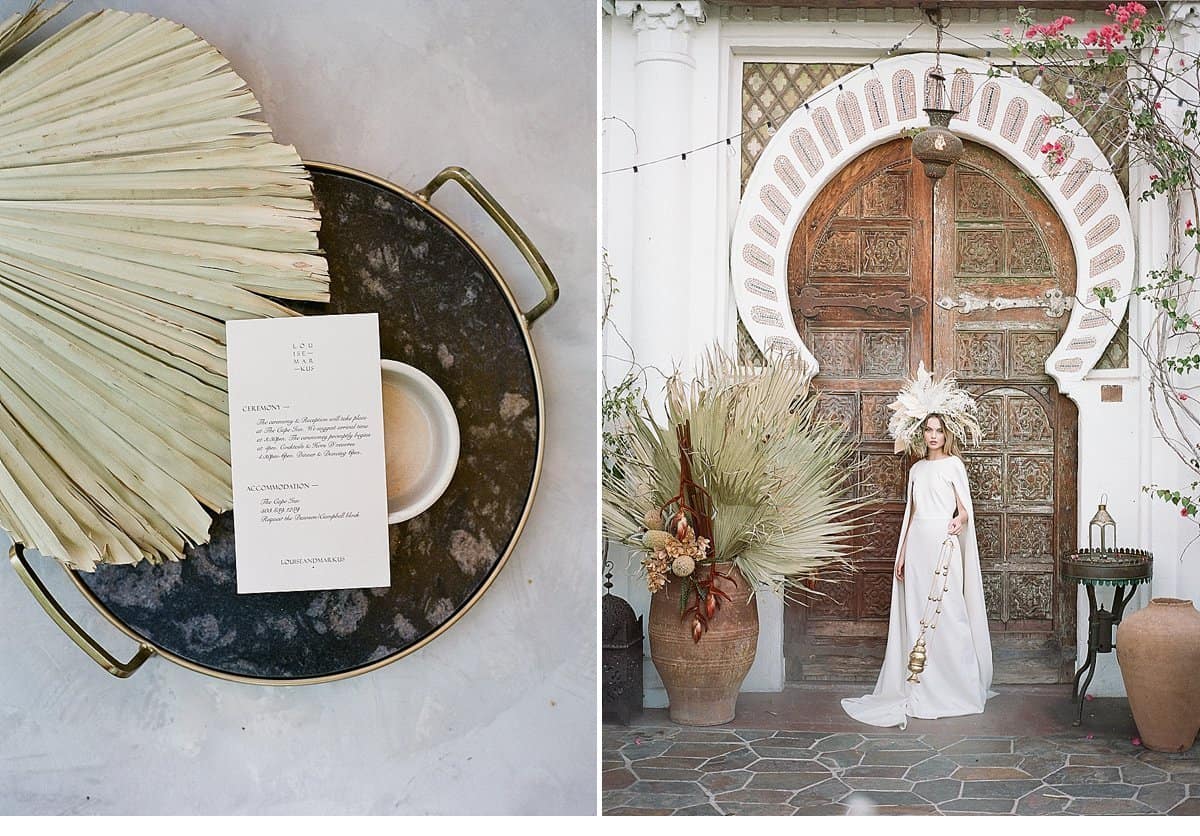 Desert Sun // Palm Springs Bridal Editorial from Robert Michael Films
Photographer: Jeremy Chou
Producer and Stylist: Carrie Moe of Type a Society
Florist: Of the Flowers
Hair and Makeup: Amy Clarke
Gowns pulled from Loho Bride and Eisen Stein Bridal
Invitation: Carta Plena
Video: Robert Michael Films
Earrings: Lili Claspe and Stil Works
Shoes: Madewell
Tabletop: Greystone Table
Ring boxes: Voeu du coeur
Prop kit: The Styled Kit
Styling mat: JRD Artshop
Floral pedestals: Lavenders Flowers