Victoria Ruesche Collection 2020 – individual and seductively
Romantic, individual and a little bit sexy – this is how brides will say "I Do" in the upcoming season, as the multi-faceted Victoria Rüsche Collection 2020 already presages.
This time the collection consists of eleven lovingly detailed and high-quality handcrafted pieces that delight with an extra dose of Boho glamor and Hippie chic. After the great success of her last collection, the Cologne-based designer did not rely exclusively on her usual magical wedding dresses, but complemented the exclusive selection with trendy tops and dreamlike skirts for more individuality of her brides.
Victoria Rüsche was inspired by the fabulous world of flowers and blossoms, as you can easily see from the filigree applications, fine lace and ornate embroidery. In the end she gave the perfect finish to each of the unique models with a mysterious, Latin plant name.
Whether bold and playful or rather exciting and sexy, the new collection seems to effortlessly fulfill unspoken wishes. For you we have put together our five favorites:
For example, there are Ilex and Castus, from the exciting Mix and Match Family. While Ilex convinces with a long-sleeved Boho top and a simple skirt, Castus is the one to surprise you with its unexpected transparency and graceful train.
Wedding dress Camellia enchants us with its lovely bow on the low-cut back, an unusual front and a slightly flared, airy light skirt.
Dress Rubus on the other hand is a bit bolder and pulls all eyes on you with the lace-studded V-neckline as well as its coquettish leg slit. A simple, gold shiny belt completes the bridal styling perfectly.
You won´t have to bother yourself about accessories of any kind if you´re going with Sativa, because the stunning bridal dress is a highlight in itself: the seductive lace top is held only by two delicate straps, its deep neckline reaches almost to the navel. On the sides it plays with beguiling transparency and goes from there seamlessly into the cuddly and barely noticeable skirt. Simply perfect for carefree flower girls and modern free spirits who love to show off their femininity.
Speaking of flowers – a keyword that could not match the impressive collection shoot better that the successful bridal fashion designer recently arranged. Surrounded by floral artworks by Goldregen Floraldesign, photographer Nancy Ebert captured the entire collection, focusing on every detail of each model.
So, if you also want to say "I do" in one of her current wedding dresses this upcoming season, then book your appointment in Victoria Rüsche's studio in Cologne today.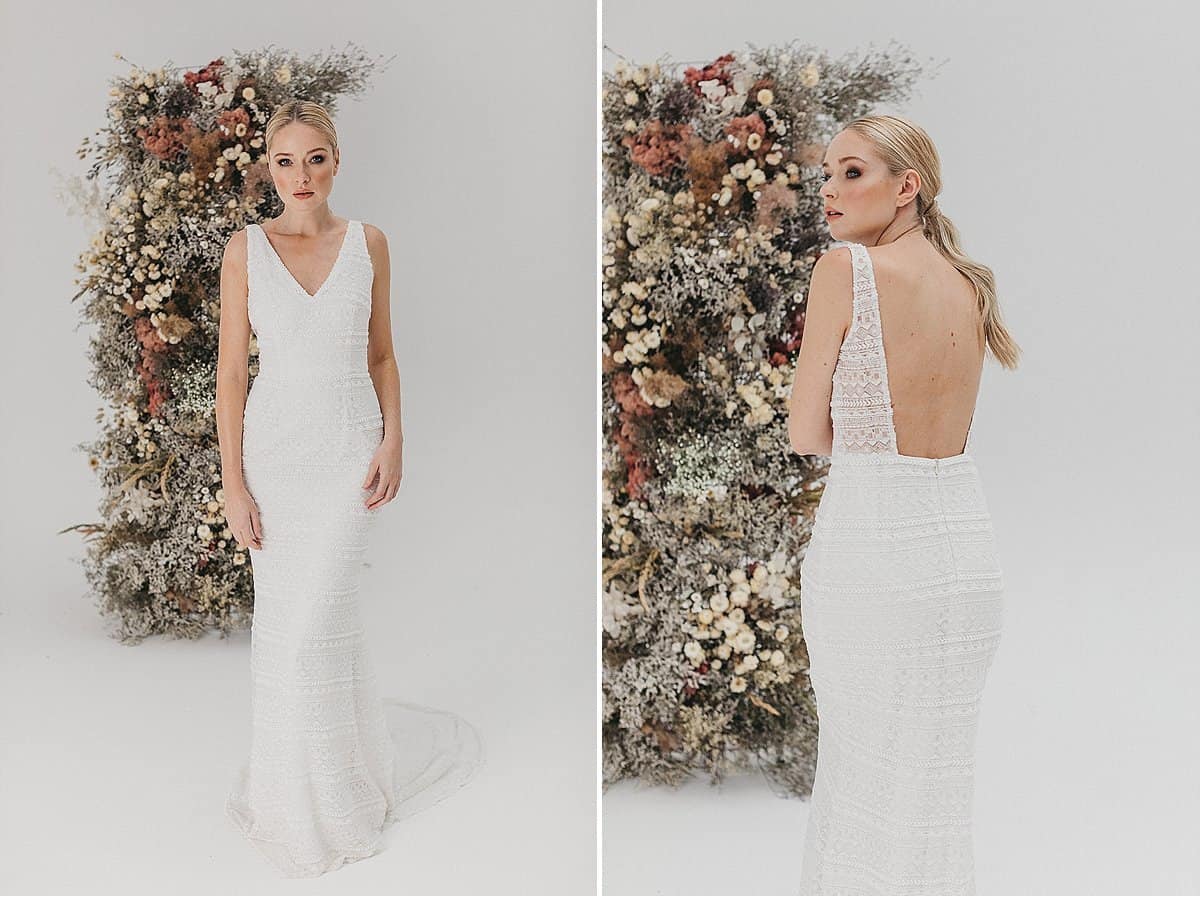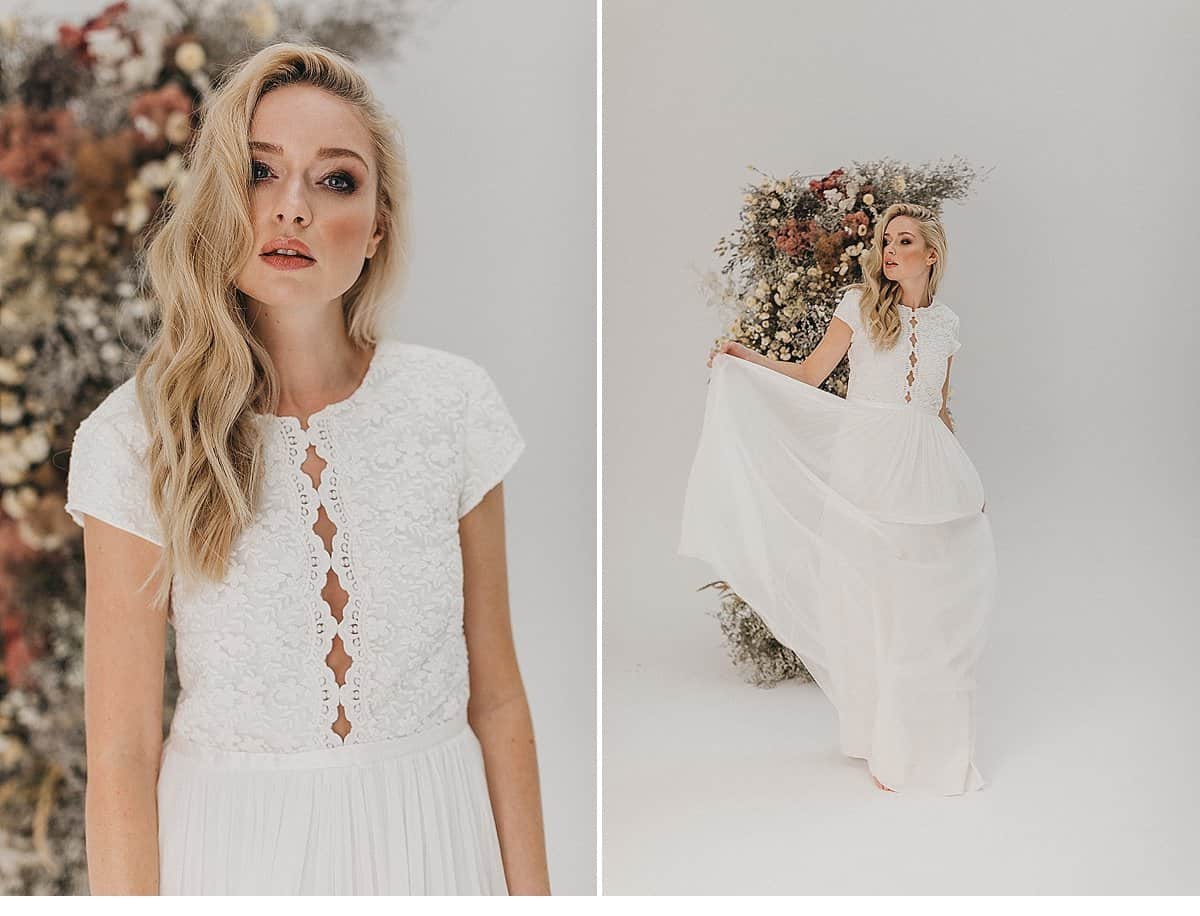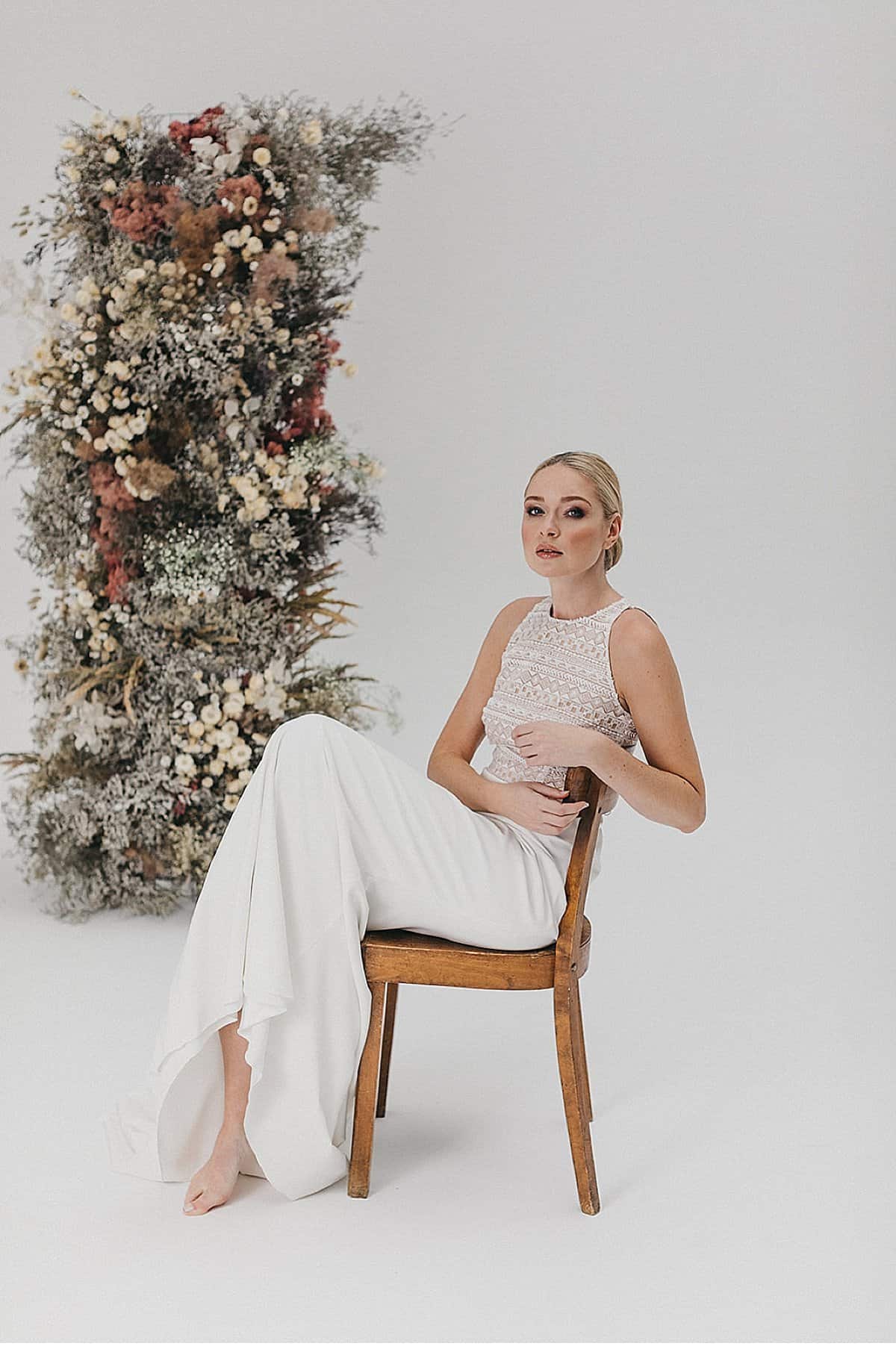 Kleider: Victoria Rüsche
Fotos: Nancy Ebert
Visagist: Les Allures
Floristik: Goldregen Floraldesign