Discover your beauty with Claudia Fromaschitz from Gilbird
Today we are visiting the make-up artist Claudia Fromaschitz from GILBIRD. She is not only a passionate make-up artist but also a hairstylist and style consultant. What we particularly like is that she uses makeup & co to highlight her clients' most beautiful features, not to cover them up, alter them or hide them.
We are pleased that Claudia took the time to answer our questions:
How did you find your enthusiasm for the profession of make-up artist?
I discovered my enthusiasm for make-up rather by chance during my training as a hairstylist. At that time, I spontaneously decided to do an intensive course to become a make-up artist and I just thought to myself "yes, why not, if I already have the opportunity…". Fortunately, because through it I once again got to know and love creative work, which has not changed until today.
What do you draw inspiration from?
There are already looks or a certain style that I find very appealing. Such as the red carpet look of Hollywood stars, London style and also Parisian chic. Stylists like Wendy Iles, Liz Taw, Linda Hay or also Charlotte Tilbury with their make-up products, I find super.
Current trends or styling hypes on Pinterest & Co I also look at, I like to work on the pulse of time…was also recently just in Berlin at a renowned academy to deepen knowledge, learn new techniques and exchange with the stylists…I appreciate that very much.
I am most inspired by the people I meet. Every single one hides and/or shows an individual beauty – whether it is the bright eyes of one woman, the modern trimmed beard of a man or the rather unconventional styling of a teenager in the trial phase – there are similar types but no one is 100% the same and with each person something different is special and beautiful. That's fascinating.
Can you tell us a little bit about how you work and your philosophy?
Holistic and subtle sums it up best – focusing on the person and their wishes.
When I do someone's makeup, I don't just look at their face and start with the makeup. I see the woman, what she wears, how her hair is and also how and what she speaks, what she radiates and above all what she wants.
Therefore, I am probably more of a consultant than an artist and I am happy when I can show the women, at the bridal styling or a make-up workshop, how beautiful they are. Charlotte Tilbury says it very aptly "I want to make every woman the most beautiful version of herself".
What are your tips for brides to find the perfect styling on their wedding day?
The perfect styling is certainly found with the right stylist or makeup artist. Because the right stylist understands what the bride wants and sees what goes well with her, the dress and if it is important also with the ambience and then implements it.
Gilbird recommends that his bridal ladies look into styling before their trial appointment to get a feel for what they like and don't like. I then like to have pictures of hairstyles & makeup looks sent to me and also a photo of the bride in her wedding dress. So I get a good impression in advance in which direction the bride wants her styling and know how I can optimally advise her at the rehearsal. In the course of the rehearsal crystallizes very well what bridal hairstyle fits well and what make-up will make the future bride radiant.
My tip: do not dress up! The bridal look may be unusual, after all, you see yourself (usually) for the first time as a bride. But if you don't recognize yourself in the mirror and even feel uncomfortable, it's an indication that this styling might not be the perfect one yet…
Do you have any favorite products that you can recommend to our readers?
Yes I have! Currently, this includes the Elderflower Salt Spray from less is more. Gives great volume to fine, straight hair and generally gives any hair a grippy texture. Perfect for pinning up, braids / dirndl hairstyles and beach waves.
My 2nd favorite hair product, an all-rounder for any hair type, is the Finishing Serum by Iles Form. Gives a beautiful silk look, nourishes the hair and protects it from eg heat and humidity (important on wedding days where it is very hot or rainy).
Beautiful, well-groomed skin is essential for good makeup. Products with "instant effect" such as the aroma garden Gold series are ideal. The fine gold particles in the cream make any skin look radiant and fresh. My universal companion is definitely the "Shimmer Bloc Powder – Golden Mosaic" by Laura Mercier. Suitable for contouring, highlighting, as a bronzing powder for a fresh summer complexion or even as an eye shadow. Last but not least, a product for the lips from Charlotte Tilbury. I love the colors of this brand – they have managed to create colors that make the lip look beautiful, sensual and very natural my favorite is therefore definitely the color "Pillow Talk".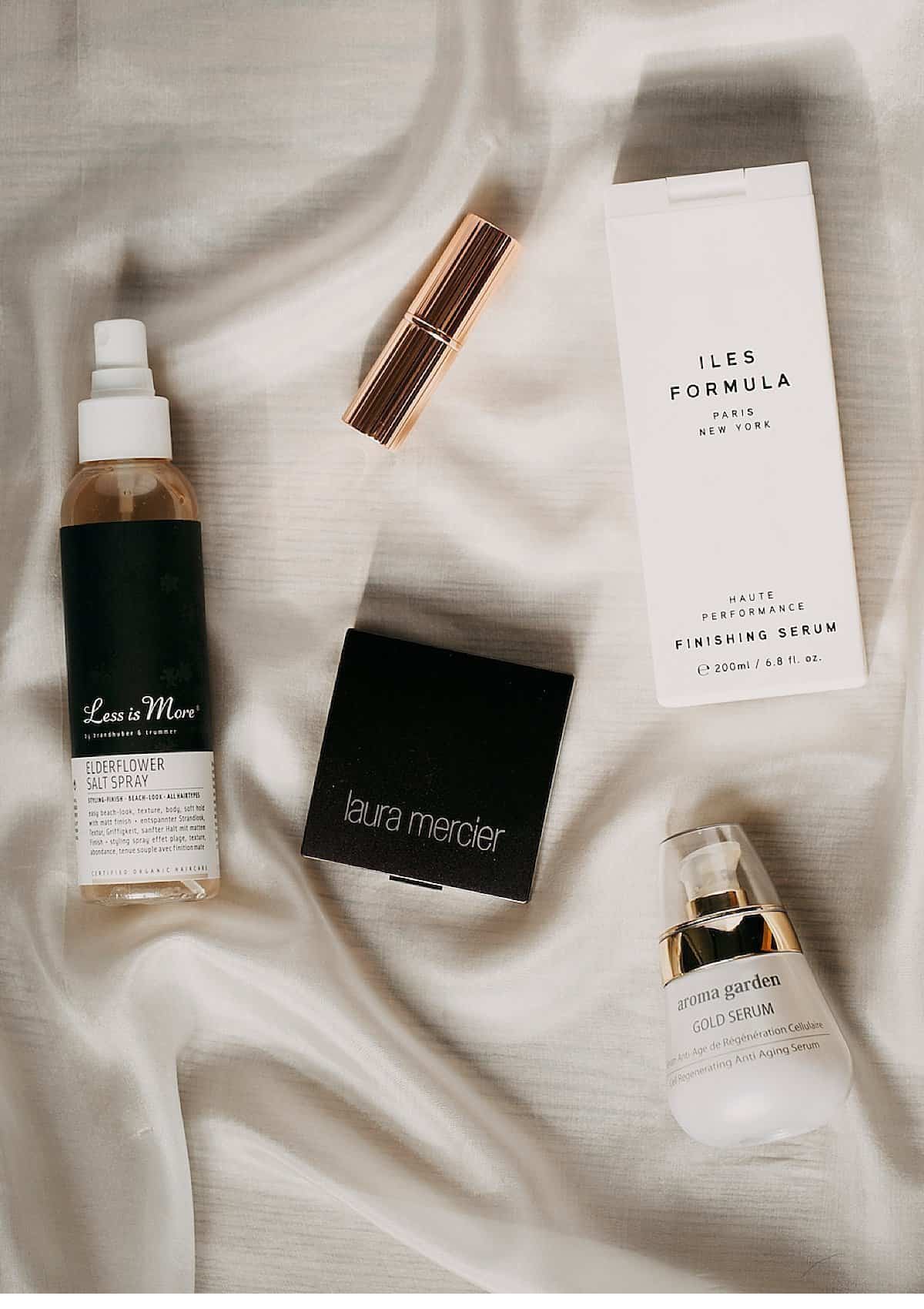 You are also a hair stylist – are there any trends in bridal hairstyles?
If you go by the "Bridal Fashion Weeks" for the coming season, the designers showed very different looks. From braided elements, Sleek (very straight) hair with strict chignon to open hair – the beach waves. One thing has clearly stood out, the hair ornament. Perhaps also due to the hype around Meghan Markle, because you can dare to wear a tiara and if that is too princess-like, there are also great headbands that are less opulent but at least as effective.
My tip: Hair jewelry, a great accessory that completes any bridal hairstyle and crowns the bridal look, but should never drown out the overall outfit (unless it is so intentional).
Thank you so much for the great support with GILBIRD bridal styling shoots:
Film: Santiago Boceta
Photos: Lisa Leutner
Wedding dress: Simon Barth
Bride: Sophie Weilguni
Location: Refugium Bergmühle