Dreamlike Colorado wedding at The Little Nell
Colorado, features a diverse landscape of arid deserts, deep canyons and the snow-capped Rocky Mountains. Located in the heart of Aspen, The Little Nell resort provides an unforgettable setting for elegant mountain weddings with its luxurious ambiance and breathtaking distant views.
Katie and Carl also fell in love with this beautiful location and celebrated their lovingly planned wedding together with family and friends in this magical place. A bit classic but very modern, a bit traditional but very unconventional, a bit glamorous but very romantic – that's how we feel about this Fine Art wedding, designed by wedding planner Jennifer Pletcher of Gemini Event Planning  with a great sense of aesthetics and attention to detail.
Fine Art photographer Tamara Gruner succeeds with her impressive photos to capture the many intimate moments and lovingly designed details in a touching world of images.
From Tamara Gruner: "Katie is American and Carl is the only one in the family born in America, but his family and siblings are originally from Sweden. They didn't know if his parents / siblings could attend the wedding until 1 week before the wedding since the given situation with Covid and since they are Europeans. They just received their travel visa 1 week before. You can imagine how nerve wracking that must have been for everyone. But gladly everything worked out and Carl's parents and siblings could celebrate their special day with them.
You can see the radiance and happiness of Katie throughout the day. She spent the day dancing. Dancing is in her bones and her motto 'Never stop smiling'.
Katie and Carl have 2 dogs – 1 Chiwawa and 1 big Labrador. They both were part of their ceremony. They couldn't have been more different in size, but made the ceremony! They play a huge part in their lives and so it was out of the question not having them on top of the mountain.
Katie wore a stunning Galia Lahav dress on her wedding day. She simply looked stunning in it and stood out during her portraits on the mountaintop at the Little Nell!
We all know the Little Nell with its outstanding mountain views in Colorado. Katie and Carl's portraits and ceremony images are unique in that way because the skies were dark blue. It was raining throughout the ceremony but their guests didn't pull out their umbrellas out of respect to their wedding couple and their images."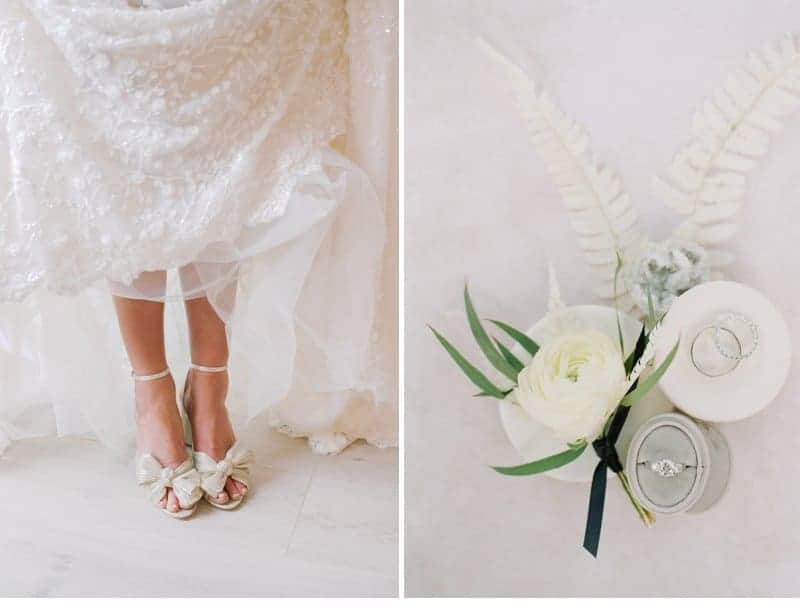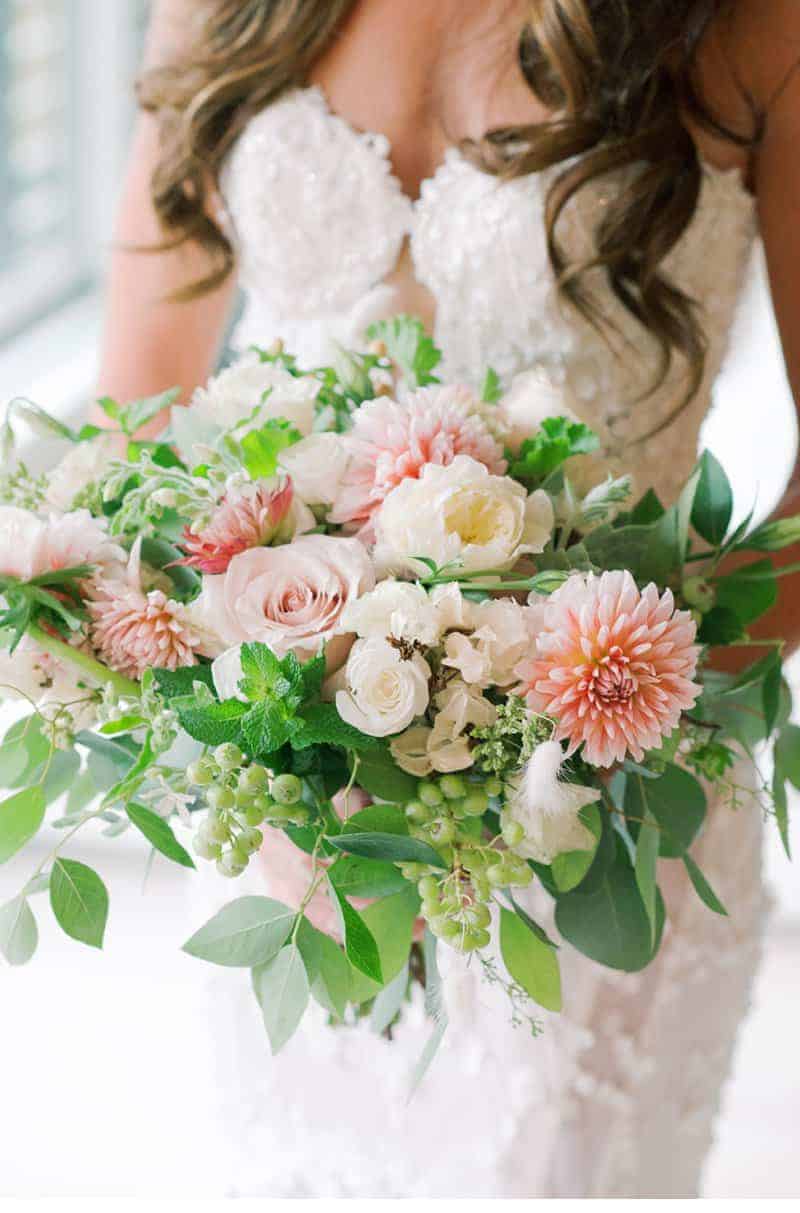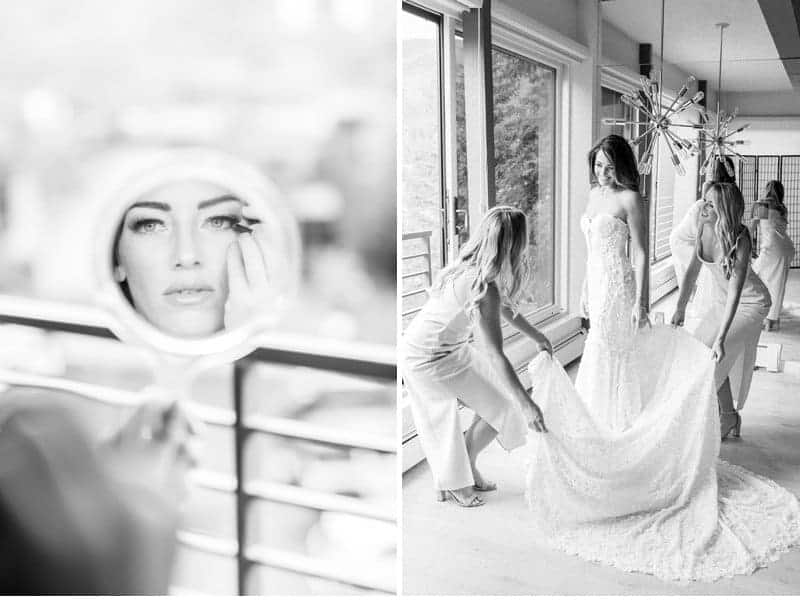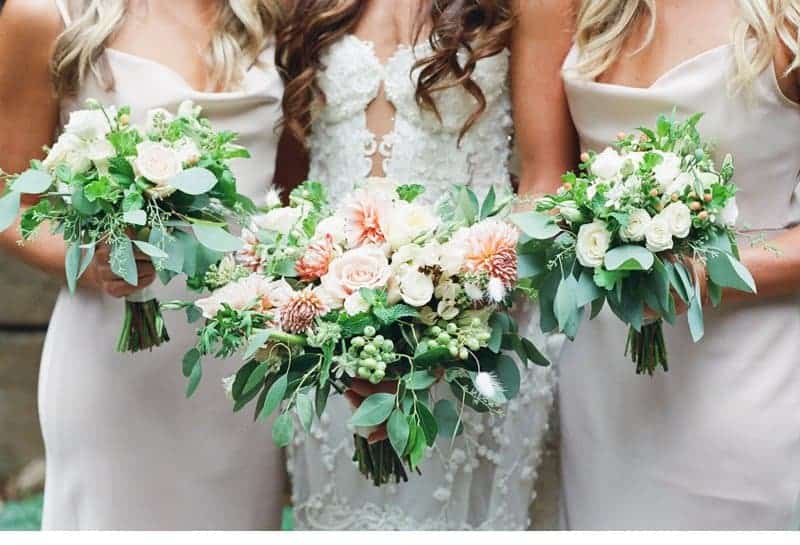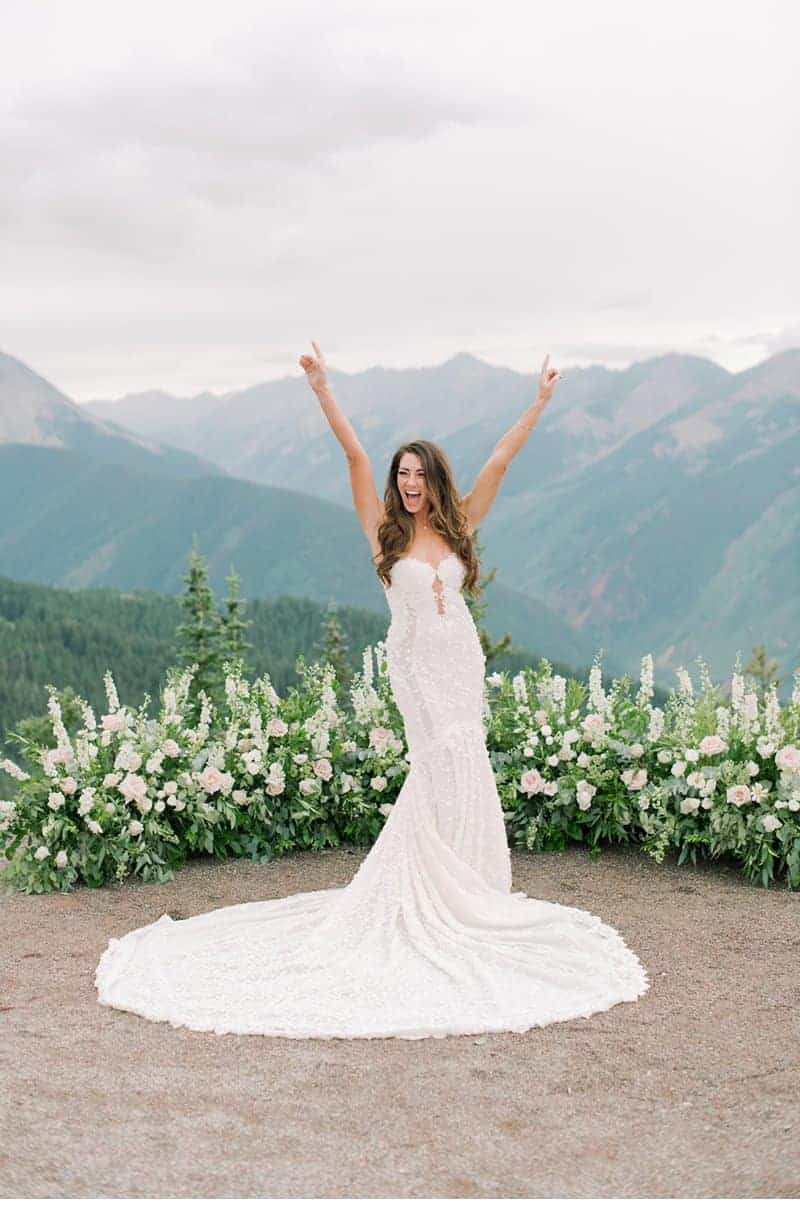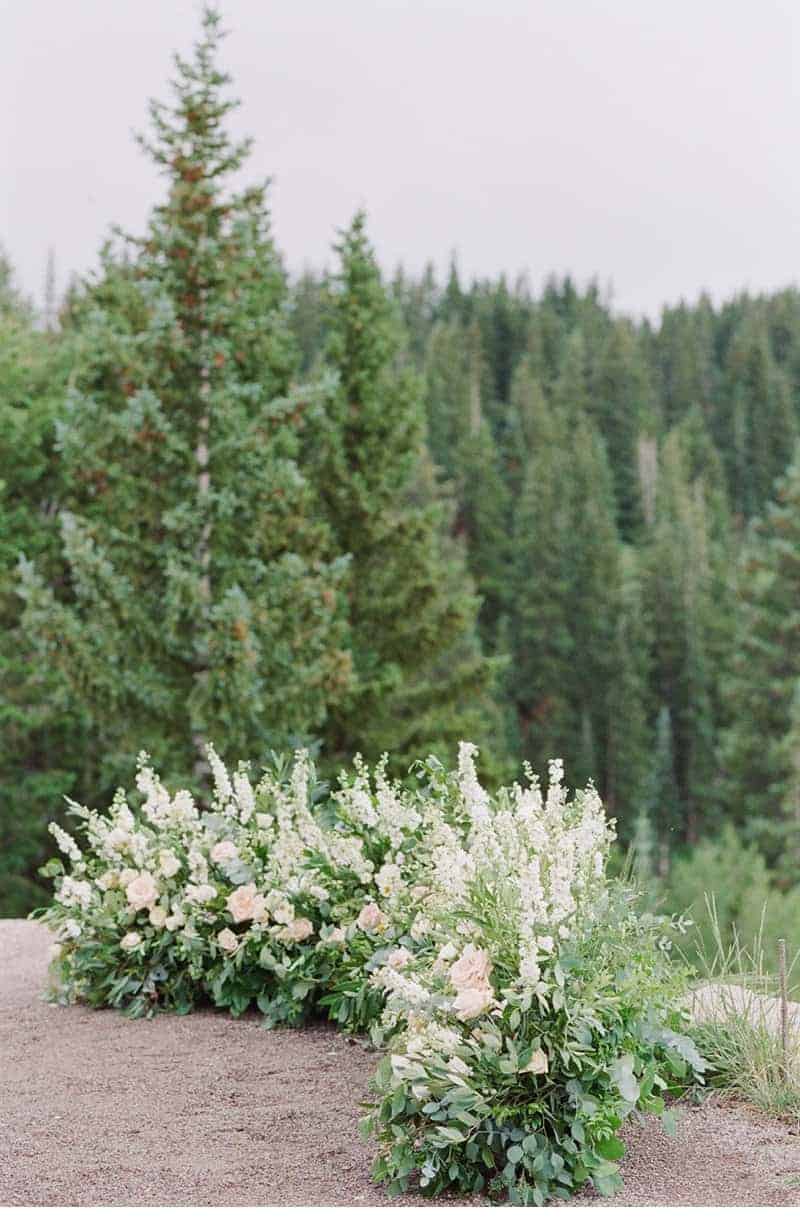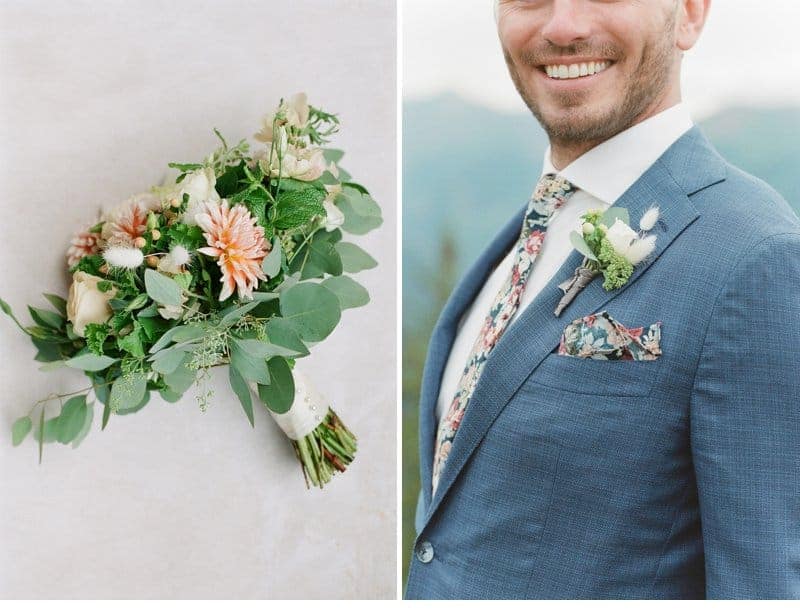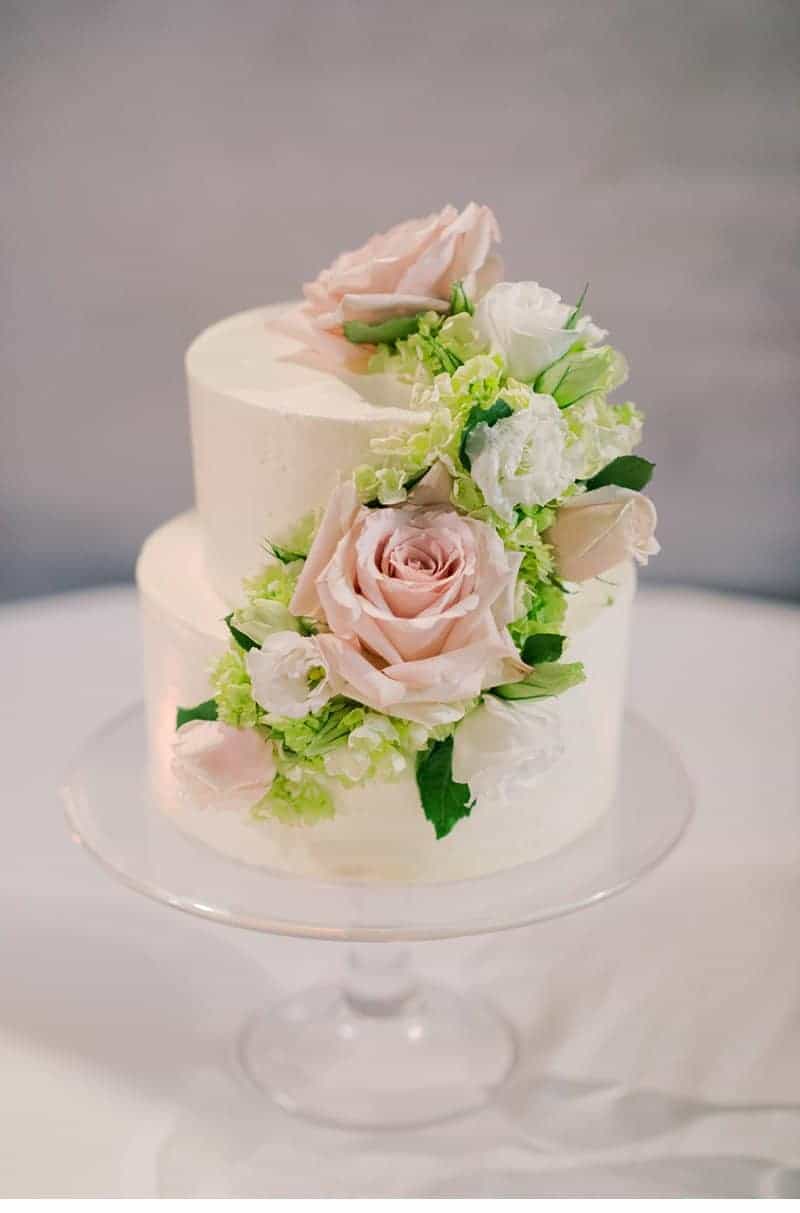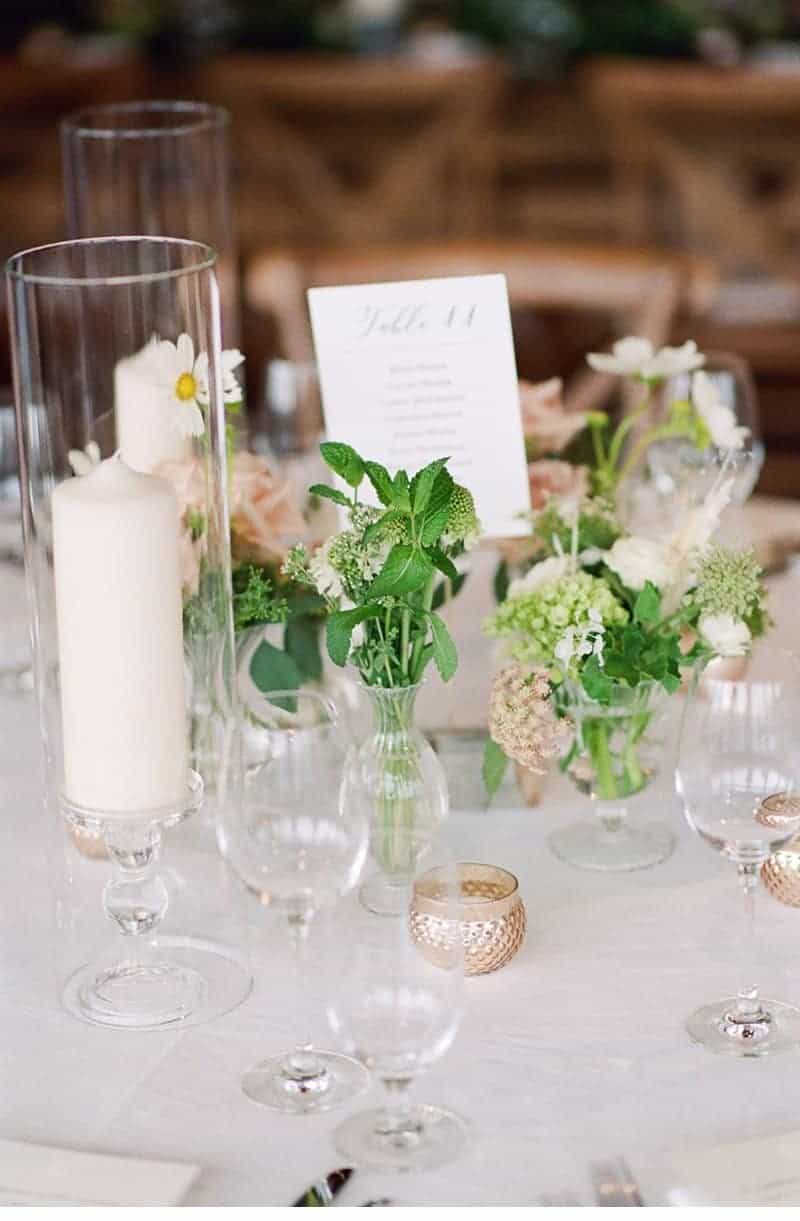 Photographer: Tamara Gruner Photography
Planner: Jennifer Pletcher Gemini Event Planning
Venue, Ceremony, Cake: The Little Nell 
Florals and Rentals: Aspen Branch 
Stationery: Donohue Papers
Dress Designer: Galia Lahav
Dress Boutique: Little White Dress
Make-up: Live Love Lash
Groomsmen wear: Black Tux
bridesmaids dresses: BHLDN
Music: Mannequin The Band
Videography: Majestik Films