Dreamy and Hopeful – Fine Art Chinese Tradition Inspiration
Joanna and Sarah of Honour and Blessing Events are successful wedding planners in Vancouver. As Chinese immigrants, they have had to experience many senseless attacks and violence against Asian citizens.
But they are both proud of their heritage and wanted us to bring traditions in a stylish way in this extraordinary editorial. Together with the beautiful imagery of fine art photographer Nadia Hung, they tell a stunning story about fashion and Chinese wedding customs.
From Joanna und Sarah von Honour and Blessing Events: "Together with a local wedding dress designer O M Couture, we created a collection of dresses that is based on the traditional Chinese dress. Known as cheongsam in Cantonese or Qipao in Mandarin, this is the signature Chinese dress. Our purpose is to create gowns that incorporate the traditional elements of the dress while giving it a dreamy modern flair.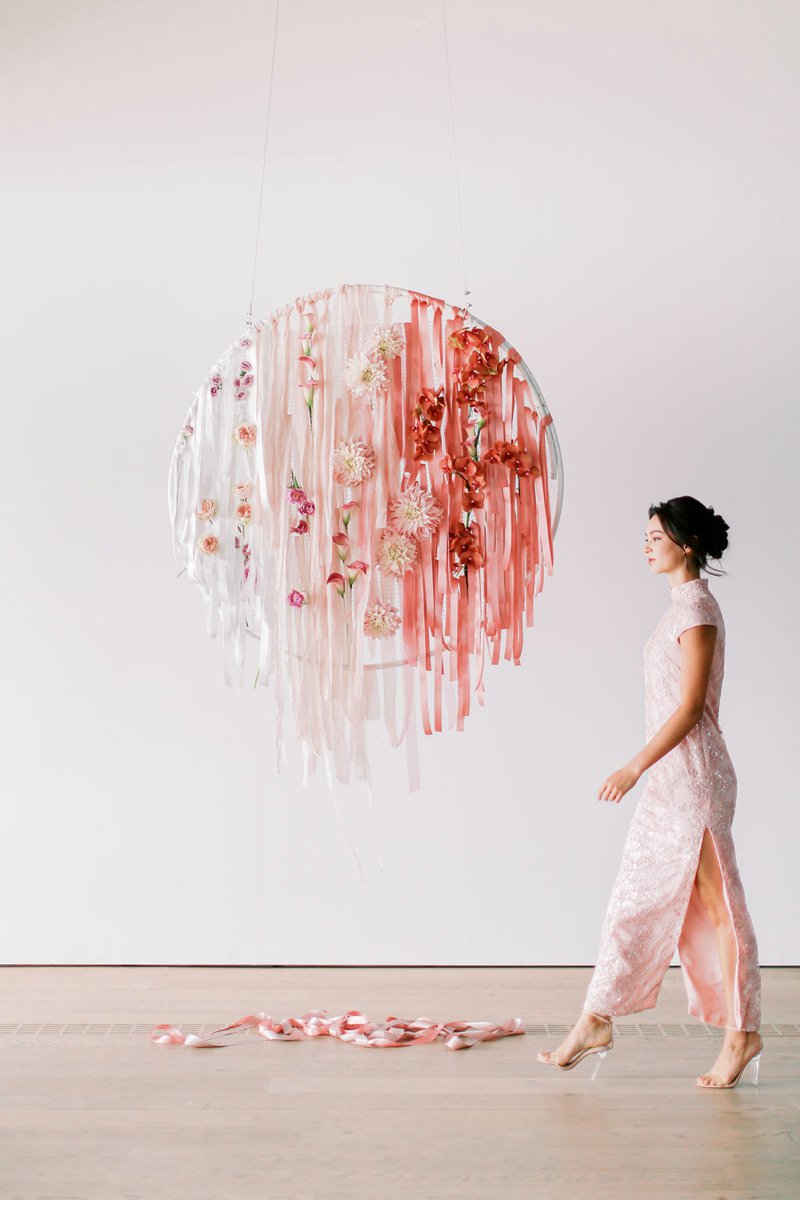 Named "The Kin Collection", this is the story of immigrants. We have named it "The Kin Collection" because no matter where one is, there is always that longing for immigrants for those in their homeland and the importance of family and close ties. This editorial shoot is designed to showcase the collection but also using various Chinese wedding elements in a more modern and fine art aesthetic.
In this collection, all 3 are designed for the bride to wear as their main wedding dress to honour the Chinese heritage, but can also be worn for the traditional Chinese wedding tea ceremony or as a reception dress. Each gown represents a special characteristic that we believe immigrants carry with them. Each of them has a special meaning and is important as they navigate through this new country to create a new life for themselves and their families. This is a story of all immigrants, where they are looking for a new start to their life, full of hope and dreams.
The first one is named Reminiscence for the recollection of happy memories that immigrants bring with them no matter where they go. The beautiful memories that bring them back to their home and allows them to remember where they are from. This pale pink qipao is the closest to the traditional design of the 3 dresses. With a sheer lace overlay and a touch of sparkle from the beautiful embellishments, this dress has the silhouette of a typical qipao while staying modern. For a modern spin on this, we have chosen it in a pale pink with the focus on the delicate details of the dress.
Armed with plenty of happy memories that help in difficult times, something else is also needed as the immigrants journey and adapt to the new environment; Valour. Throughout the years, we have seen how many immigrants overcome difficulties and demonstrate how courageous they are as they learn and grow in the new country. Being courageous doesn't always mean just being strong. Sometimes it's being able to be kind, gentle, and persevering when it seems difficult.  So for the second dress, Valour, we wanted it to be a balance of strength and delicateness. Using a dusty purple, we wanted to convey the sense of boldness and confidence. For a softer and feminine style, we went with a long train and delicate sheer top with detailed floral embroidery.
Rounding out the 3 gowns, and also the 3rd characteristic, is Hope. For every immigrant, they are moving to a new place with the hope of a better future and a dream they want to achieve. We want to express this sense of hopefulness and also the freedom of running towards their goal, so this dress colour is designed in an off white colour with touches of pink and purples in the lace embroidery. It is similar to Valour, but with the change in colour, it exudes a different emotion and style. It is the perfect wedding dress for the bride who wants something different but still has a modern and romantic style.
From the floral installation of Shadow Jiang, the stationery of Be One Letter, dresses and all the details, we wanted to tell the story of this collection in a dreamy and hopeful way. In Chinese culture, red is an important colour as it symbolises happy occasions and is often used as the main colour in weddings. As we wanted a modern touch to this, we stayed close to the red family and went for a colour palette of pinks and purples. For floral arrangements, we wanted it to be incorporated in different ways. Typically there are gold wedding headpieces with intricate and complex designs. But for a lighter and more feminine look, we created a floral hair piece. Something smaller and more dainty, but still beautiful. For the backdrop, we wanted a clean and elegant hanging floral arrangement. Playing with different textures of fabric and ribbons cascading down with flowers arranged throughout the circle, it gives it a beautiful and unique focal point.
There are many traditions in a Chinese wedding, but one of the most popular ones that is still done frequently now is the tea ceremony. Tea ceremony is when tea is served to the bride and groom's parents, grandparents, or other elders in the family as a sign of respect and also as a way to welcome the new family member. There are various decor items that are part of this, especially traditional emblems like "the double happiness word". We have incorporated it in various ways while keeping it in a beautifully feminine and romantic style.
Traditionally in a Chinese wedding tea ceremony, there will be a set of red cups on a tray. However, we decided to give this a modern spin by using double walled glass tea cups with the double happiness word in rose gold. In addition, we used a clear tray with a clean and minimal design and softened the look with flowers and fabric.
For many Chinese people in Hong Kong, there is also the tradition of the bride's family giving out 'cake gift cards'  to their friends and relatives to celebrate the marriage of their daughter. We wanted to do something similar and so we had envelopes designed in calligraphy specifically for those cards. We also played around with the idea of "cake gifts" and focused on using it in a cookie format and mini wedding cakes by Momo Chen Cakes. A reinvented way to incorporate Chinese traditions in a modern and artful way.
Sometimes with traditional elements, it may not be easy to include when there is a particular style that a bride is striving for. But there are many ways to keep the traditions while fitting them into a more modern design. We hope that with this collection, more Chinese brides will be able to incorporate their heritage into their wedding. Sometimes hiding and assimilating to the country's culture is easier and almost necessary to be successful. But may the beautiful traditions and heritage never be hidden nor forgotten. They are to be remembered, to give us courage, and urge us to continue to dream and run after our goals.
Planning and Design: Honour and Blessing Events
Photography: Nadia Hung Photography
Bridal Gowns: O M Couture
Florist: Shadow Jiang
Make-up Artist: Vivian Chen
Venue: Polygon Gallery
Cake and Desserts: Momo Chen Cakes
Stationery: Be One Letter
Model and Agency: Kayla Kong from Family Management