Dreamy Organic Micro-Wedding Inspiration in Greece 
Do you feel like a romantic trip to Greece? With the poetic images of Adrian Wood, we accompany Nicole von Mosaïque – Event Design of in an enchanting wedding world, rich in stylish and natural wedding elements. She inspires us with her concept for a micro-wedding and your sense of aesthetics.
From Nicole von Mosaïque – Event Design: "My vision for this editorial shoot was provincial charm and romance whilst showcasing the art of sustainable, stylish, organic, intimate wedding design.
A micro wedding inspiration for all hopeless romantics, beautifully captured by photographer Adrian Wood. 
This approach to weddings has been my passion for several years, but now, with this strange new COVID19 reality and recommendations for smaller outdoor gatherings,  it is definitely the right time to remind the world that Greece, with its unique and diverse geography, climate and alfresco cultural lifestyle, is the ideal choice for couples looking for intimate affairs and cozy micro-weddings focused on guest experience.
The rural grounds of The Margi Farm in Athens, provided the perfect scenery for my vision. A small charming estate with a beautiful farmhouse covered with ivy, a driveway lined with sweet lavender and an olive grove as a backdrop. 
The styling was built upon elements that complimented the organic nature of the farm. 
The ceremony was framed with an enchanting installation of a fireplace brimming with ivy, candles and lush florals whilst the tablescape was designed to present an elevated farmhouse aesthetic. 
Blush linen paired with a selection of fine art de la table in white and grey tones and gorgeous centrepieces in dusty blush and smokey mauve hues created a beautiful intimate dinner setting with an organic feel.
The bride seduces with a stunning lace gown by Maria Konidi and a heavenly arranged bridal bouquet from Comme Ça. Makeup was kept soft, glowing and natural by Ioanna Karkantelou. As for the hair styling, I wanted the perfect countryside bridal look so we waved the hair and kept it down for the first look with the straw hat, whilst the second look was a great little bridal ponytail. The groom's attire was stylish and classic, wearing a fitted black tux , suspenders and a bow-tie.
The paper goods from Atelier Invitations were a feast for the eyes. Naturally elegant lettering and delicate hand drawings created a graceful wedding suite with an organic charm.
Cinematographer, Nikos Dimou created a magical film that effortlessly captures the serene feeling of a summer love affair."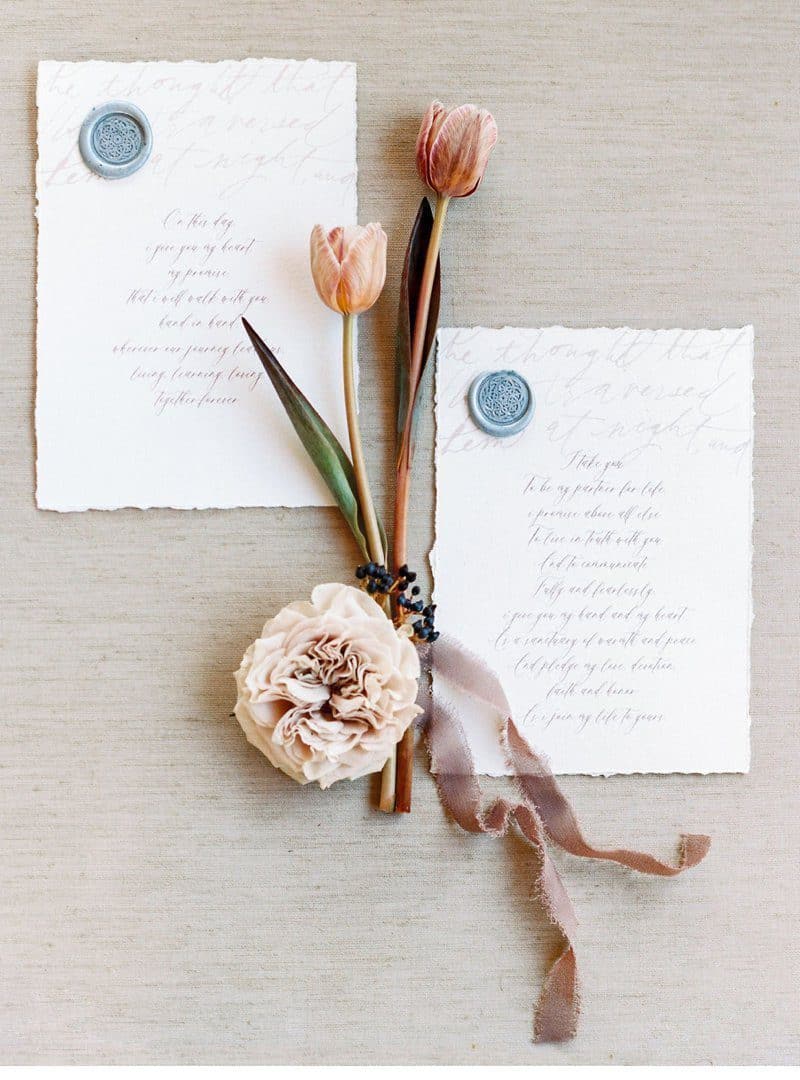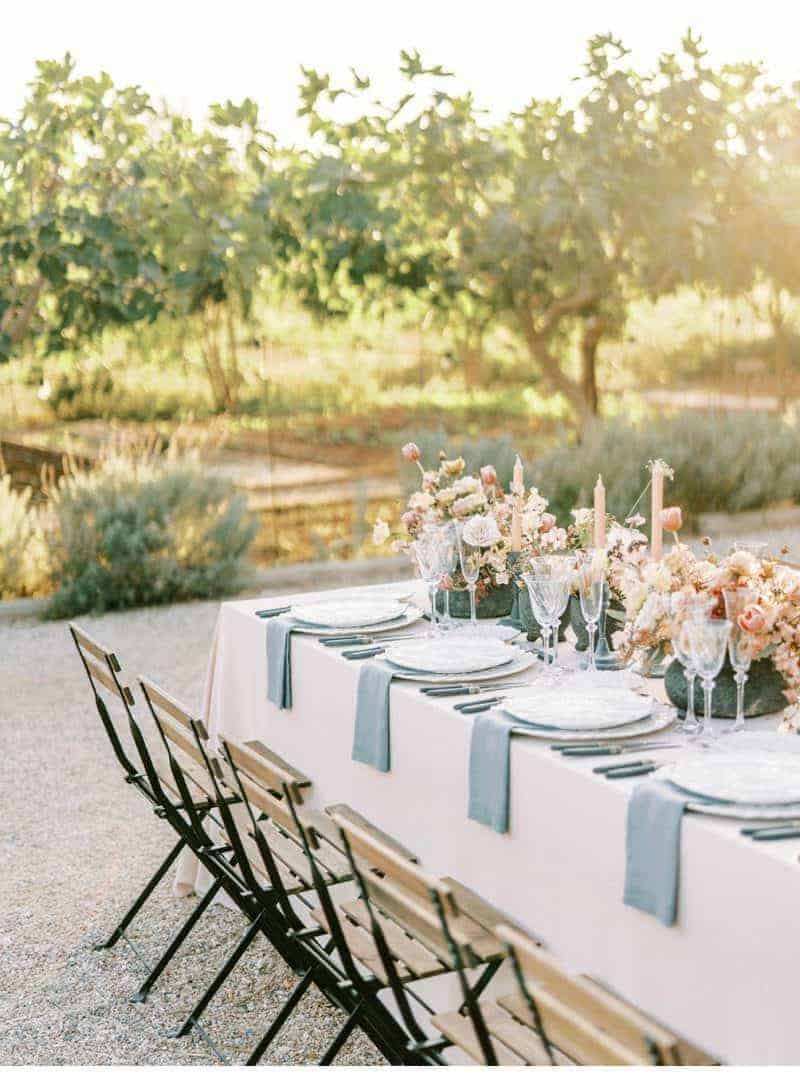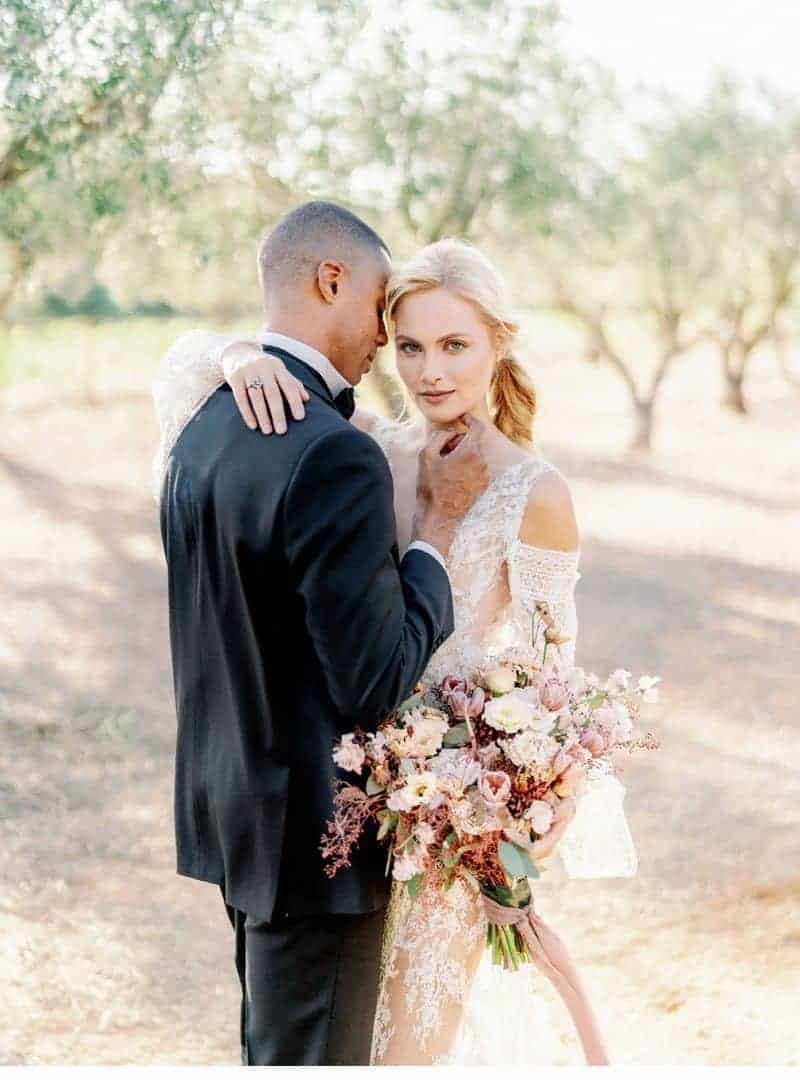 Photography: Adrian Wood
Design, Planning & Styling: Mosaïque – Event Design Cinematography: Nikos Dimou
Florals: Comme Ça – Fleurs & Décor
Wedding Dress: Maria Konidi
Grooms Attire: Christakis Athens
Makeup & Hair Styling: Ioanna Karkantelou
Stationery: Atelier Invitations
Wedding Cake: Pavlov's Lab
Tableware: White Lilac – Art De La Table Rentals
Decor Rentals: Prop Decor Rentals
Decor Rentals: Tore Event Furnishing
Venue: The Margi Farm
Film Lab: Malvarrosa Film Lab