Elegance and Timeless Luxury 
That timeless luxury with a touch of elegance never goes out of style is in the nature of things. The following photos by Camilla Arnhold , show us that this topic is currently more relevant than ever.
"With this shoot, we wanted to show how you could mix clean lines and contemporary styling with timeless, classic touches."planner and stylist Emma Joy The Wedding Planner raves and adds: "Thorpe Manor, a new luxury wedding venue in Oxfordshire, was the perfect backdrop."
Indeed! Because the old estate leaves no doubt about having experienced a lot. With the charm of the Old World and the loving renovations of the modern age, it feels like a time travel to the here and now.
Stylish, artfully crafted furniture meets simple porcelain, cold tiled floors are warmed by countless candles and magnificent floral arrangements by Blue Sky Flowers emanate their sweet scents everywhere, where nature does not make it from the outside to the inside.
Simple bridal gowns by Jesús Peiró and Alon Livne surprises with enchanting finesse in just the right places and precious jewelry by Georgina Boyce glistens and sparkles wheneverthe bride´s happy eyes just do not.
An imposing grand piano in the middle of the banqueting hall completes the harmonious picture, where the young beauty devotes a serenade to her love.
Simply get ready for beauty in its purest form when we sink into the imagery of Camilla Arnhold.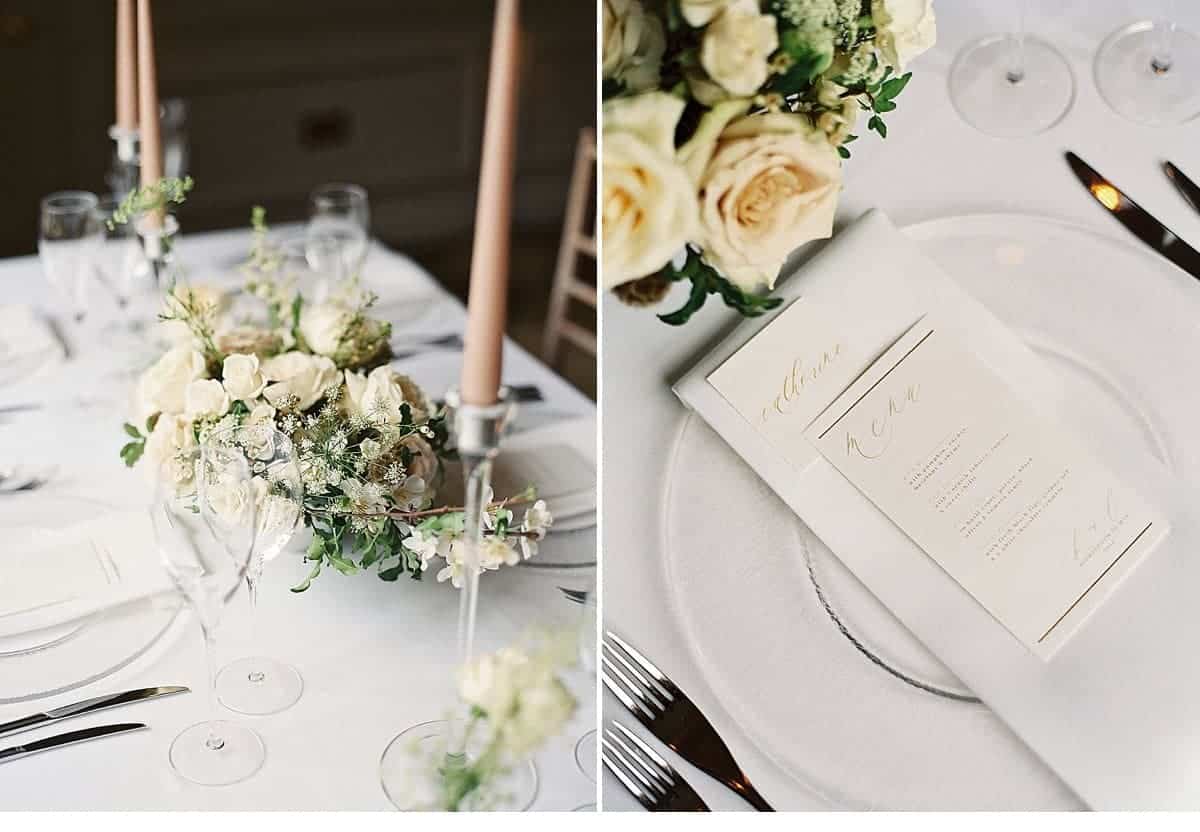 PLANNER & STYLIST: Emma Joy The Wedding Planner 
PHOTOGRAPHER: Camilla Arnhold Photography
VENUE: Thorpe Manor
FLORIST: Blue Sky Flowers
DRESS: Jesús Peiró and Alon Livne via Morgan Davies Bridal
SHOES: Tom Ford
HAIR & MAKE-UP: Sanni Sorma
JEWELLERY: Georgina Boyce
STATIONERY: Spinazzi Design
CAKE: Karen Anna Cakes
TABLEWARE, LINEN & FURNITURE: Top Table Hire
CANDLES: Ester & Erik
RIBBONS: Kate Cullen
FILM LAB: Richard Photo Lab
MODEL: Nina Uhl