Elegant castle wedding with old world charm
Don't you think it's time for an elegant castle wedding with that certain old world charm? Then be curious how photographer Jérémy Froeliger fulfills your wish right now!
Staged by event stylist Linda Champenois and floral designer Esther Lamarche , he got to see firsthand how a vision became a true story about so much more than timeless elegance and the magical flair of the Old World….
"Here we see the meeting between the end of winter and the beginning of spring, a unique moment in the Château de Bougainvilliée, in the heart of a park that rises from its long winter sleep." explains us the stylist. "Nature has reclaimed its rights to this old building, giving it an authentic and romantic charm. We wanted to create a unique and inspiring image to honor the changing seasons with the winter softness and the fire of spring colors."
The focus is thus on the interplay of contrasts. Antiquity meets modernity, paleness meets luminosity, and transience meets bloom. A common thread that ran through the artist's fascinating concept and was clearly visible, for example, in her depiction of the bride: "Camille, was the perfect bride, her complexion of porcelain, her ginger hair, her beauty and grace in this dress of Suzanne Neuville – always does so with an incredible simplicity and elegance."
Furthermore, a lavishly set wedding table attracts our attention, in the design of which also nothing was left to chance: "In the heart of the castle courtyard is a dinner table decorated with warm colors and seasonal floral creations by Esther Lamarche. The last buttercups and tulips are next to the first daffodils interspersed with new eucalyptus. A mixture of antique tableware and modern details gives the dinner a special harmony."
Event stylist Linda Champenois expertly rounded out her masterpiece with a simple but equally artistic wedding cake by Wedding Cakes and Co and exceptional stationery by Julien Preszburger.
Together with photographer Jérémy Froeliger, she now invites us to admire the result of this special shoot: "Discover the Bougainville estate and let its soul and beauty indulge you with a rare authenticity."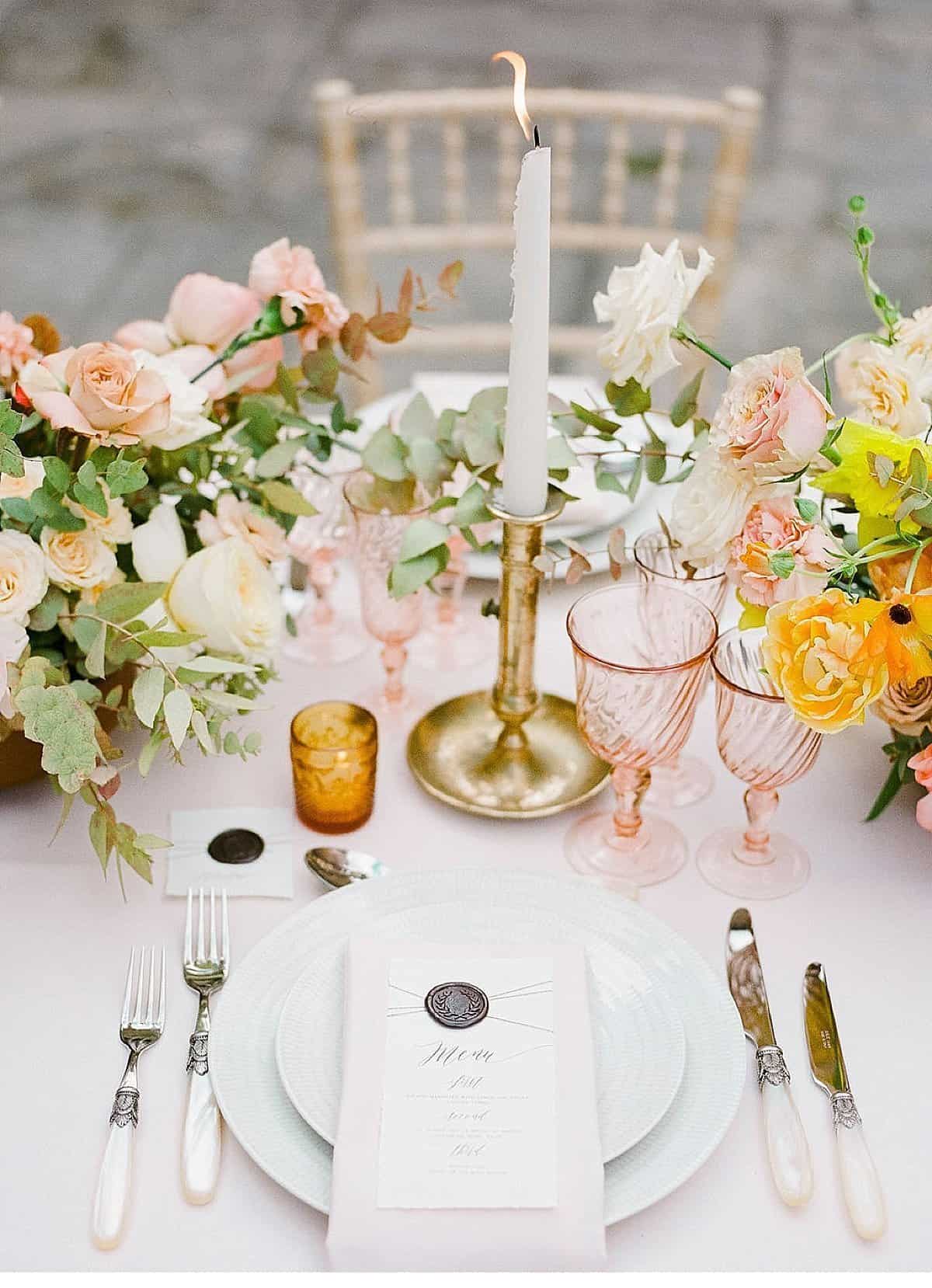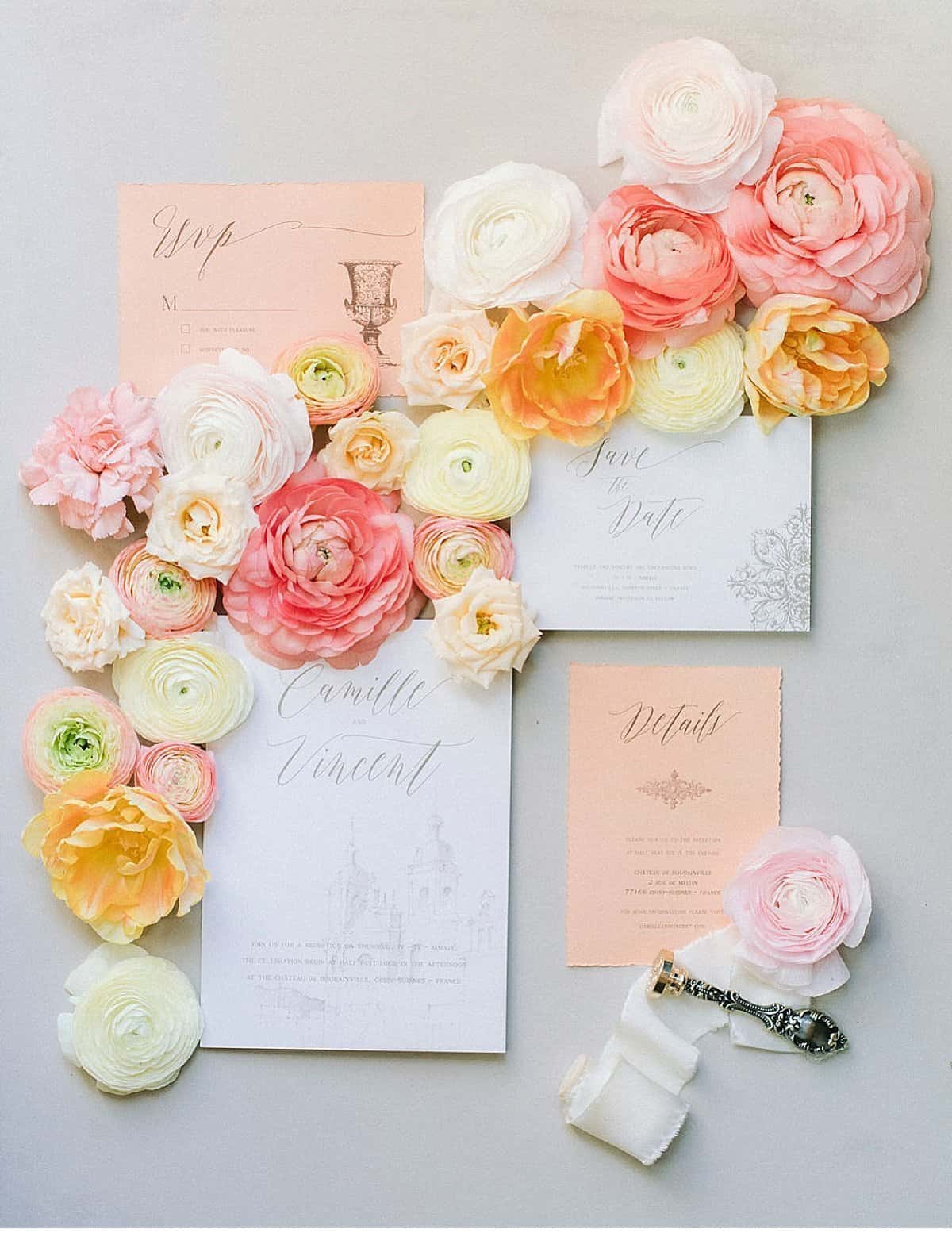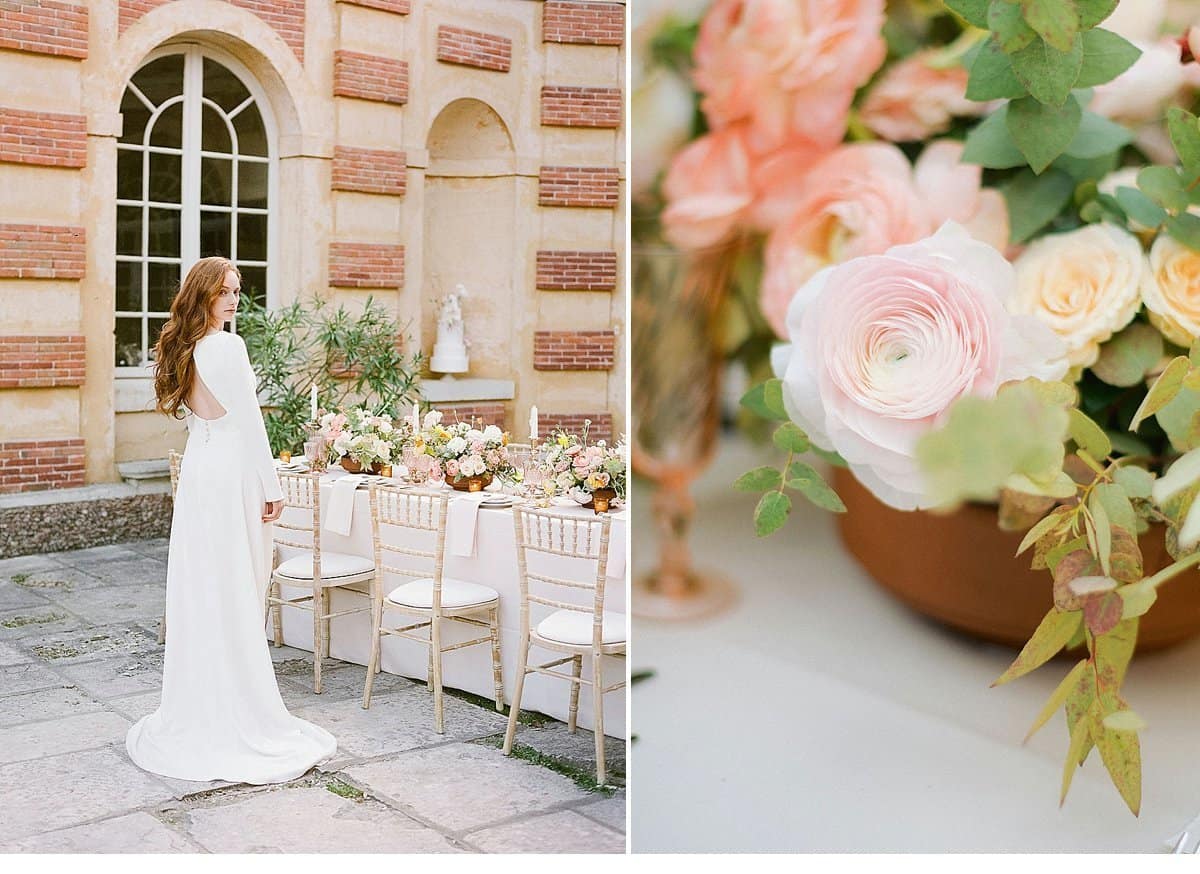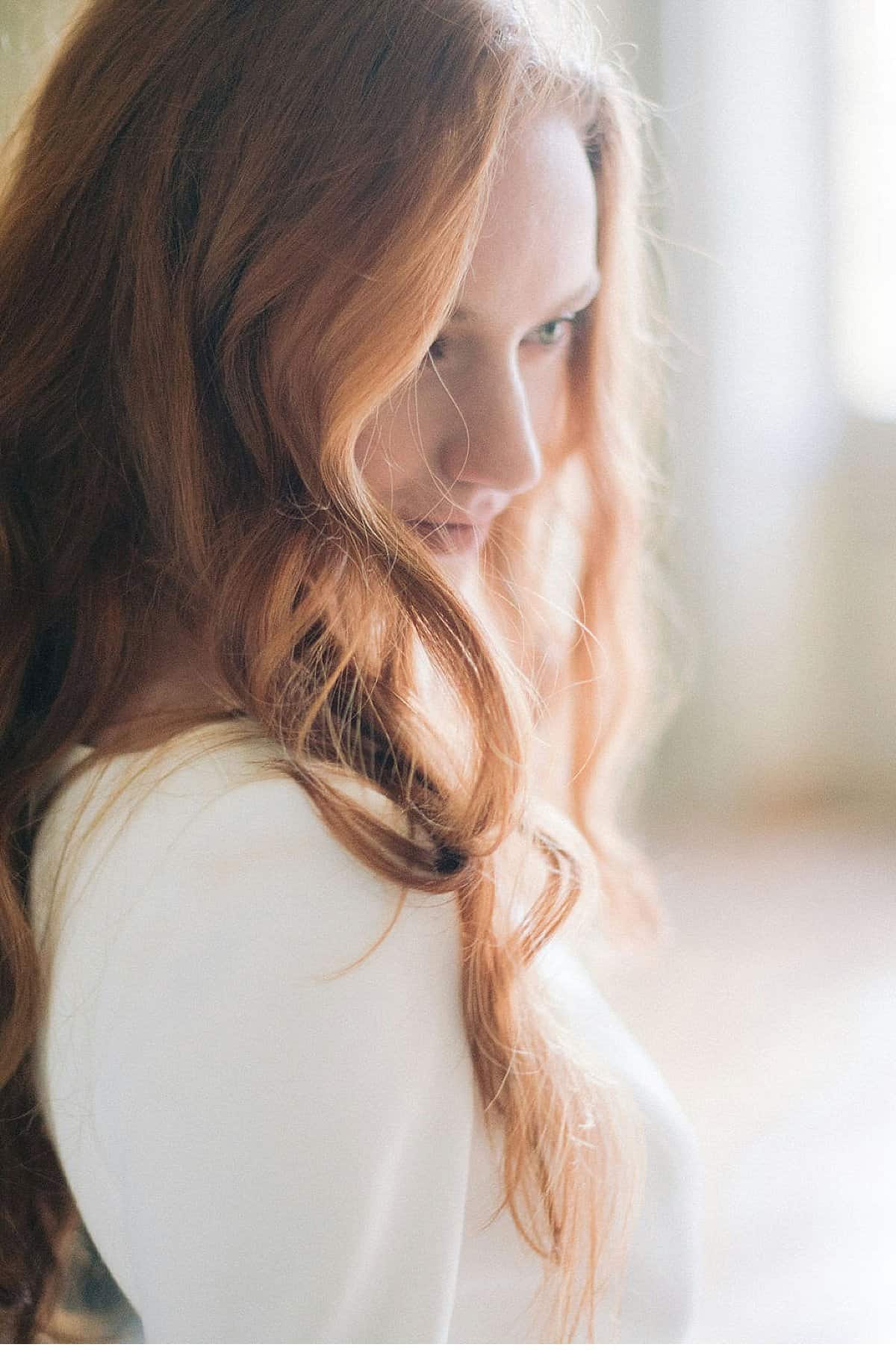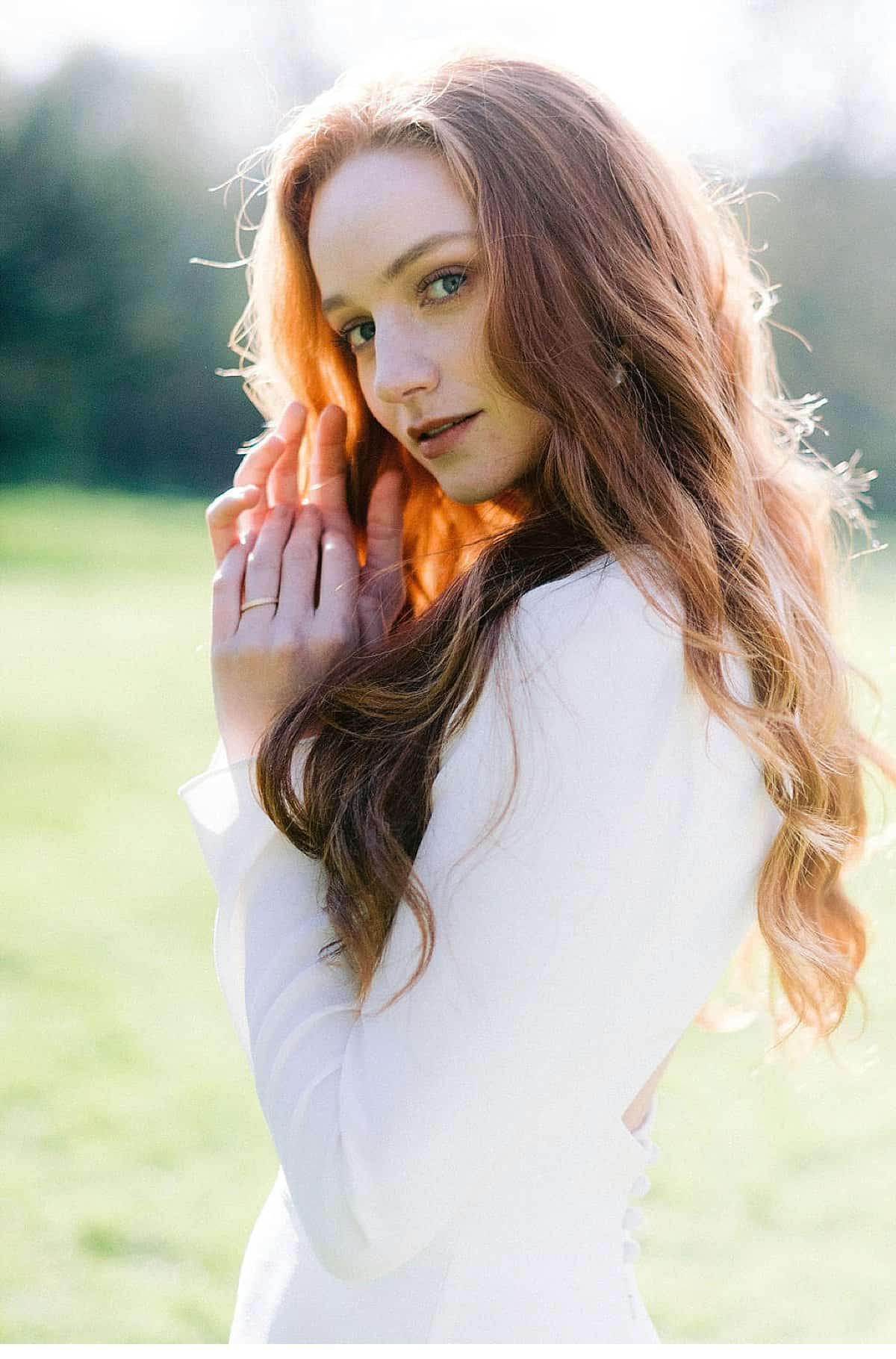 Photographer: Jérémy Froeliger
Workshop Host & Floral Designer: Esther Lamarche
Stylist / Planner: Linda Champenois
Coordination: un jour inoubliable
Dress Designer: Suzanne Neuville via Metal Flaque
Rentals: Maison Option
Decoration: Vaisselle vintage
Accessories: Maison Sabben
Venue: Château de Bougainvilliée
Cake Designer: Wedding Cakes and Co
Hair & Make-up Artist: Reina Kim
Stationery: Julien Preszburger
Shoes: Bella Belle Shoes
Video: Rouge Wedding
Film Lab: Richard photo lab
Model: Lauralou