Elegant wedding atmosphere with wine country feeling
Idyllic vineyards, a herd of curious alpacas and a romantic garden were the backdrop for this dreamy editorial by event planner Alyssa Estrada of Elle and James Co. designed with a great sense of stylish elegance and aesthetics together with a creative team. Talented photographer Anna Peters captured the atmospheric ambiance and variety of details in an impressive array of images.
From Alyssa Estrada: "Woodinville is home to many beautiful wedding venues, and Chateau Lill is one of our favorites because of its elegance and versatility! Photographer Anna Peters wanted to highlight the wine country feel that the venue can offer; but with a few different angles and backdrops, you could just as easily create a forest wedding in the Pacific Northwest in this space!
The overall design for this editorial was inspired by the beautiful roses at Grace Rose Farm, specifically the Distant Drum, Koko Loco and Stephen Rulo varieties. We worked with Bonnie from Petal and Posy to create a monobotanical style design with these stunning roses, paired with a blush/mauve color palette. The lush arrangement shows that you can make a big impact even with a monochromatic botanical design – a trend we've been seeing more and more lately. We added clean, classic elements for the table settings, with wood accents on the chairs and serving platters to create an organic garden feel.
Our model wore two dresses, by designers Rime Arodaky and Alexandra Grecco, both from The Dress Theory and both with beautiful sleeve options. To complement these modern, romantic gowns, we wanted our bride's hair and makeup to reflect our beautiful venue and also showcase the trends for 2021. Jen Lagers likes to use the term "natural glam" to help her brides find the look they really want when deciding on makeup for their big day. Gone are the days of heavy Instagram contouring and angular eyebrows – instead, it's all about keeping skin fresh and highlighting your natural complexion, rather than heavily concealing it. Hydrated and luminous skin, beautiful coral cream blushes that add radiance, and soft creamy pink lipsticks make the bride glow. Hair was all about romantic texture! Great curls, whether leaving natural hair in its beautiful element or adding soft waves. Clip-in extensions are a big insider tip – many brides opt for this way to add both volume and length. Jen always recommends that no matter what look you choose, you should always stay true to your style, possibly complemented with a little glitter!
Blue Box Bakery created a classy white-on-white cake design with sugar flowers that coordinated with the flowers in the table decorations and bouquet. When designing a wedding or editorial, we really lean into the design of the cake to create a work of art that ties the design elements together in a detailed and beautiful way. Another element we like to use to bring out the details is stationery and when The Fancy Cat Studio mentioned velvet, we knew it would be the perfect rich texture for the place setting.
All of these elements were combined to create a classic yet fresh wedding design."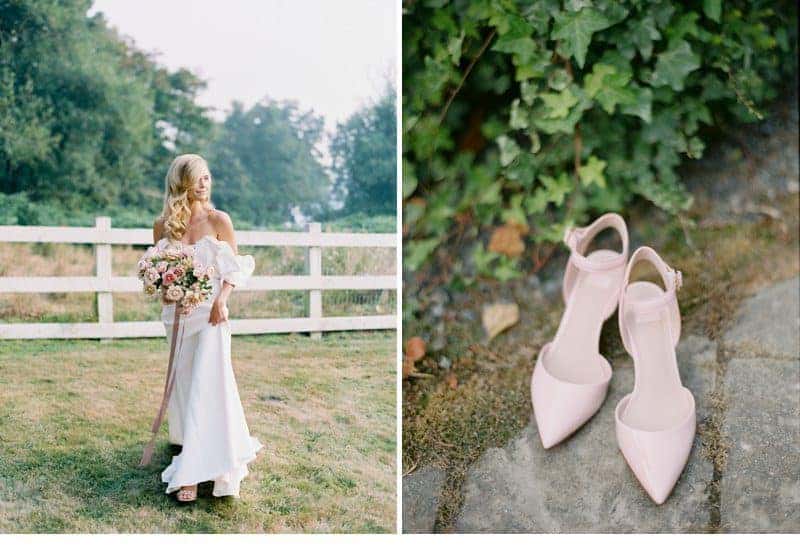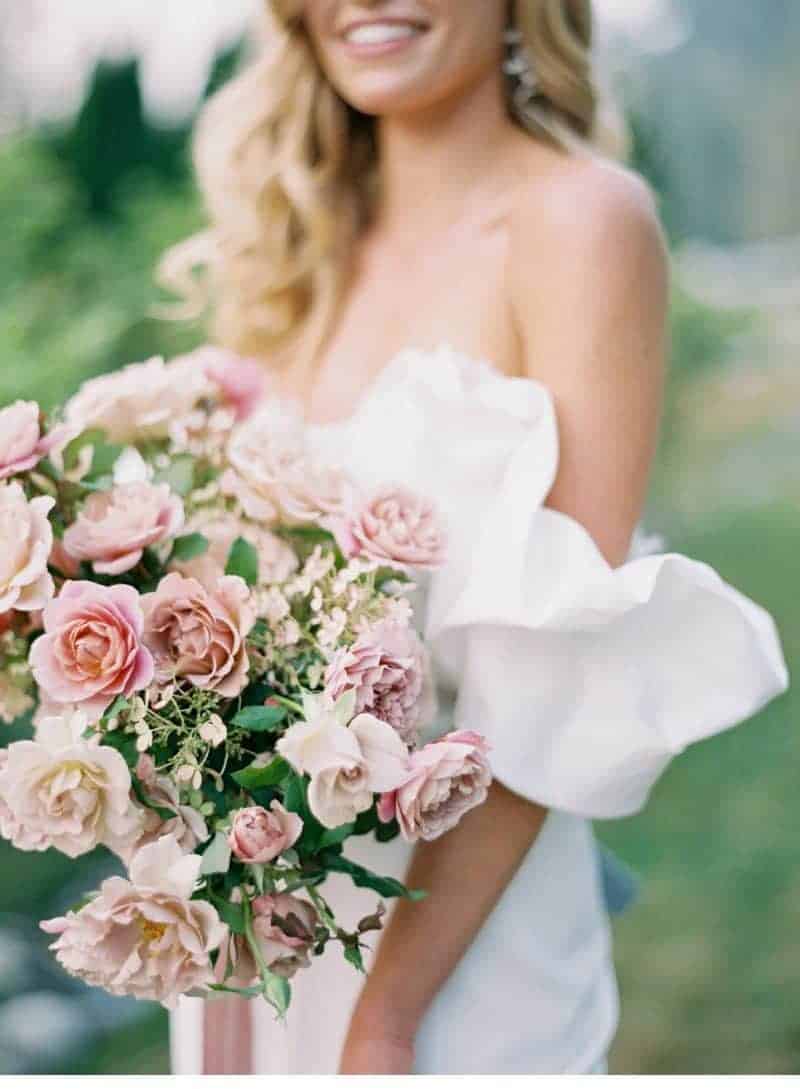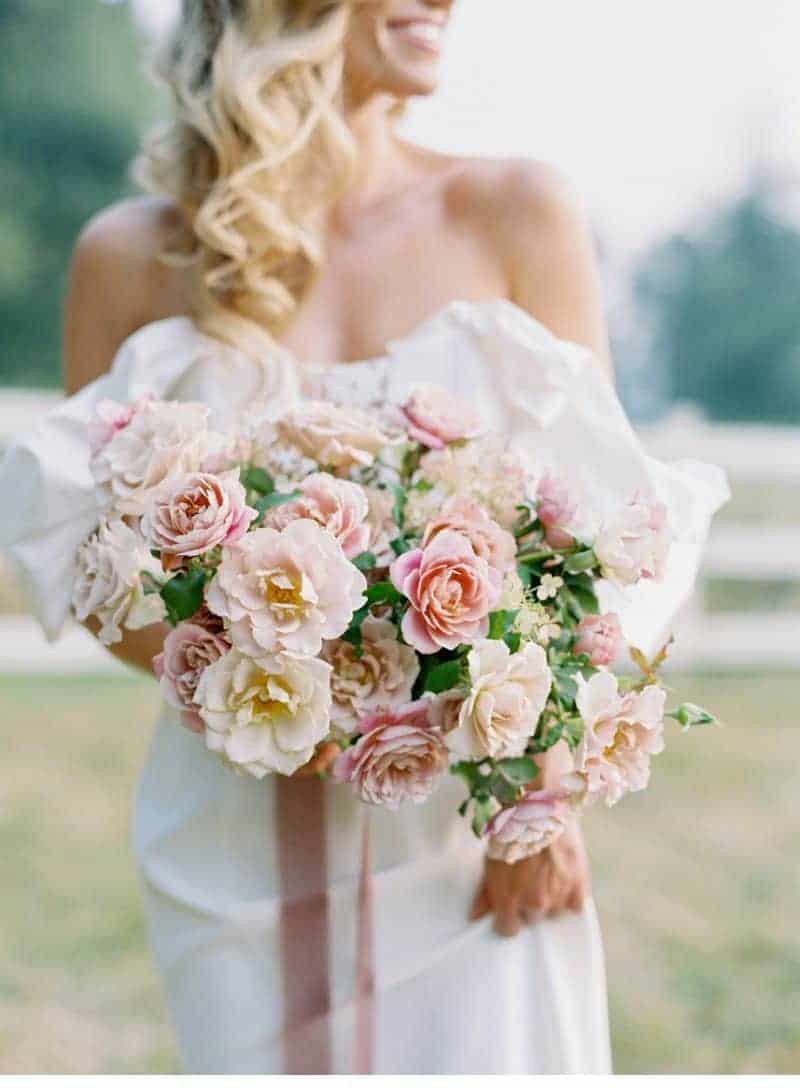 Event Design: Elle and James Co.
Photography: Anna Peters
Floral Design: Petal and Posy
Paper Goods: The Fancy Cat Studio
Cake: Blue Box Bakery
Hair & Makeup: Jen Lagers
Model Agency: SMG Models
Wedding Gowns: The Dress Theory
Wedding Gown Designer: Alexandra Grecco
Wedding Gown Designer: Rime Arodaky
Luxury Car Rental: British Motor Coach
Rental: CORT Party Rental
Linen: Latavola Linen
Accessories: Olive and Oak