Exotic Wedding Ideas In the Urban Jungle
It's colorful, loud, exotic, cheeky and extravagant – it's a fascinating wedding in the urban Jungle. What seems to us like from a foreign land is actually very close to us. Flowers, colors and patterns remind us of distant journeys, of a tropical flora that does not exist here with us…
Or does it? With a spectacular styled shoot, the successful photographers Polly and Sophie alias Ivory Rose convince us today of the opposite: "A wedding surrounded by tropical plants and exotic fruits? You don´t have to go to Bali or Costa Rica for that. The jungle atmosphere can also be found in urban surroundings – for example in orangeries. These wonderfully historic indoor gardens provide the perfect, light-filled backdrop for an extraordinary wedding, as well as for this styled shoot on the theme, "Urban Jungle/Tutti Frutti""
Together the two photographers developed the concept and assembled a fantastic team of well-known colleagues from the entire wedding industry to implement it at Schlosshof. With great success, as it turned out later.
While wedding planner Ines Brandelmayr from Lovelicous Life took care of the big picture, event designer Stefanie Rausch of Mademoiselle Fée, focused on the small but fine details with great tact.
 "The concept fascinates with an impressive moongate, pompously decorated with colorful flowers by Donati. The historical background can be found in sumptuous golden details in the decoration." the two photographers explained.
In spite of all the colorfulness that surrounds it, it is above all a very special, not unimportant detail that stands out in white: the wedding dress by Lena Hoschek combines simple elegance with playful, floral elements. "Although the bridal gown is also restrained, the flower crown almost gives the bride something royal."  the duo enthuses and draws attention to another special feature: "Also a lovingly decorated fruit bar as well as the wedding cake, refined with tropical flowers of sugar, convey some exotic flair – exoticism and extraordinariness on the highest level."
We find that applies to the whole, wonderfully refreshing concept with which Ivory Rose sweetens our day.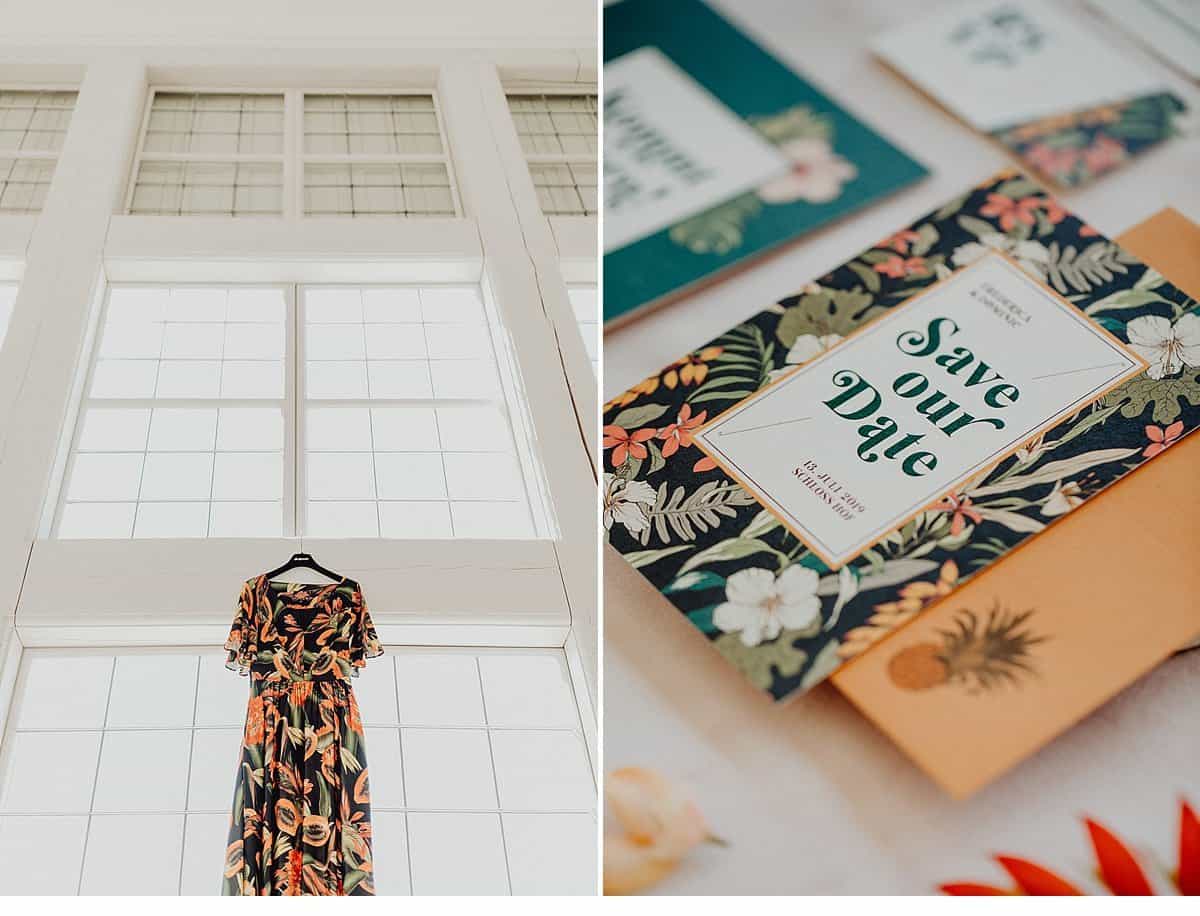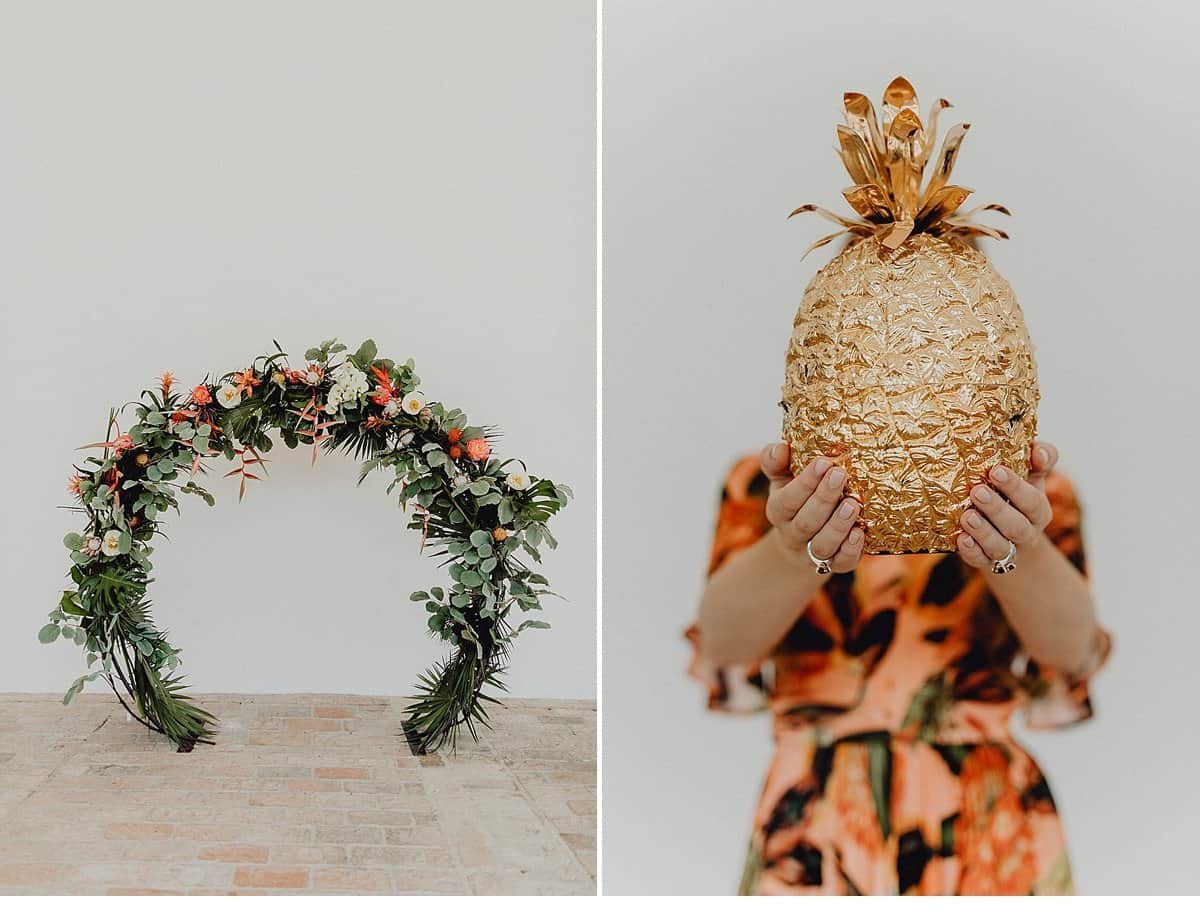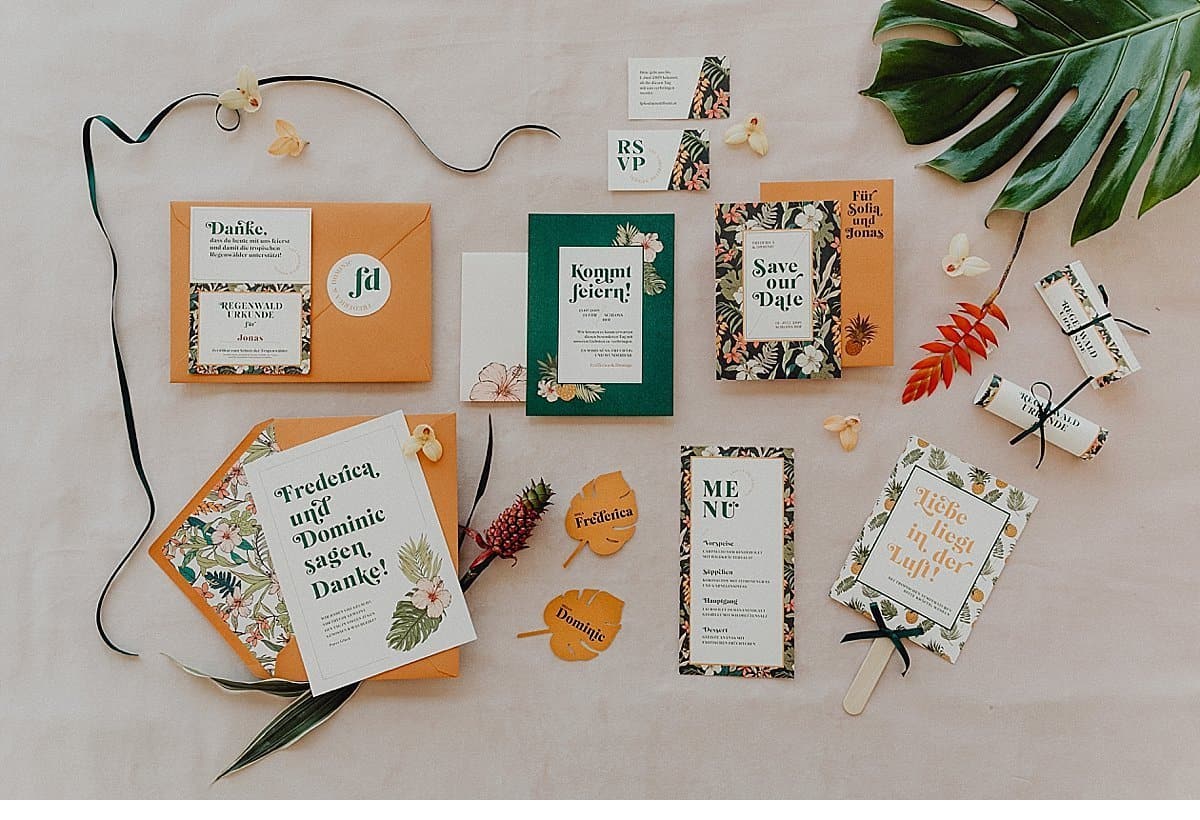 Fotografinnen & Konzept: Ivory Rose Photography
Hochzeitsplanung: Lovelicous Life, Ines Brandelmayr
Dekoration: Mademoiselle Fée, Stefanie Rausch
Deko Pieces: St. Corona Interiors
Papeterie: rosemarrylemon
Location: Schlosshof
Kleider: Lena Hoschek
Make-up: Suzy Q, Susanne Willinger
Hairstylist: Marion Pail Make Up & Styling
Torte: Cupcakes Manufaktur
Florist: Donati
Schmuck: Heldwein
Modelagentur: Stella Models 
Braut: Federica Martinazzo
Brautjungfer: Nina Authried
Brautjungfer: Marlene Nakovits
Male Model: Dominik für Eder
Schuhe: Salamander