Ideas festival for an enjoyable brunch
Today we invite you to an extraordinary treat. Event designer Phaedra Liakou wows with a brunch festival she created with a lot of passion and sense for stylish details together with a great team.
A beautiful variety of inspiration for the upcoming holidays to make the winter holidays an unforgettable highlight with your loved ones, captured in stunning images by fine art photographer Lefteris Kalampokas.
By Phaedra Liakou: What's intimate, makes a statement, and tastes as delicious as baked ham soup and caramel cookies? How about four friends and their festive brunch? 2020 was a challenging year for soirees of all kinds, from weddings to special gatherings it was certainly the year we downsized almost everything. I say "almost" because when it came to style and celebrating something as meaningful as spending time with our favorite people, we begged to differ.
THE IDEA: A wonderful dinner for four friends who wanted to exchange gifts, chat animatedly, toast prettily and enjoy an indulgent brunch, in other words, anything to lift the spirits! Well, despite the crisis and the lockdowns imposed, it has driven our inspiration and brought us back to "needs" that were previously less fashionable. When we invite people to our homes for a meal, it is a gesture of generosity. It's much more personal than going to a restaurant, as it's much warmer and more intimate, and it allows friends to feel truly welcomed and cared for.
THE PRINTING: We began by designing and sending invitations while also designing calligraphic place cards, matching calligraphic gift wrap, menus, and small gifts for each place. For this we called Manousenia, who designed wonderful calligraphy and prints, gift tags, cardboard boxes and incredibly nostalgic stationery. Our desire was to make everything personal and individual despite the decline of our event, because that is actually the job of a perfect hostess, to create an ambience from the first to the last fold.
HOMEBOUND GOODNESS is all about what makes our home feel good. That's why we took inspiration for the table decor from the furnishings, art pieces and room palette in the dining room. Since the dining room was dominated by a lot of white, accented by wicker chairs and an old oak cabinet, we decided to set the table with easily accessible stoneware in speckled concrete gray.
For this we combined gold flatware and gold rimmed drinking glasses, natural pebble colored linen napkins and added a winter place with pine cone place card holders in gold. These shades complement virtually any room and exude the comfort and understated luxury that is so desirable in winter.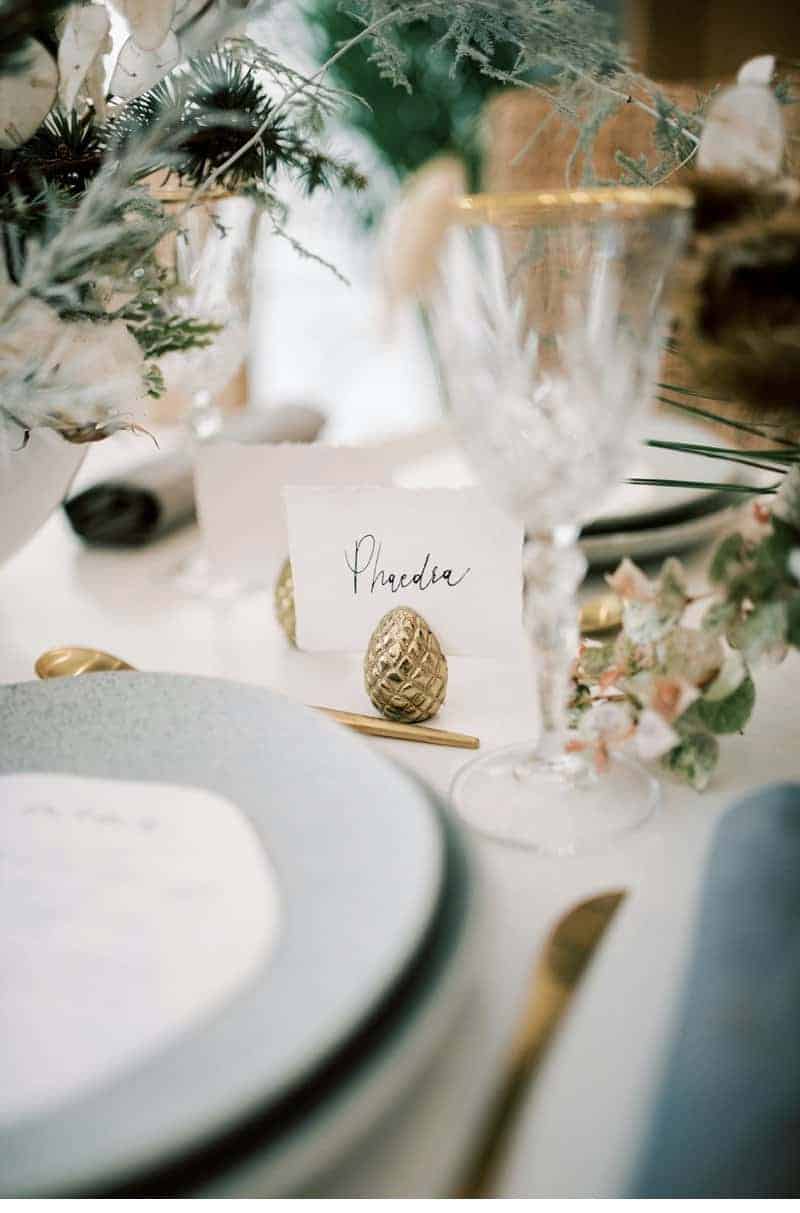 CONSCIOUS GIFT GIVING: If you're hosting at home in a small circle, intentional gifting is a great way to make your guests feel appreciated. For this reason, Narcissus Fineart and MaryGro have created different gifts for each of the ladies. From pinecone resin paperweights and a pine ink pen for the writer in the group, to a handmade art set of brushes and ceramic palettes for the artist, to a set of old spoons for the tea lover and a set of scented candles for the Zen-loving guest, everyone received a very special gift.
In addition, we were looking for an extraordinary lucky charm called "Aether". As the Creator told us in "Ether is the Fifth Element, the Quintessence," and since this brunch was about the quintessence, that is, being with those who really matter, it was a perfect complement, a fifth, meaningful gift for everyone.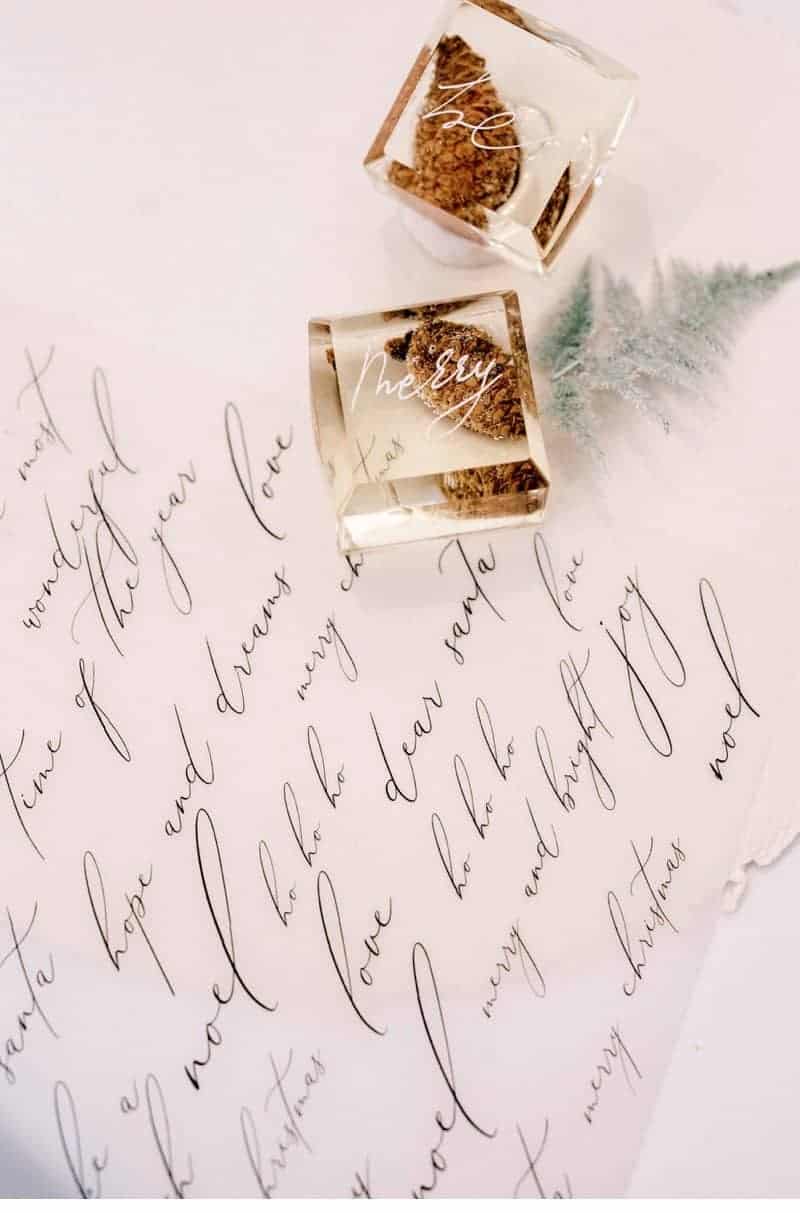 FLOWERING WINTER TIME: Since most people enjoy socializing during the warm seasons, they don't seem to notice that many perennials, annuals and shrubs actually put on a show in the heart of winter, blooming beautifully long before the ground thaws and the snow melts. Maria Voudouri combed through harvested forest treasures for seasonal flowers, seeds and textural greens to create an abundance of winter floral arrangements for the tablescape.
We were immediately taken by the warmth of chestnut and pine paired with white dahlias, cedar, white cyclamen, lunaria, symphoricarpos and white cosmos. The three centerpieces nestle in white porcelain vases from a personal collection, the girls told us. It is these personal elements that make everything more meaningful. Although the floral design were made to fit a luxurious brunch, they also look spontaneous and relaxed.
TO THE LADIES' BRUNCH: One of the hardest parts of organizing a party at home is figuring out what to plan for the menu. Not every guest has a palate for the sweet or the salty, the sour or the spicy, so we wanted to offer this company of ladies a more inclusive menu that included flavors they all love. For this we hired the chef from Mamalis Catering, who arrived packed with goodies to create a special menu based on edible flowers, quail eggs, pumpkin soup with cotto ham, savory muffins with caramelized and baked ham, shepherd's pie, canapés with goat cheese, salmon pies, avocado and shrimp, and a ham and cheese roll with fresh herbs.
Sweet Art Stories, on the other hand, served a sweet menu centered around a butterscotch tart with chestnut feta cheese and ricotta filling, a Galette des Rois (Cake of Kings or Twelfth Night Cake) with fresh blueberries, dark chocolate Oreo truffles and mini bundt cakes with lemon, vanilla, edible glitter dust and cinnamon.
FESTIVAL VOICE: There can be no festive mood without something to help a female crew get into "the spirit" a little more. Instead of classic cocktails made with mimosas or big-batch punch, we were looking for something more unique, but also incredibly delicious. To accompany the festive brunch of savory and sweet selections, we suggested a bottle of amber Liastos, a multi-award winning dessert wine from Limnos Wines.
What we loved most about this mini affair was that it provided the perfect opportunity for our ladies to focus on a moment just for themselves. The planning only took a few days, but it highlighted the whole give-and-take experience. At home, a lockdown situation can be quite stressful, especially for moms, and we were so happy to be able to give them some sublime feminine time together.
We are grateful to our photographer Lefteris Kalampokas, who captured these precious moments of friendship and bonding.
Event Planner, Concept and Design: Phaedra Liakou
Photographer: Lefteris Kalampokas
Floral Design: Maria Voudouri
Stationery and Calligraphy: Manousenia
Styling goods, Handmade props: Narcissus Fineart, Marygro, Silent M
Desserts: Sweet Art Stories
Catering: Mamalis Catering
Creative Direction: Setty Lepida
Candles: Carinaria Candles