Fleeting movements of two Dragonflies
Today this inspiration shoot is all about two brides and a dragonfly. Following the fantastic concept by event planner Andreea Bucur from Teastyle, it appeals not only to the courage, but also to the awareness of bridal couples.
In the Hill Gardens and Pergolas at Hampstead Heath, the artist found the perfect setting for her significant message:"The vision for this shoot was to highlight the most beautiful and meaningful moments of a wedding, in an authentic and joyful way."she explained. "The ceremony and the few intimate minutes that the couple spend alone, are truly the most important ones and couples should be encouraged to indulge as much as possible in those moments. They are always gone in a blur and are just as important, whether it's an elopement or a large wedding."
An important and wonderful message, for which she also drew from an equally wonderful source of inspiration."The vision was inspired by the ephemeral dragonflies. They are also the epitome of finesse and femininity, so naturally our shoot features a female couple."
Two brides that could not be more different at first glance, but are inseparably connected with each other at second glance. Just like the powerful color concept, which is indispensable in retrospect."The color palette was slightly unusual for a wedding. Bright and rich, again inspired by dragonflies, chosen to encourage couples to be brave with their color choices and remain true to what they love."
And so it is the sunny yellow and the rich blue that set the tone within the natural color palette of the garden and are mirrored in countless details like the simple wedding cake by Kate Burt Cakes or the modern stationery by the designer of Teastyle.
Above all, the elaborate floral arrangements of Fig & Flower close the circle. Courageous, exciting and extraordinary, they become the symbol of the message.
The absolute highlight, however, is the pretty bridal couple themselves, in their exclusive Costarellos dresses. "We wanted our brides to have a clean look, to let their natural beauty shine through and stand out against the richness of the decor. The wearable florals were created to accentuate the simplicity of their style, but also as an inspiration to brides who are either not keen on holding a bouquet or looking for an alternative to jewelry."
But enough of the words, let's speak pictures. The pictures shot by wedding photographer Inna Kostukowsky – andyourstory, who carries an important message.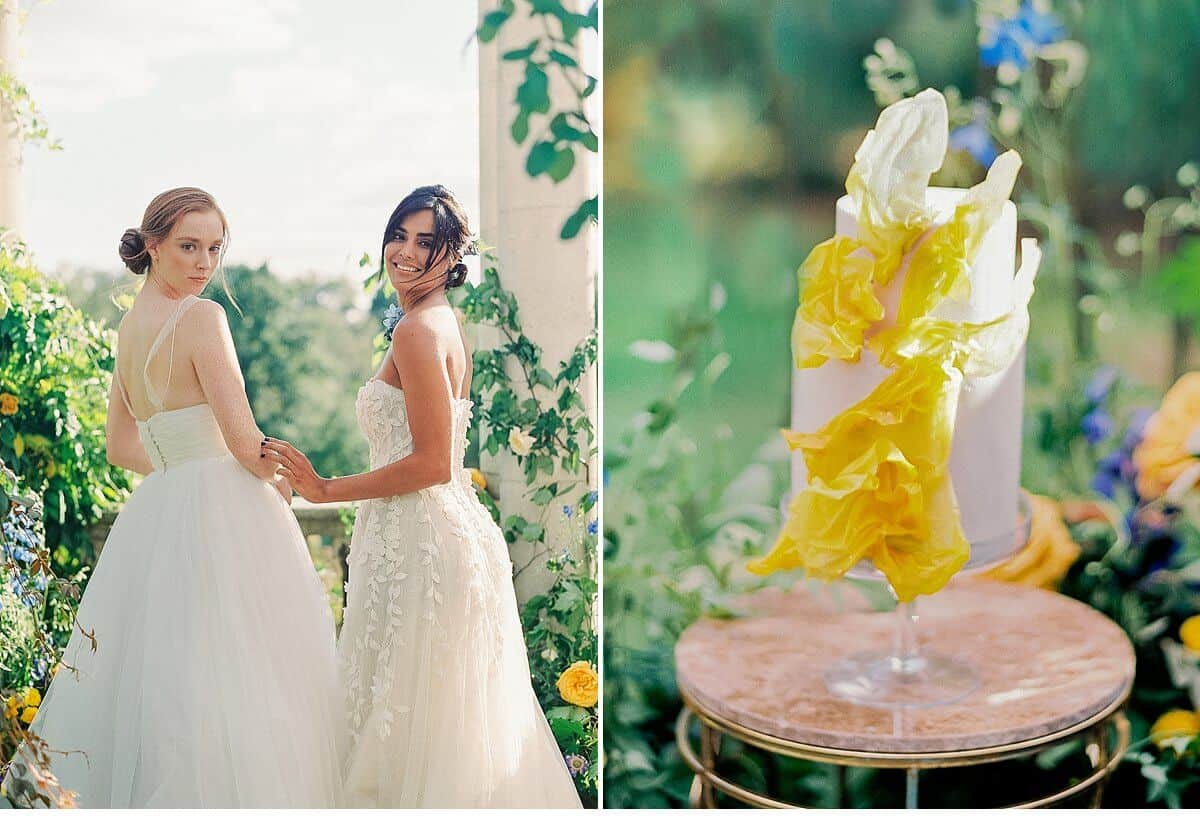 PHOTOGRAPHY: Inna Kostukowsky – andyourstory
CREATIVE DIRECTION & PLANNING: Teastyle
FLOWERS: Fig & Flower
CAKES: Kate Burt Cakes
STATIONERY: Andreea Bucur – Teastyle
HAIR: Mae Hair
MAKE-UP: Beautiful You Make-up Artist
BRIDALWEAR: Costarellos
BRIDAL BOUTIQUE: The Wedding Club London
VENUE: Hill Gardens and Pergola at Hampstead Heath
MODELS: Nathalia Pinheiro & Sophie Thorpe at BMA Models
FURNITURE & BRIDAL ACCESSORIES: designer's own