French – Scottish Merger
What could be better than diving into aesthetic and creative wedding worlds and bathing in a sea of inspiration.
Sarah Young from Billow & Mull celebrates the symbiosis of two cultures with this innovative photo shoot: " For this shoot, we really wanted to create a unique and beautiful shoot that was. Innovative in the way it merged together two native cultures.
In a world full of borders and separation, I wanted to show that it's more beautiful when we mix together. A melding of two seemingly different cultures can create a whole new type of grace and romance. You have the refined, airy, elegant grace of the French and the wild, earthy, and organic nature of the Scottish. 
If you travel through the Scottish Highlands, you will undoubtably notice that a lot of estates and styles have a very "French" feel to them. Some homes even look like French chateaus… in the middle of the rugged Scottish Highlands. History lesson: this is because Scotland and France are known as the "Auld Alliance". See, back in the 17th century, both countries found commonality and companionship in their sparring with England. French money flooded the Highlands to help the Scottish rebellion against the English. With that money came a flooding of ideas, styling, fine art, clothing. The juxtaposition somehow works seamlessly together.
For this shoot, we have a Scottish groom in his tartan trews with his graceful French bride. She is whimsical, soft, and airy in a beautiful dress from Carol Hannah. He is strapping, natural, and rooted. 
Every detail is a melding of the two cultures. The invitation suite from Kelsey Malie has 16th century painting of the the Highlands with a French scroll and crest. Included is a love poem by the famous Scottish poet Robert Burns, comparing his love to a rose.
The bride's shoes are an elegant French silk slipper, while the groom dons leather boots with Scottish tweed. 
The table setting is a mix of the wild and elegant as well. Items like gold-painted roses and fine linens are mixed with wild Scottish heather and textured foliage by Color Theory Design Co. The cake from Dream Cakes Portland mirrors the draping of the table, and hints at the gold elements peppered throughout. 
Seen in the flatlays are vintage French and vintage Scottish items. The ring box is adorned with the unicorn, paying homage to Scotland's national animal (it's true!). 
We hope you can see the love we have of these two countries and will want to celebrate the wild and refined."
We are impressed by the variety of ideas and the feel of history, culture and aesthetics, which are reflected in the unique pictures of Billow & Mull.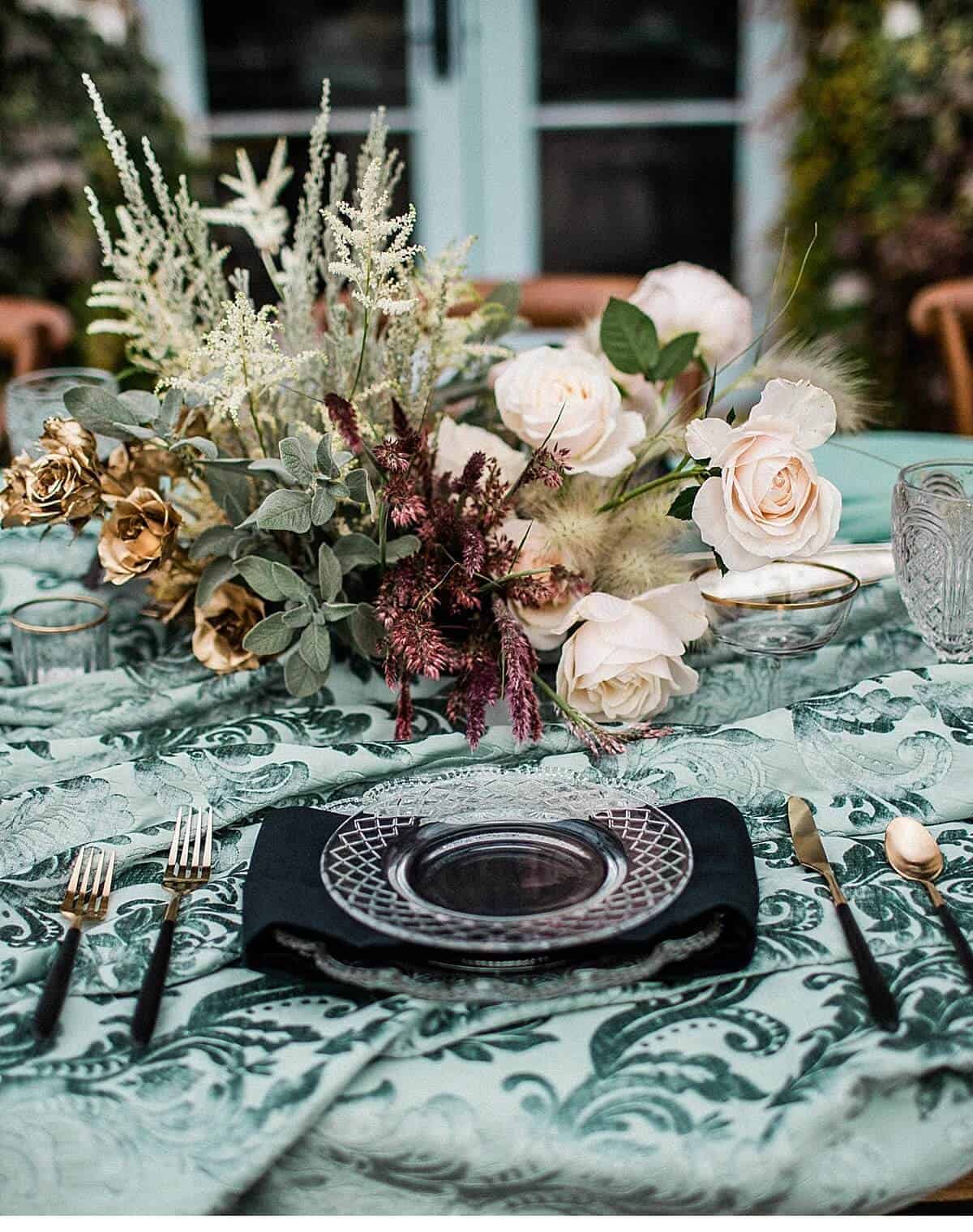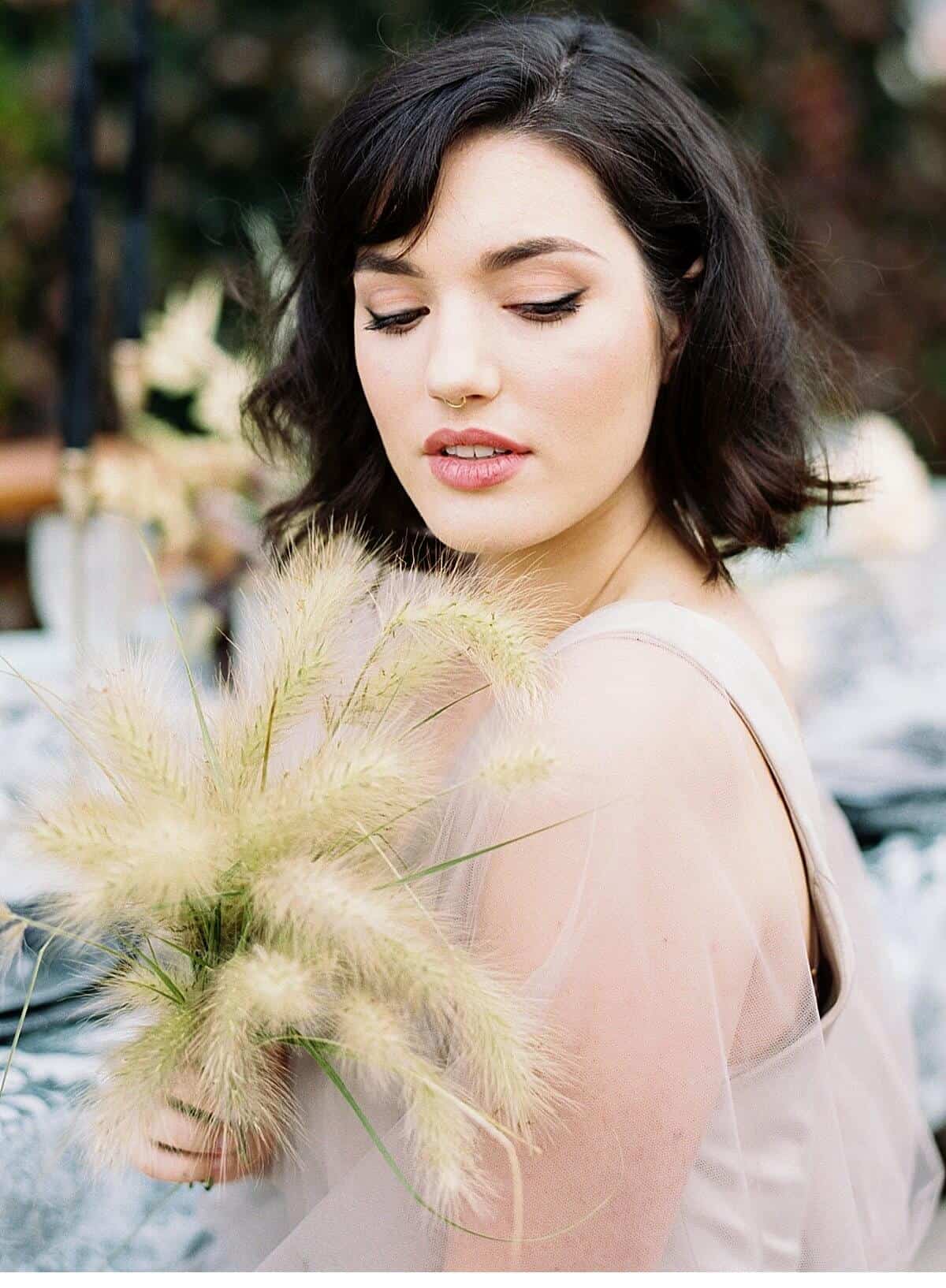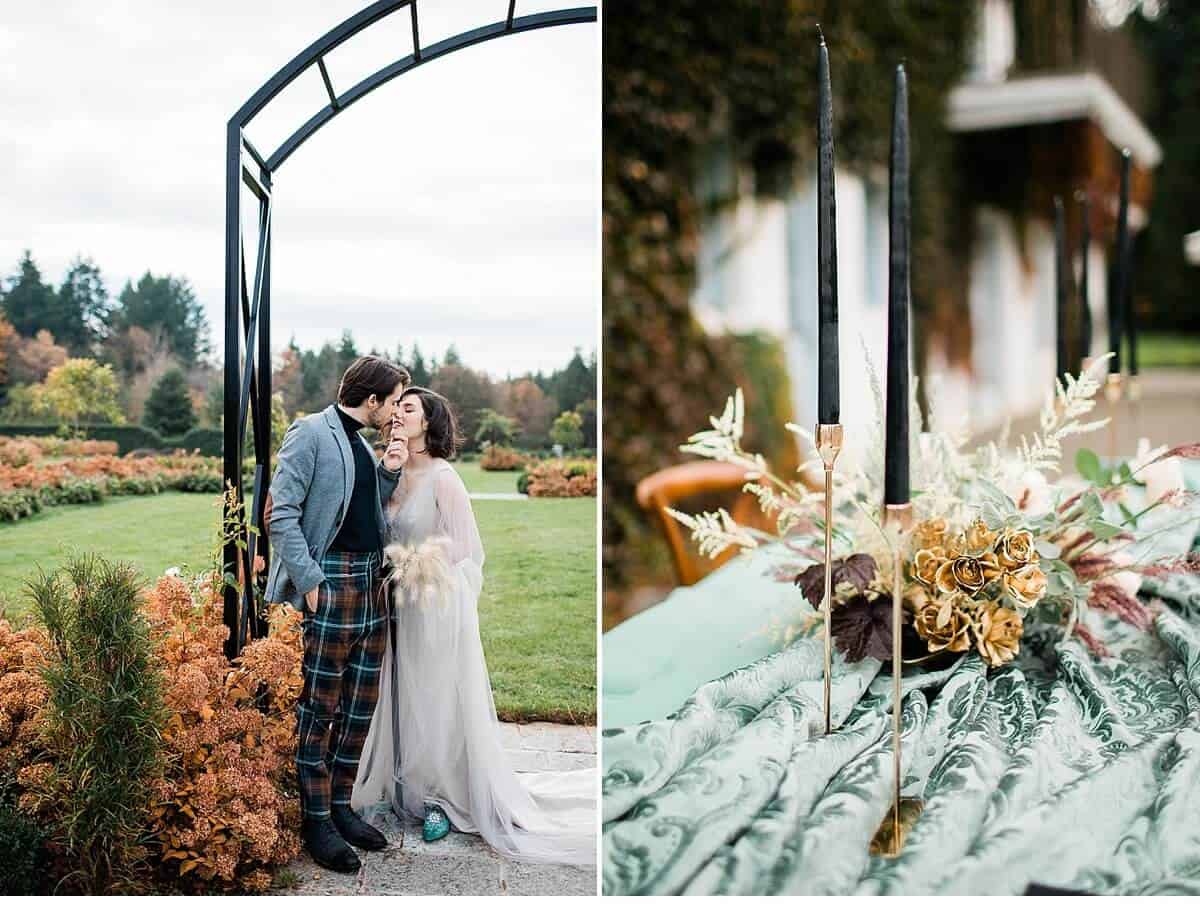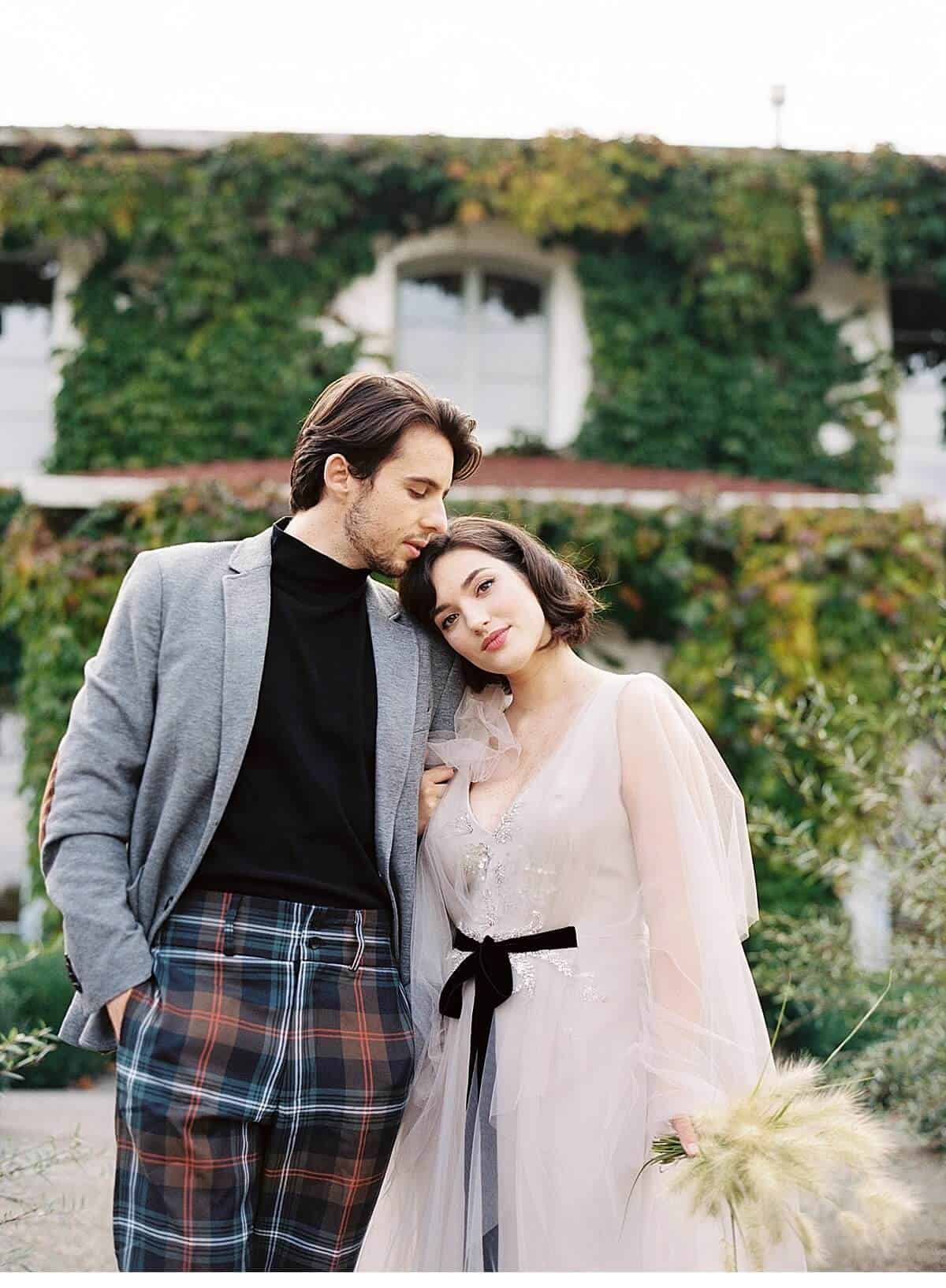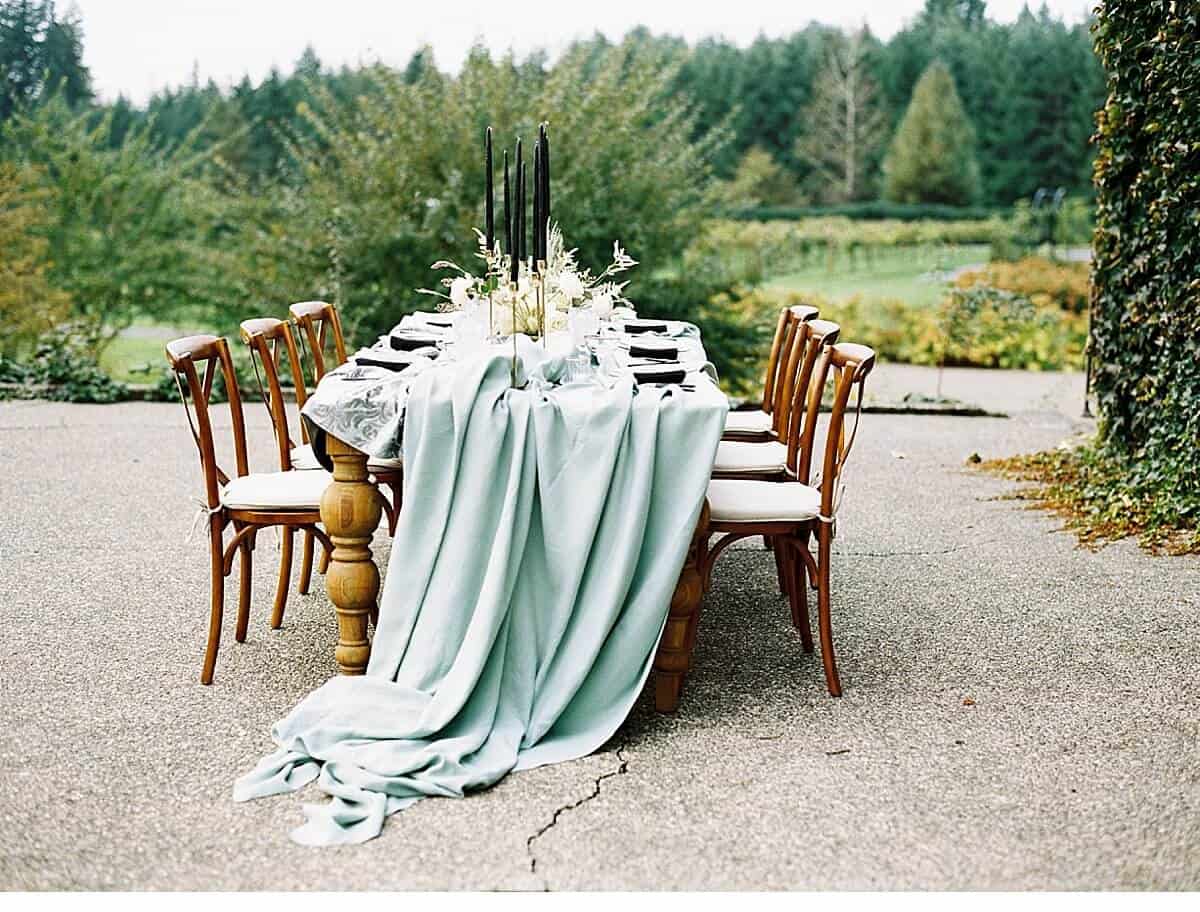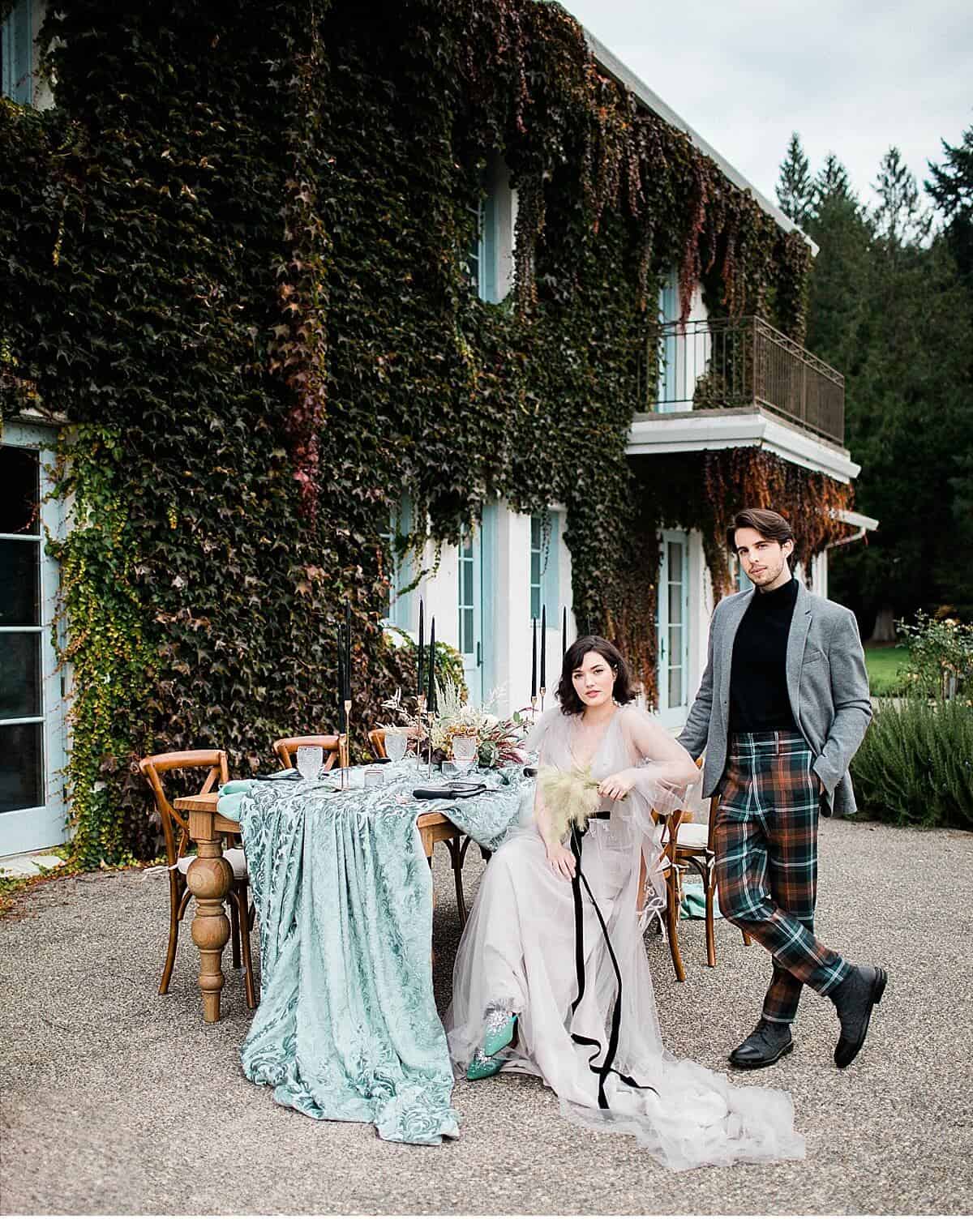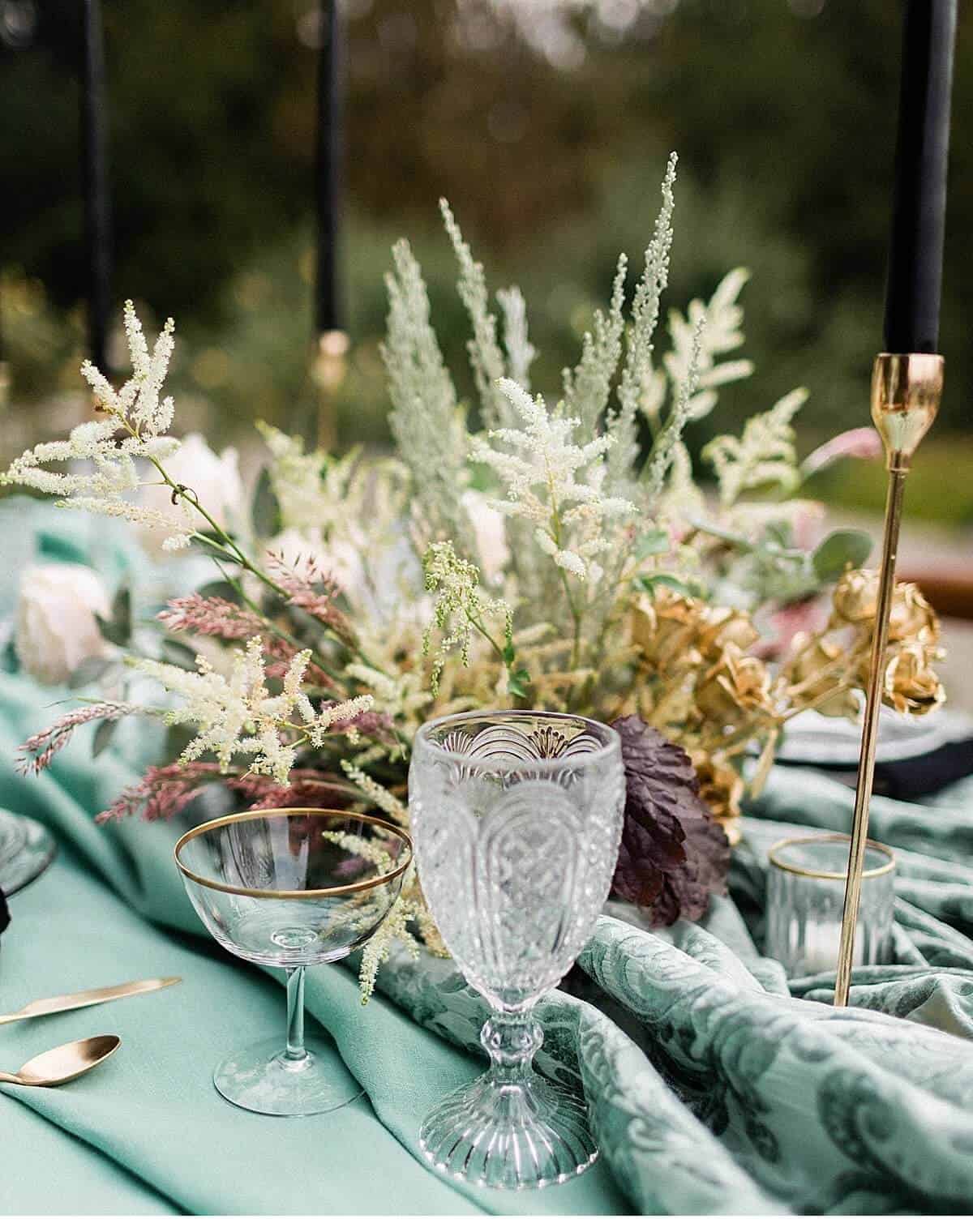 Photographer / Concept: Billow & Mull
Floral Design: Color Theory Design Co
Venue: Monte Vineyards
Stationery: Kelsey Malie Calligraphy
Hair and Makeup: Kirstie Wight Makeup
Dress: Carol Hannah 
Shoes: Coast & Koi
Tartan Trews: Kilt Society
Groom Shoes: Taft Clothing 
Groom jacket and shirt: vintage finds
Cake: Dream Cakes Portland
Rentals: Archive Rentals
Linens: La Tavola Linen
Models: Corninne & Dean
Film Lab: Photovision Prints