Fusion of modernity and tradition
The Amalfi Coast with its imposing cliffs, rugged shorelines, with many small beaches and colorful fishing villages unmistakably reflects Italian lifestyle.
The wedding planner teams of Wedplace and WedItaly were inspired by this breathtaking backdrop to create a unique editorial. With a great sense of aesthetics and attention to detail, they created breathtaking wedding visions. Perfection has countless faces – following signposts like location, style, mood and design and adding a personal touch you write an unforgettable love story.
Fine Art Film-Photographer Sergio Sorrentino invites you to dream with his stunning imagery. from the natural backdrop to every intimate detail and gentle touch – he captures every essence of a moment in his stylish way.
From Sergio Sorrentino : "The setting of this modern and traditional editorial in Ravello, is the magnificent venue Palazzo Confalone. The building, built between the XIV and XV Century, was originally the residence of a local noble family. Of great beauty is the atrium, framed by majestic arches and arches supported by marble columns, a sumptuous staircase leading to the main floor, a frescoed ceiling in excellent condition, a garden with a belvedere over the Amalfi Coast bordered by octagonal columns. The aristocratic residence has become a luxury hotel, preserving the characteristics of a residence of the past. It is therefore an ideal location for an intimate wedding. The historical interest of the palace emphasizes the traditional part of the shoot.
The color palette features pure white with shades of hazy gray with some delicate branches that fit harmoniously with the space and overall atmosphere of the wedding. The table setting shows its elegance by using white flowers, crystal and gold elements. Forest branches and spring flowers such as spirea, lily of the valley, lilac, gypsophila and astilba, provided and set by Kuts Flowers, together with the use of natural fabrics (linen, satin) give a touch of naturalness and lightness. Special attention was given to the ecological aspect. So prevails the use of natural elements in all decoration. The goal is to show how you can elegantly decorate a wedding, in harmony with nature.
Talking about fusion between modern and traditional, Silvia Moretta's wed lab dresses bring an air of freshness to Italian craftsmanship.Tailored and sewn to measure but modern and essential. Silk georgette for the ceremony dress. Many soft ruffles, sewn together to frame the neck and shoulders, with a touch of purity.The dress for the party instead, while maintaining the small embroidered ruffles, is more low-cut and follows less the traditions, just to emphasize this beautiful contrast.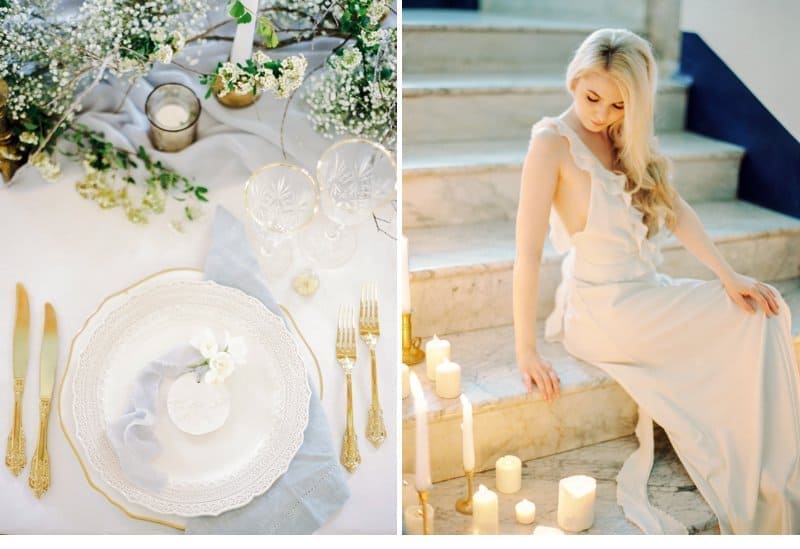 Planning and Design: Wedplace and WedItaly
Photography: Sergio Sorrentino
Florist: Kuts Flowers
Videographer: Diego Perrini Video 
Venue: Palazzo con Falone  
Bride Dress: Silvia Moretta  
Rentals: Allestimenti le Rose
Paper Goods:  Laura Elizabeth Patrick
Retro car: Exclusive Dreams Cars 
Cake:  Maddy Life In The Kitchen