Fusion of Shapes, Colors and Textures
Creativity, the courage to try new ideas, the love for minimalism and the dedication to sustainability, colors and textures are the aesthetic expression of this versatile shoot designed by Georgia of Pompon Story.
Fantastic fine art photographer Theodores Chliapas captured this diversity of inspiration in stunning images.
From Pompon Story: "We were led to create this inspirational styled shooting motivated by the concept of union, with an ode to all different aspects and forms of it , the coupling of human beings, the syncretism of ideas, the unification of materials, the fusion of decorative styles, the blend of old and new. Trying to paint with muted hues on a white canvas, we based on sustainable design, giving prominence to beguiling still life and abstract minimalism.
Based on muted hues and their mesmerizing blend , we used organic and soft textures for an ethereal result in addition to industrial materials like cement , while the use of modern terrazzo effect symbolized the unification of materials and trends . At the meantime, we wanted to emphasize the beauty that derives from contemporary design with eco- friendly state of mind.
For the table setting decoration , we used carefully selected ceramics objects, organic textures in the tableware with macramé details from Pantias Macrame Designer, layerings with irregular slates of terrazzo and cement and a luxury tableware in muted hues . All these combined with the whites of dried flowers gave a result that teemed with refined elegance with an almost handcrafted and sustainable approach.
Being eco-conscious, we chose to reuse materials transforming them and giving them a different approach adjusted to a wedding design.  Broken pieces of blocks were used to create a beguiling set up with uncommon kinds of dried flowers from Kipos Kalou, giving prominence to still life and the charm of minimalism that derives from it.  Furthermore, a backdrop made by reused organic fabric , designed with a macramé technique, gave not only an impressive but an abstract result as well.
The stationery suite creation from Love Me Do, followed clear lines adopting terrazzo effect in muted hues. Some elements of the suite comprised papers with geometric shape as a comparison of the various stones that compose the terrazzo. Origami method, applied in the envelope and the name tags, amplified the modern approach in the set while the use of polaroids in the flatlay, added a nostalgic character, signifying  the join of old and new.
An indoor bridal inspirational photo shooting inspired by the union of humans, ideas, materials, ideas, trends."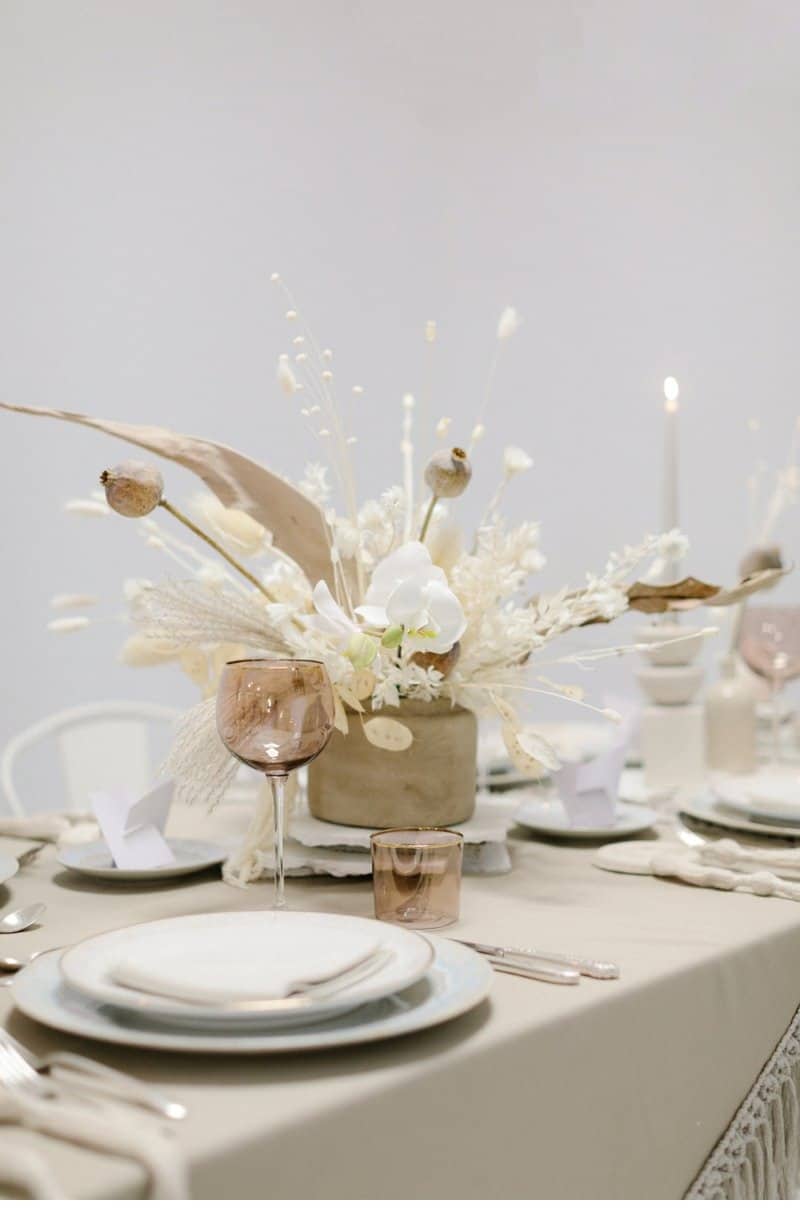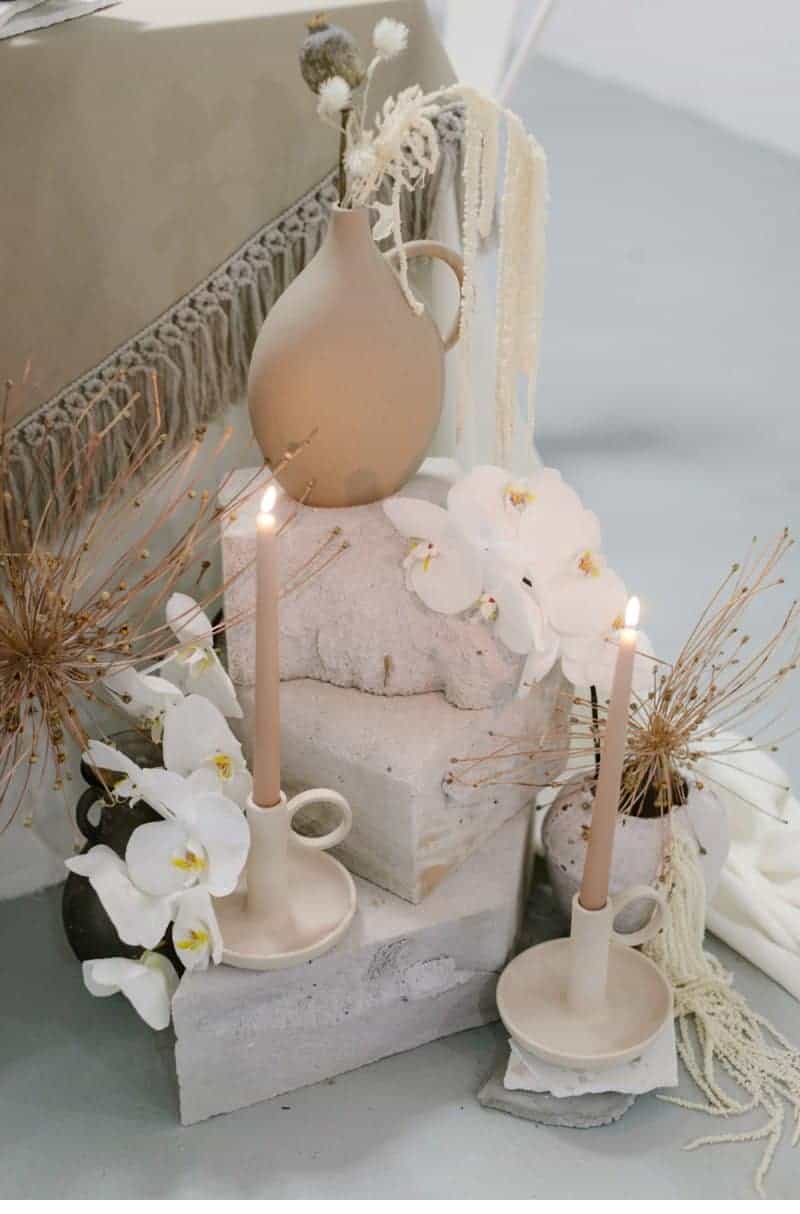 Photography: Theodores Chliapas Weddings
Planning Design Styling: Pompon Story
Stationery: Love Me Do
Florals: Kipos Kalou
Macrame Designer and Styling Assistance: Pantias Macrame Designer
Videography: Dimitris Pavlidis
Bridal Dress: Vasia Tzotzopoulou
Βridal Shoes: Katerina Savrani
Table Rentals: White Lilac
Mua: Vreka Iro  
Hair Styling: Anastasia Sekeroglou
Cake: Marthas Sweet Philosophy
Styling goods: Tsimendaki
Βridal Ring: Xrisi Gonia
Bridal Earrings: Vspolyclay
Model Agency: Team MGMT
Bar Services: Vatrakoukos