"Gams zu zweit", An Oasis Of Romance And Togetherness
Just a few weeks after the successful relaunch in October 2019, Ellen Nenning and her business partner Andreas Mennel warmly welcome you to their new 4-star spa hotel "Gams zu zweit", an oasis of romance and togetherness in the beautiful Bregenzerwald.
The rooms
The hosts of Gams zu zweit dedicated themselves to the spacious rooms in this phase of the renovation, placing great emphasis on a cozy, modern atmosphere that invites you to enjoy, relax and linger.
A total of 54 cozy suites and 4 top-of suites with their 45 to 65 square meters of living space, four-poster beds, starry skies, whirlpools and open fireplaces offer maximum comfort day and night, all year long and spoil their residents with a wonderful view of the surrounding nature, spectacular architecture and a comfortable room service.
In the second construction phase 2020, the entrepreneurs are planning to crown their room concept and to open another highlight at the highest point of their hotel with the 65 square meter "Oh My God Suite" made of concrete, glass and steel.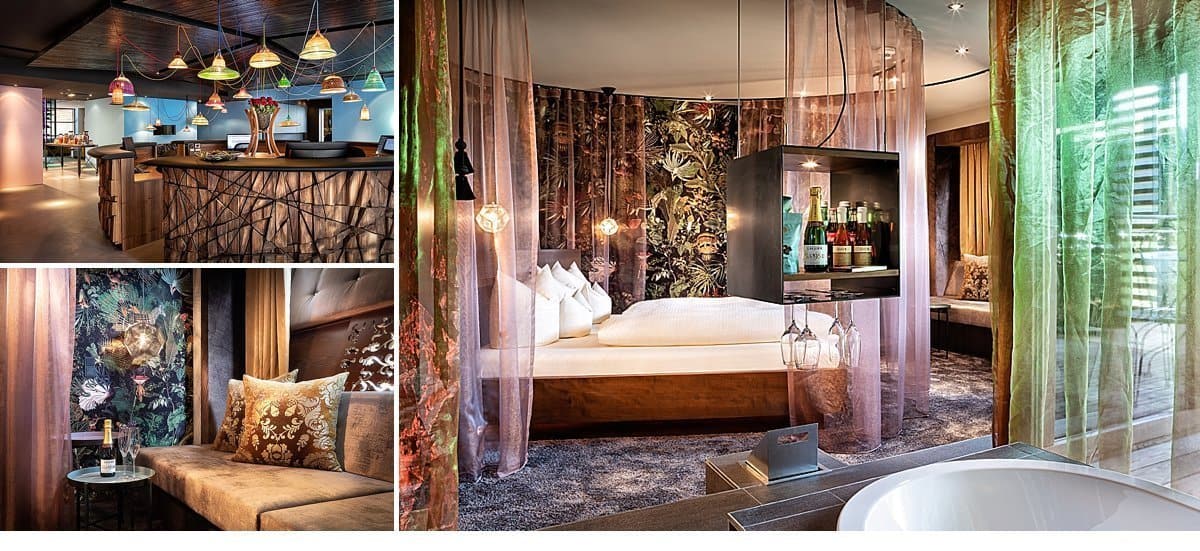 Culinary
At the restaurant "Eden" chef Sascha Hoss and his team create a fine-tuned five-course menu made of regional products in the show kitchen every night.
The dining room is designed with ladies' and gentlemen chairs, the winter garden spoils with a great view while small cozy niches and the little rooms with large wooden tables offer individual places. The bar and lounge with terrace are reserved for hotel guests and lure with drinks and small snacks at any time of the day.
So if you still have doubts that the new "Gams for two" is THE place to create unforgettable moments and loving cuddling days, we have a few exclusive insights here that will make your stay irresistible.
Pure wellness an the Paaradise
The doors of the hotel's wellness oasis Paaradise are open all year round, regardless of the seasons.
In the spacious relaxation areas, the varied sauna area and the heated pools, you can relax wonderfully and the twelve treatment rooms are predestined to let your soul dangle during a soothing beauty treatment. The two hosts of the "Gams zu zweit" are particularly proud of their new cloud 7 relaxation area on the roof of the building, where you can enjoy a traditional hammam treatment or a clear view of the landscape directly out of the incredible infinity skypool.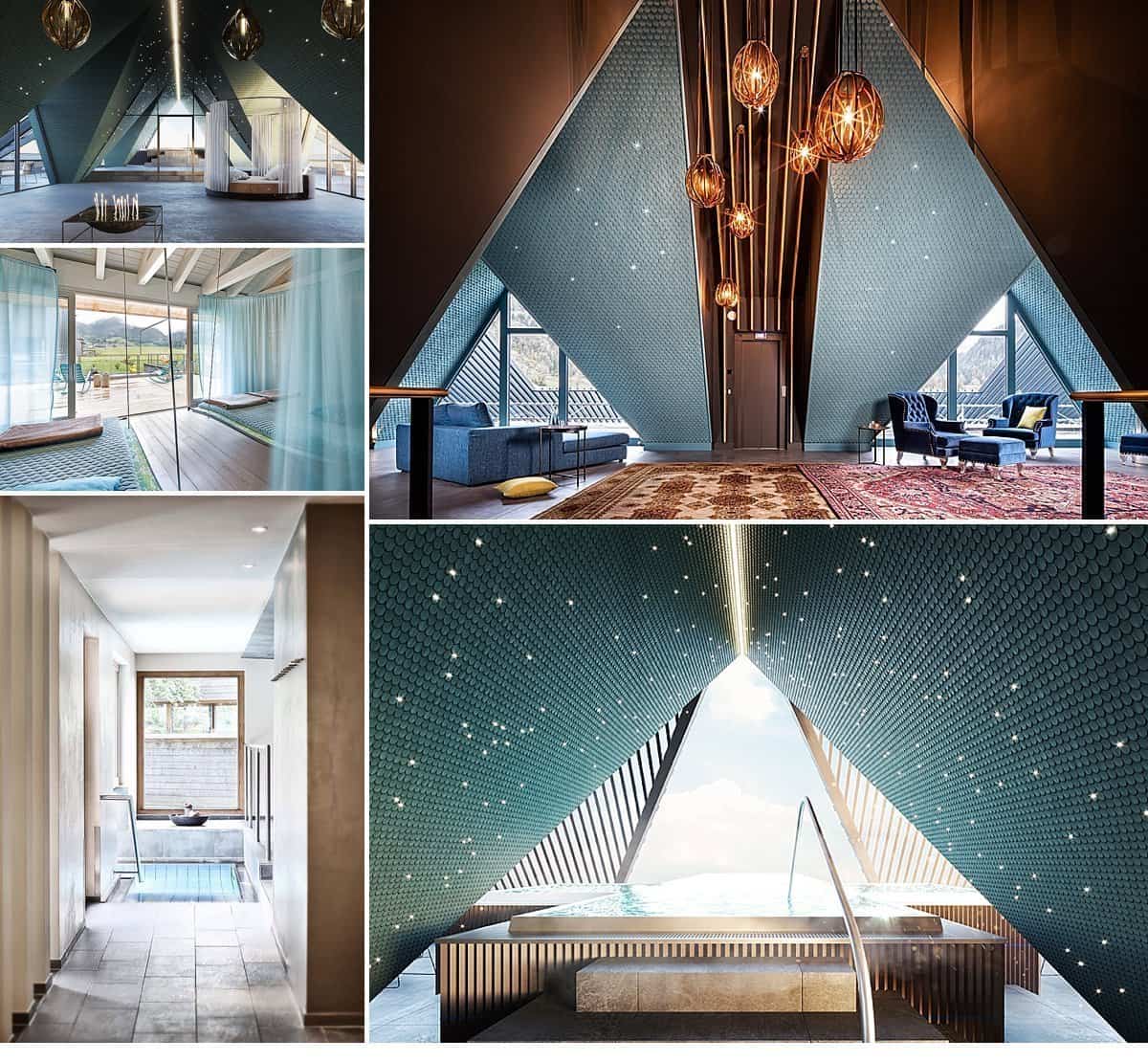 Innovation has tradition
The history of the former inn "Zur Gams" can be traced back to the 17th century, which Ellen Nenning's great-grandfather acquired as early as 1900.
A few years later, her grandmother proved her sense for trends and innovation as she installed central heating and running hot and cold water in the rooms, followed by a sauna, two tennis courts and a heated pool as well as rooms with private bathrooms, all innovative and unique features in terms of comfort and luxury, with which she laid the foundation for numerous conversions and additions to establish today's hotel among the most exclusive ones in the area.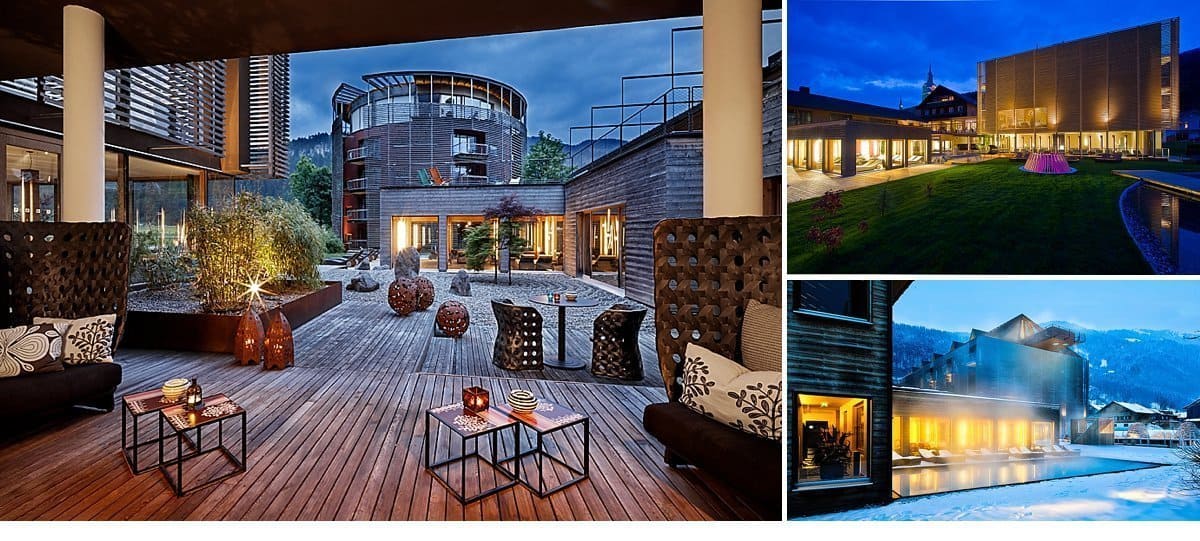 The "Gams zu zweit" today
Since the mid-1990s, Ellen Nenning has been another strong woman running the historic family business and she also knows what her discerning couple are longing for: some rest and relaxation for body, mind and heart, a break from children and everyday life at home, undisturbed time for togetherness – and all this at the highest level.
So, together with business partner Andreas Mennel, she decided on a large-scale reconstruction including extensive renovation and modern additions. Today, the former "Kuschelhotel" amazes with luxurious amenities such as an incredible skypool with breathtaking views, more space for relaxation in the 3,000 square meter spa area and a light, color and space concept that fills every area with a magical and welcoming feel-good atmosphere. In 2020 the professional duo plans to attract even more people looking for peace with the opening of an event sauna and a cinema.
Location and activities
Admittedly, the rooms of the "Gams zu zweit" sound temptingly cozy and too beautiful not to indulge in togetherness all day long. However, one would then miss the countless activities that can be experienced in the area surrounding the hotel.
Perfectly situated in the idyllic border triangle of Switzerland, Austria and Germany, trips to nearby Lake Constance, to the cozy world of the Allgäu or to surrounding cities such as Bregenz are on offer. In the winter times you can choose from three different neighboring skiing areas or enjoy cross-country skiing along around 320 kilometers.
During the rest of the year you can go hiking, climbing and mountain biking. If you prefer to take it a little more easy, there is an 18-hole golf course and numerous cultural events such as the Bregenzer Festival nearby.
Ellen Nenning and Andreas Mennel are looking forward to welcome you!