Glamorous wedding at the wine museum
A lot of fresh air, centuries-old architecture and aplenty of nature, paired with refreshing lightness of the newlyweds, numerous modern accents and a few classic details created this wedding in the Markou Wine Museum with rustic glamor and natural glance, which we want to present to you today.
Inspirations with which Vicky Galata and Chloe Koromila have brought every corner of this historic property back to life.
"Around the corner of some of the most enchanting stone arches we have ever captured for a wedding inspiration, traditional elements merged with some fresh wedding ideas and produced an exquisite outcome." the photographers Desi and Yiannis of V & Y Simopoulos told us still impressed.
We particularly like the pleasant feeling of light-heartedness, which spreads primarily through the cleverly chosen color concept and that reflects the endless expanse of sky just as much as the lush green of the surrounding nature. "Working with a garden-fresh palette of mint, butter yellow, white crème and light blue colors, Wedding Planner Vicky Galata coordinated with Chloe Koromila and introduced a French countryside mood board." Vesi and Yianniss recall.
A successful color combination that was not only easy to apply to the design of the stationery by Manousenia Design or the elaborate wedding cakes by Danai's Cakes by K, but was especially recognizable by floral highlights in every motif.
"Comme ça followed a floral collection of small white blossoms, mint tones and white garden roses in the wedding bouquet too, contrasting yet harmonizing with the background brown and yellow leaves of the venue."
Contrast and harmony at the same time? As soon as you scroll through V & Y Simopoulos picture gallery you´ll notice that this does not always have to be a contradiction.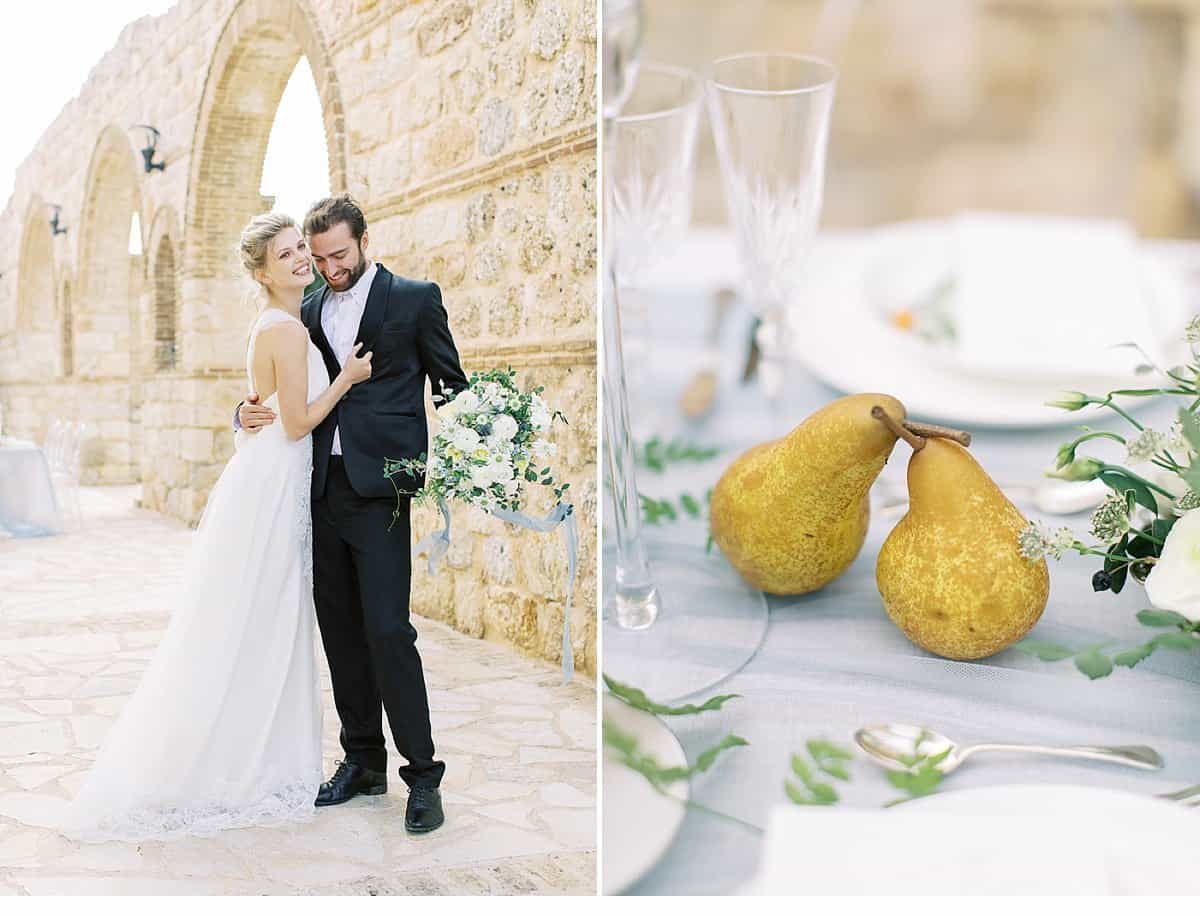 PHOTOGRAPHER: V & Y Simopoulos
DESIGN & PLANNING: Vicky Galata Weddings & Events 
VENUE: Markou Wine Museum
COORDINATION: Chloe Koromila-Getting Married in Greece  
FLORIST: Comme ça – fleurs & décor
STATIONERY: Manousenia Design 
CAKES & DESSERTS: Danai's Cakes by K
CINEMATOGRAPHY: Panagiotis Kastanidis
BRIDAL GOWN: Teti Charitou
GROOM'S ATTIRE: Teti Charitou
HAIR & MUA STYLIST: Thalia Makeup Lab Artistry 
FURNITURE RENTALS: Tore furniture rentals
ACCESSORIES: Astrea Bridal Accessories
CATERING: Bistecca 
VIOLIN: Violin Events Music