Glamour & Mulled Wine, an Austrian Winter Wedding
Romantic chalets, a white blanket of snow and a magical mountain landscape are probably the perfect ingredients for an unforgettable winter wedding.
Vanessa and Dennis are fans of snow, winter and Austria. After their engagement in South Africa it was soon clear that their wedding celebration should take place in an alpine ski resort.
In Christiane and Manuela from Join Wedding Consulting  they found two dedicated wedding planners who arranged this magical winter wedding with a lot of passion.
They told: "For the wedding of Vanessa and Dennis we suggested the beautiful and luxurious Chaletdorf Auszeit  in Hüttschlag in the Salzburg mountains.
The perfect setting for a 4 day wedding weekend with the closed friends and family. The wedding day was just magicaland extremely emotional. The civil ceremony took place at a frozen lake just infront of the wedding couples chalet accompanied by the lovely voice of singer Anna.
After the cocktail reception and the wedding cake cutting the guests experienced a romantic horse-drawn sleight ride. The dining room was decorated with a variation of fresh blossoms of ranunculus, english rose, anemon and delphinium in the colors red, blue, blush peach and lots of candles. Wedecided for a variantion of different and fine materials, such as velvet ribbons, grey silk linen, glas platters etc. to get avery elegant look in combination of the cosy wooden dining room.
The color theme was a great pleasure for us and perfectly matching the red lace wedding gown by Hanneke Peters Couture. Vanessa wasa radiant appearance in the snow covered white landscape. The handsome groom was wearing a stunning grey tailor made suite.
After an elegant gourmet dinner an amazing band and a Salzburg star violin player entertained till in the early morninghours.
The weekend was filled with lots of highlights and charming details such as snow hiking tours, wine tastings,snowboarding in the highend skiing resort, a tradtional rustic Austrian evening in a mountain lodge followed by a latenight toboggan fun. After a 14 month planning time with the most charming and thankful couple we are looking back to one of the most wonderful experience in our wedding planning career.                                                                                                                                                                                                                                                                                                                                                                                                                                                                                                                                                                                              
Wishing Vanessa & Dennis a joyful and healthy future and their sincere love should last forever!"
It is with great pleasure that we now look at the impressive images of Vivid Symphony that have accompanied this magical winter wedding.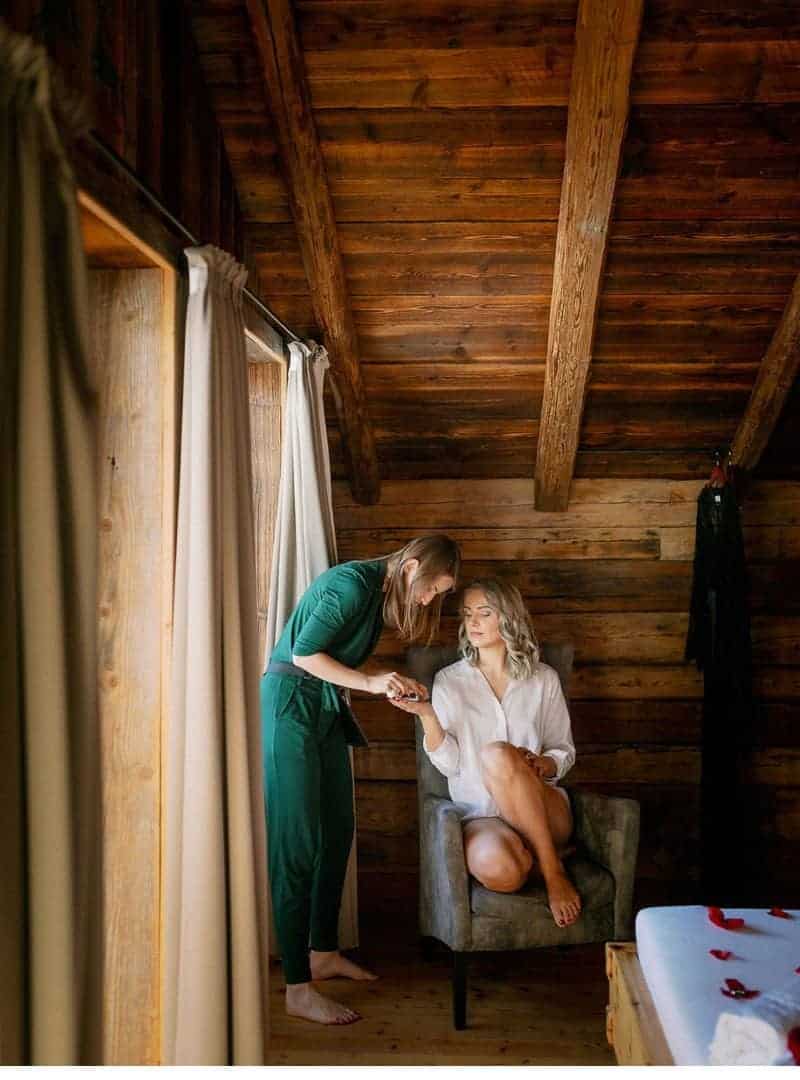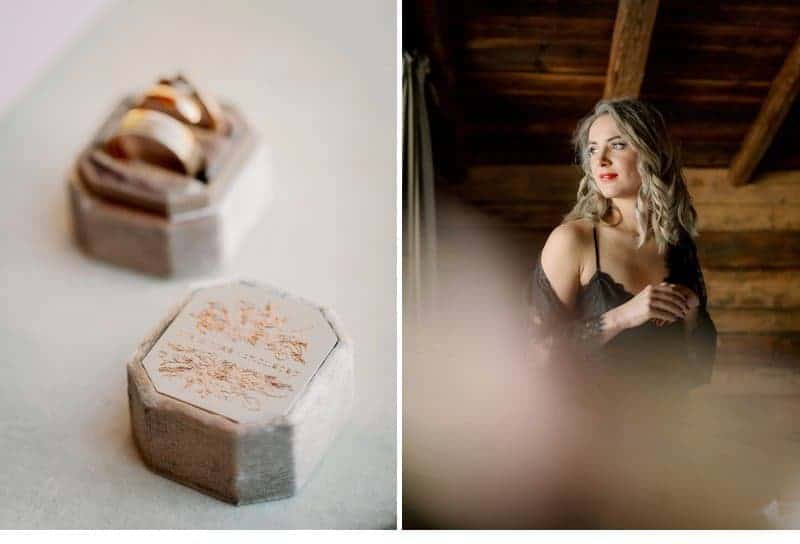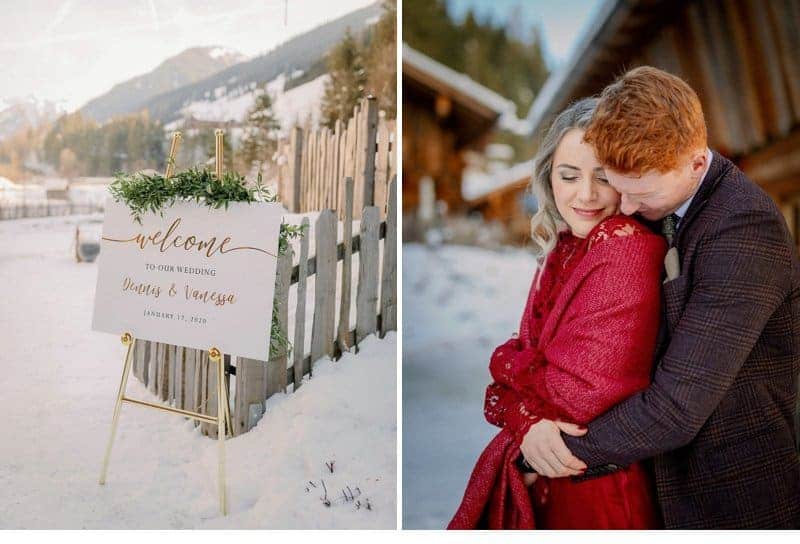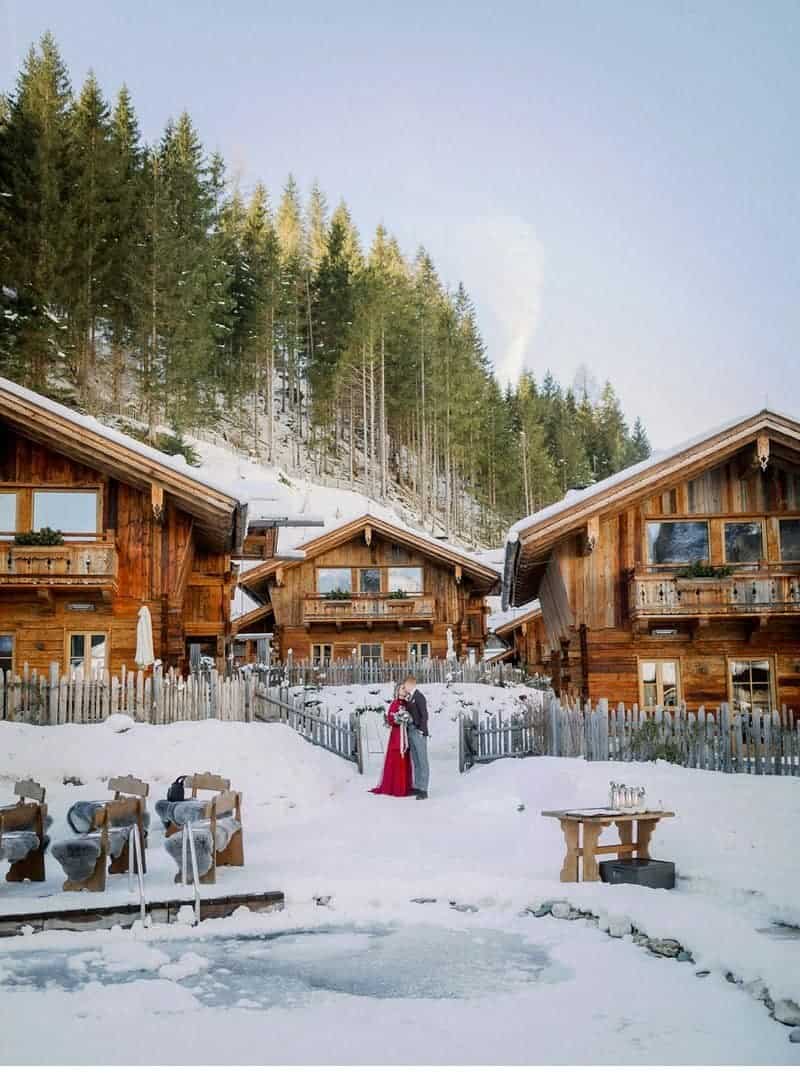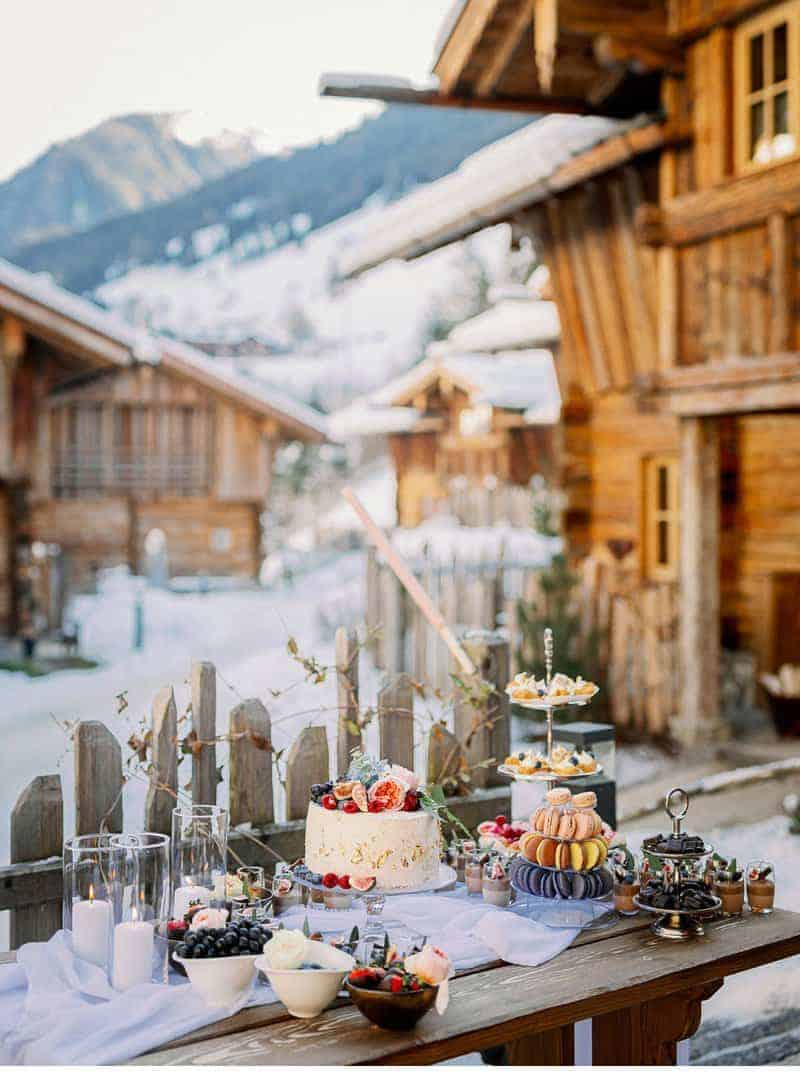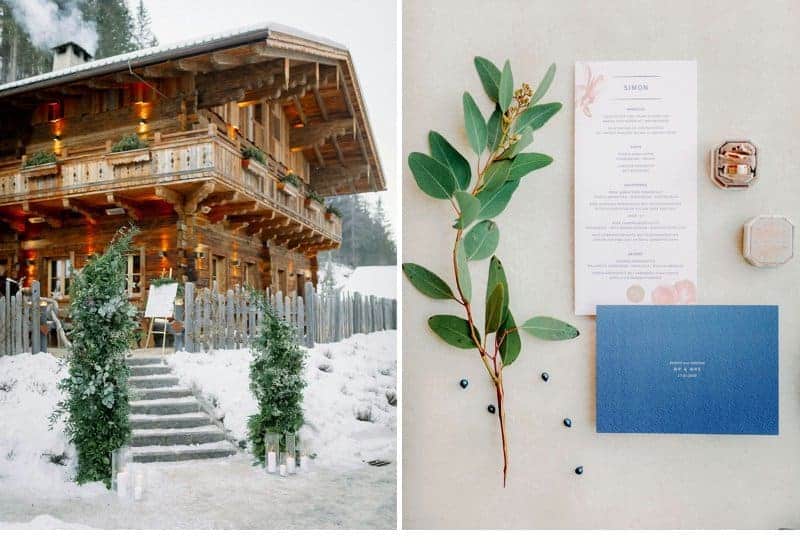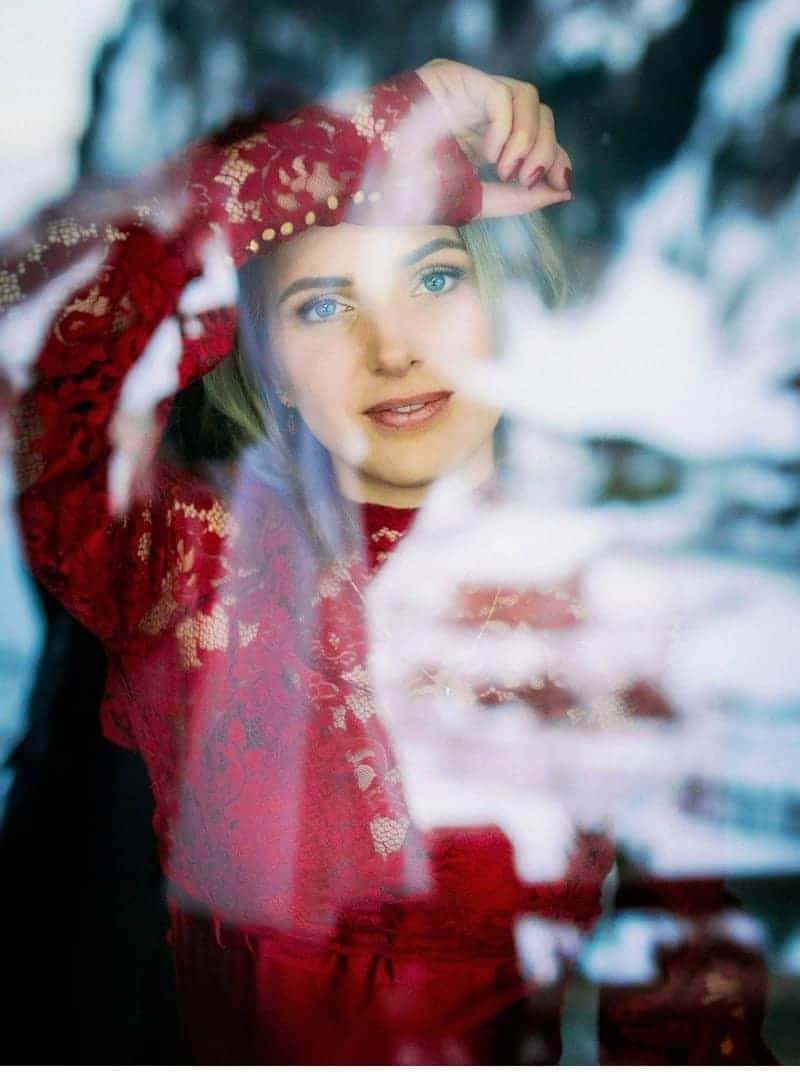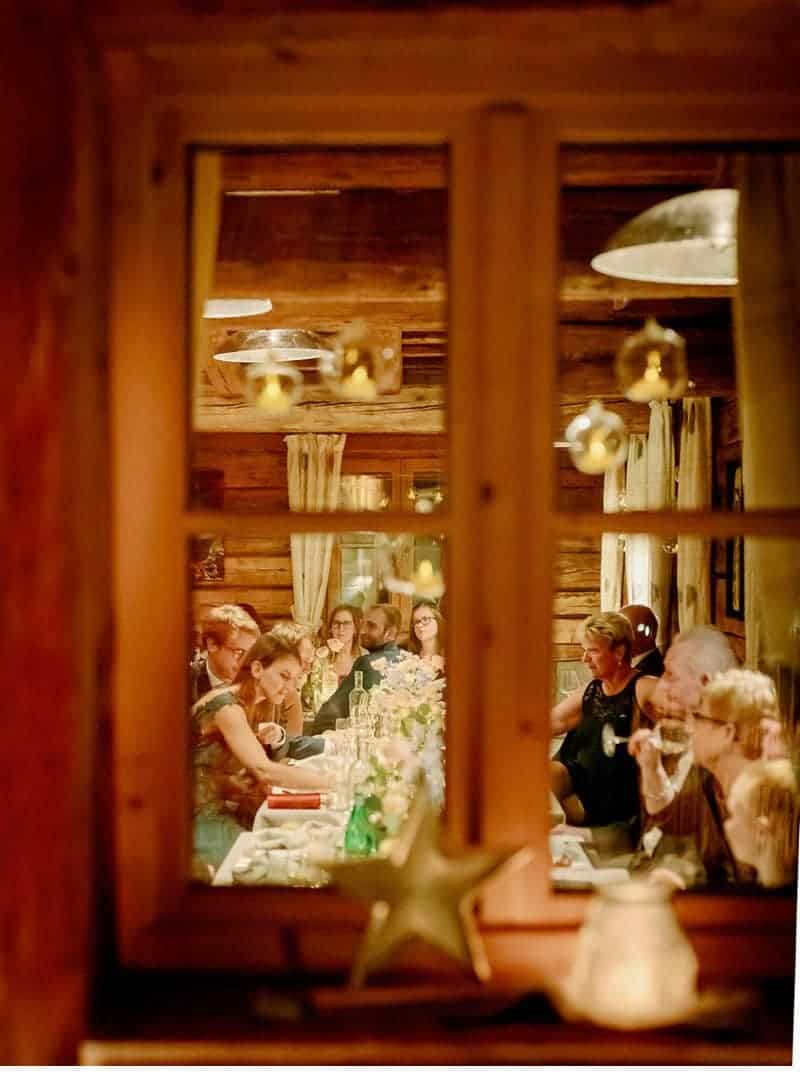 Photography: Vivid Symphony 
Weddingplanner: Join Wedding Consulting 
Dress: Hanneke Peters Couture 
Bridal Robe: Apilat 
Shoes: Valentino
Flower Design: Wuchs
Cake: M Passione  
Rings: Vincent Cober 
Location: Chaletdorf Auszeit 
Stationery: Fine Wedding Paper 
Styling Goods: Marry & Lilo
Ribbons: Seidenband 
Musik Band: First Line 
Ring Box: The Mrs Box