Glances into the soul
In the luxurious residence of Villa Astor, which offers a fascinating view of the Gulf of Naples, among busts, columns, marble and statues, the story of "Sguardi dell'ima" (Glances into the Soul) comes to life.
A project by wedding planner Alessandro Ciardi of Frammenti Wedding about women and their many changes that have altered their appearance and outlook, increasing their longing for redemption and letting them unfold their attitude towards emancipation.
The prestigious residence was built in the 19th century by U.S. Ambassador William Waldorf Astor, and redesigned by interior designer Jacque Garcia. It is now one of the four locations of "The Heritage Collection" chain. It is precisely the art and history present in the villa that convinced the team to tell a story based on change and beauty.
A clay body that holds impulses, longings and fragility, that at first reveals itself shrouded and then strips away the ideals imposed by society to clothe its new soul.
A free and joyful soul that shows itself as happy and proud as the day of the wedding. Based on essential tones between beige, white, gold, black and pink. A palette that draws on ethereal colors, such as white, which is the presence of all colors, and black, which signifies their total absence.
Details of stationery on cotton paper with handmade designs and material elements by Bibart Partecipazioni complete the unique concept. We marvel at a refined staging with natural ceramic plates, marble, white candlesticks, cotton napkins and gold cutlery, framed by a marble table and period seating. Gold jewelry of various types and shapes accentuates the beauty of the woman among pearls, precious stones and diamonds. The rose, the most important floral element, is incorporated in different shades of color and a beguiling variety.
Photographers Siamo Sissi and Carmela of Le Vélo impress with their creative images that take us to an artistic world of inspiration.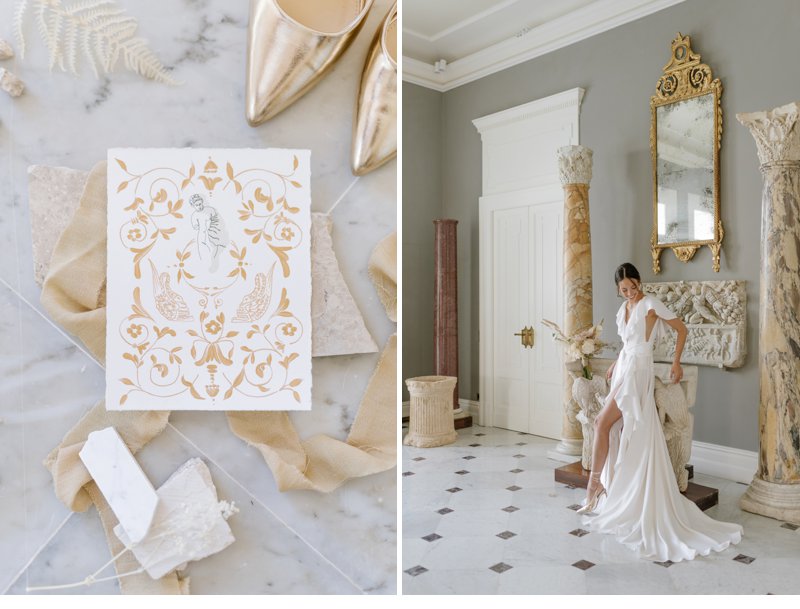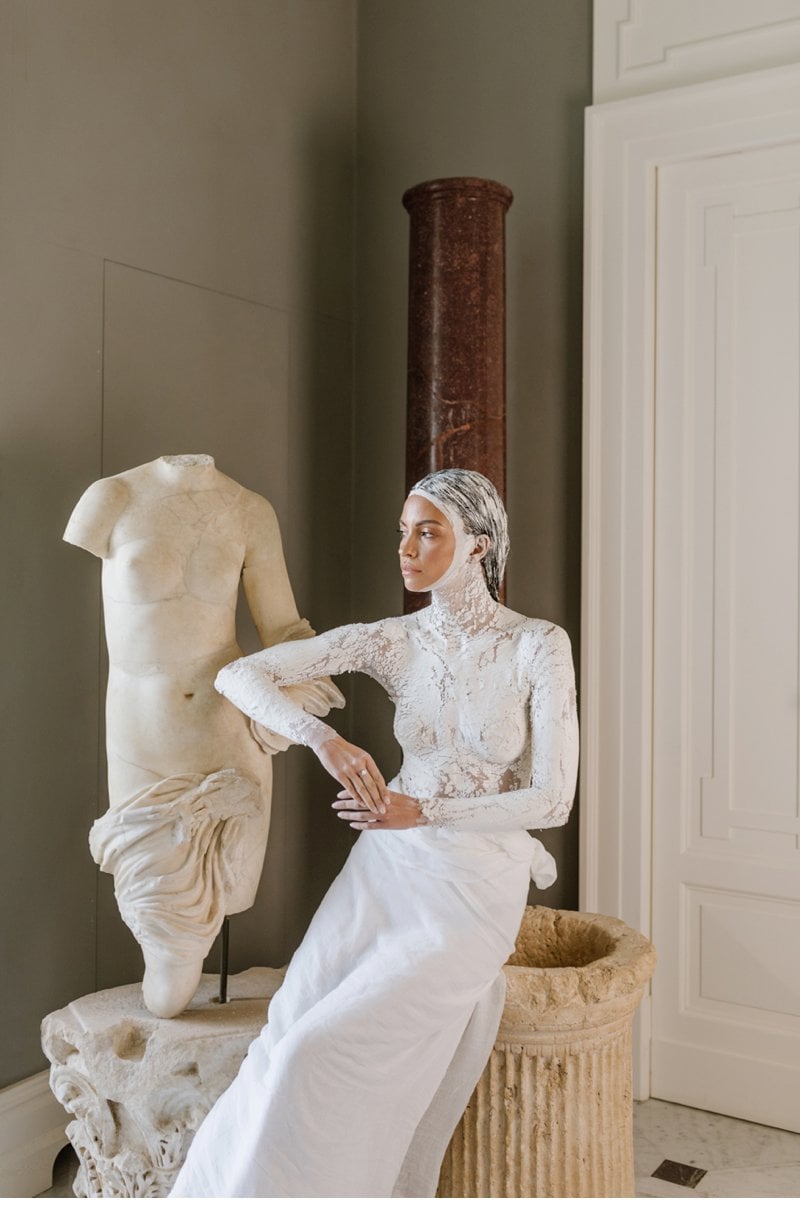 Concept & Styling: Frammenti Wedding and Le Vélo Fotografia
Wedding Planner: Frammenti Wedding
Photography: Le Vélo Fotografia
Videography: Urania Wedding Film⁣
Jewelry e Rings: Taya gioielli
Venue: Villa Astor – The Heritage Collection
Stationery: Bibart Partecipazioni
Makeup: Sara de Virgilio Make-Up Artist
Hair: Unique Hair Beauty
Dress: Andrea Sedici
Flowers: Simone Sardelli
Ceramics: Primo fuoco ceramica
Rentals: Andrea Riccio Wedding solution
Drone: Mr. Feola