Golden Hill Country Chalets, a luxurious hideaway for lovebirds
A luxury oasis in the south of Austria's beautiful Styria, pampering programs for body and soul and service at the highest level, this is the resort Golden Hill Country Chalets and Suites, a luxurious hideaway for couples.
Far too rarely we treat ourselves to a little break from everyday life, spend precious quality time with our loved ones or just recharge our batteries a little bit. If this exclusive adults-only tip is not a reason to change that, then what? The warm hosts Barbara and Andreas Reinisch are looking forward to seeing you.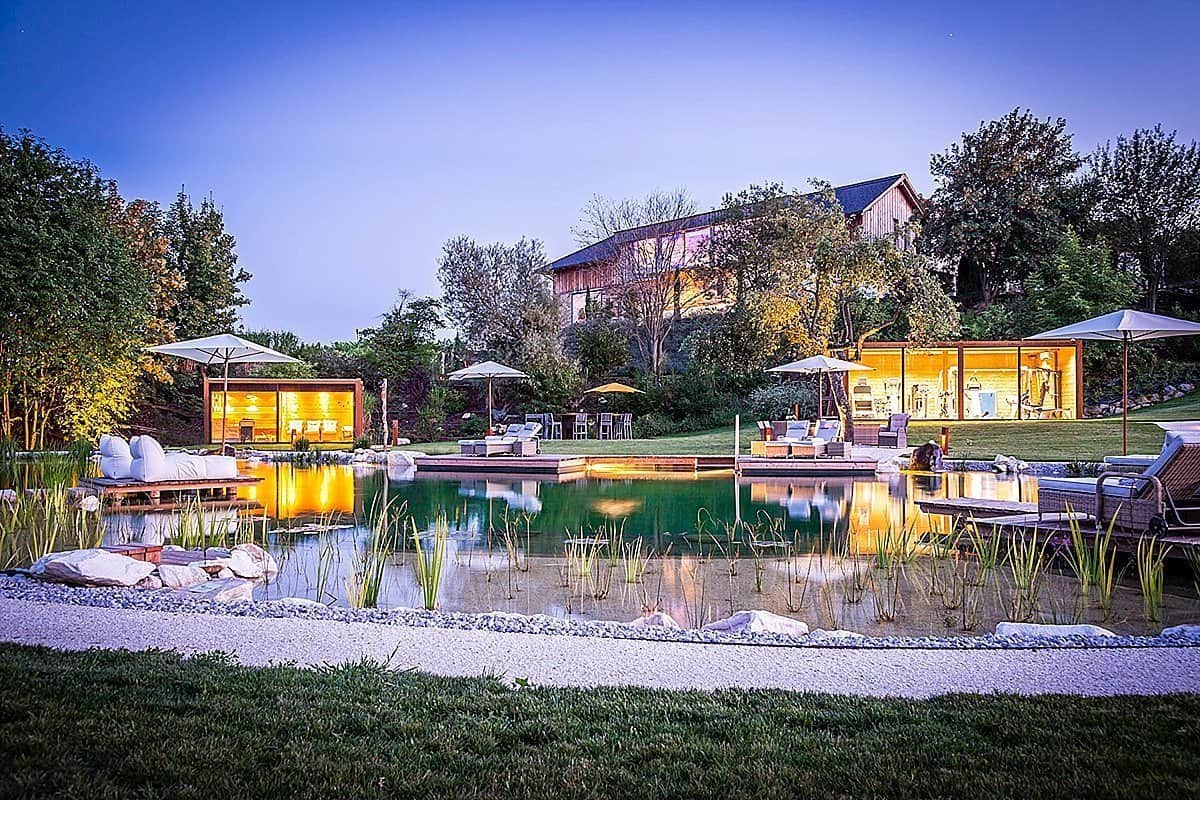 Philosophy
About 25km south of Graz, the two have created a sanctuary where you can relax, find yourself and recharge your batteries. All this in a unique ambience of fantastic nature, the greatest possible privacy and extraordinary experience architecture.
Sustainability
As you can see from this experience architecture, sustainability is a big topic for the host couple. For them, it is an integral part of their corporate culture and an internalized lifestyle. Preserving our beautiful world and their paradise called Golden Hill for many generations to come is a matter of the heart for them.
For this reason, the creation of the hotel placed great emphasis on the preservation of old buildings and the sustainable construction with wood. Native natural materials such as natural stone, linen and old wood provide a cozy charm and complete the architectural concept. Watering is done exclusively with own well water and collected rainwater, only LED and energy-saving lamps provide light and the electricity is generated by sunlight and geothermal energy.
Wellness
When it comes to wellness, Barbara and Andreas also rely on the power of nature. Here you will be spoiled with naturally produced and vegan care products and can relax on multisensory AlphaSphere beds.
Depending on accommodation, you can swim in the revitalized water of the 200 or 600m² natural swimming pond or test your physical limits in the recycled container converted into a fitness or sauna cube.
Hideaway
Despite different room categories, they all have something in common: idyllic seclusion, highest discretion and pure luxury.
The romantic Landhaus Steinfuchs offers space for two to six guests and lures you with the benefits of its own spa garden including a sauna and a spa tub under the open sky. In the 250m²Panorama Loft, on the other hand, you can only reside in pairs and benefit from luxury and privacy at the highest level.
Open spaces, more than 20m wide panoramic windows with views in all directions, a private designer kitchen made of reclaimed wood, a private infinity natural swimming pond and an outdoor whirlpool are just a few of the first-class amenities that will sweeten your stay here. And then there are the three new country-style luxury chalets to pamper you with a freestanding copper bathtub, a romantic log fire and your own private spa. Another, even larger natural swimming pond completes the paradisiac wellness concept.
Culinary Delights
Wellness for the soul is just like good food for the body – which of course is not neglected at the Golden Hill Country Chalets und Suites. Hostess Barbara is an excellent cook, while her husband Andreas is a experienced wine connoisseur. A combination that promises finest culinary delights. Whether a 6 – course gourmet menu, hearty barbecues or a romantic candlelight dinner in your accommodation accompanied by fine wines are just a few of the ways you can treat yourself to culinary delights.
Love Holidays & Weddings
Does not all this sound like the perfect place for your next love holiday, an unforgettable marriage proposal or even the luxurious country wedding with rustic charm you've always dreamed of? Then get inspired and find out what these special moments at the Golden Hill Country Chalets and Suites might look like. Take advantage of the scenic views, the beautiful lavender hills and the romantic togetherness for unique moments you will remember for a long time to come.
We highly recommend a visit to this luxurious heaven on earth and wish you a relaxing and sustainable stay!