Graceful Bridal Inspirations between Vintage and Modernity
A bed fallen into a deep sleep and guarded by heavy curtains, endless gardens without a single admirer and a lordly house hosting ancient times – predestinated for graceful bridal inspirations between vintage and modernity.
The bridal couple, young and sophisticated, set themselves to awake this stunning Italian villa. Maybe with the scent of Mediterranean herbs or the fragrance of marvelous flowers? Carefully the two breathe life into the mansion.
Many things recall the days when this house was in the prime of life spreading glamorous glance. Today it´s the beaded bridal dress and her Vintage shoes sharing their glamour with every corner of the house…
Villa Ca´Vendri, a picture book venue, became recently the stage for big visions. The visions of event stylist Simone Gebsattel, who created this breathtaking styled shoot with sure instinct and love for details.
A gorgeous Anna Campbell dress complemented by delicate headpiece by La Chia Headpieces and elegant jewelry by   Michaela Römer was one of this concept´s wonderful highlights. An elaborate cake, stylish flower arrangements and of course an adorable bridal couple rounded out the overall picture and awoke this fairytale-like estate from its sleep…
Tanja Kibogo experienced this magical transformation and brought us the following pictures. Enjoy!
Translation: Marina Jenewein
PHOTOGRAPHY: Tanja Kibogo Photography
EVENT PLANNING & DESIGN: Simone Gebsattel
LOCATION: Villa Ca´Vendri
WEDDING DRESS: Anna Campbell
HAIR & MAKE-UP: Alina Gerber Hairstylist
RINGS: Michaela Römer
EARRINGS: Poetry Designs Jewellery
STATIONERY: Michaela McBride Calligraphy
CAKE: Dilekerei
HEADPIECE: La Chia
SILK RIBBONS: Seidenband
SHOES: Harriet Wilde Wedding Shoes
VIDEO: Gattotigre Video
FILM LAB: The find lab
RECOMMENDED IN OUR VENDOR GUIDE: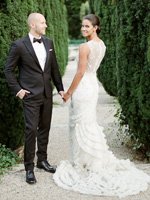 Tanja Kibogo                        Michaela Römer                             La Chia