Gustav Klimt and his Muses
Artistically and poetically Gustav Klimt´s muse resurrects his era. In a light-flooded studio where inspiration is omnipresent. Where empty picture frames are waiting to fulfill their purpose.
We see an easel on which a new artwork is created every moment. Colors that will soon be combined on a canvas. A sofa on which so many Muses have taken place before.
It seems as if someone recently indulged in his creativity. As if this was the birthplace of many other paintings. And yet time stood still for a long time…
"We wanted to wake up Klimt from his beauty sleep." Claudia Fitzinger of LOVE Stories Wien told us. She had the idea for this extraordinary shoot and reveals: "Gustav Klimt himself, an inspiring artist of the 19th century from Vienna, served us as a source of inspiration."
Very detailed and with a lot of flair, she worked on this concept until she realized her visions with the help of a fantastic team. Among others at her side: event stylist Stefanie of Mademoiselle Feé, who was able to empathize easily with this past era and brought it authentically into the modern age.
"We were inspired by the main colors of a painting by Gustav Klimt. The colors are reminiscent of amber and ocher as well as of the gemstone onyx in black and light marble. The dark, almost brown, burgundy was used only as a minimal accent."
Colors that ran like a golden thread through every important design element. Above all, there is the unusual floral splendor of Cornelia Hiermann of Florietta: "We used almost exclusively dried flowers, silver leaf, branches and dried grasses to show the beauty of nature in all its facets."
Also, the stylish stationery by Atelier Zarah fits seamlessly into the overall work of art and is reminiscent of romantic love letters from the past.
The focus of this editorial, however, was the young artist himself, swarmed by two dark-haired muses in precious wedding dresses. We chose sumptuous modern age Haute Couture dresses in the style of the 19th century. High-necked with long sleeves, but still feminine. Lace, ruffles, embroidery, feathers – everything was allowed." Claudia Fitzinger of LOVE Stories Wien concludes.
And just like they say, when two people quarrel, a third rejoices, photographer Andrei Mezinoi of The Mezzinoi, documented with his camera, which of the two ladies the gifted painter chose to become his bride…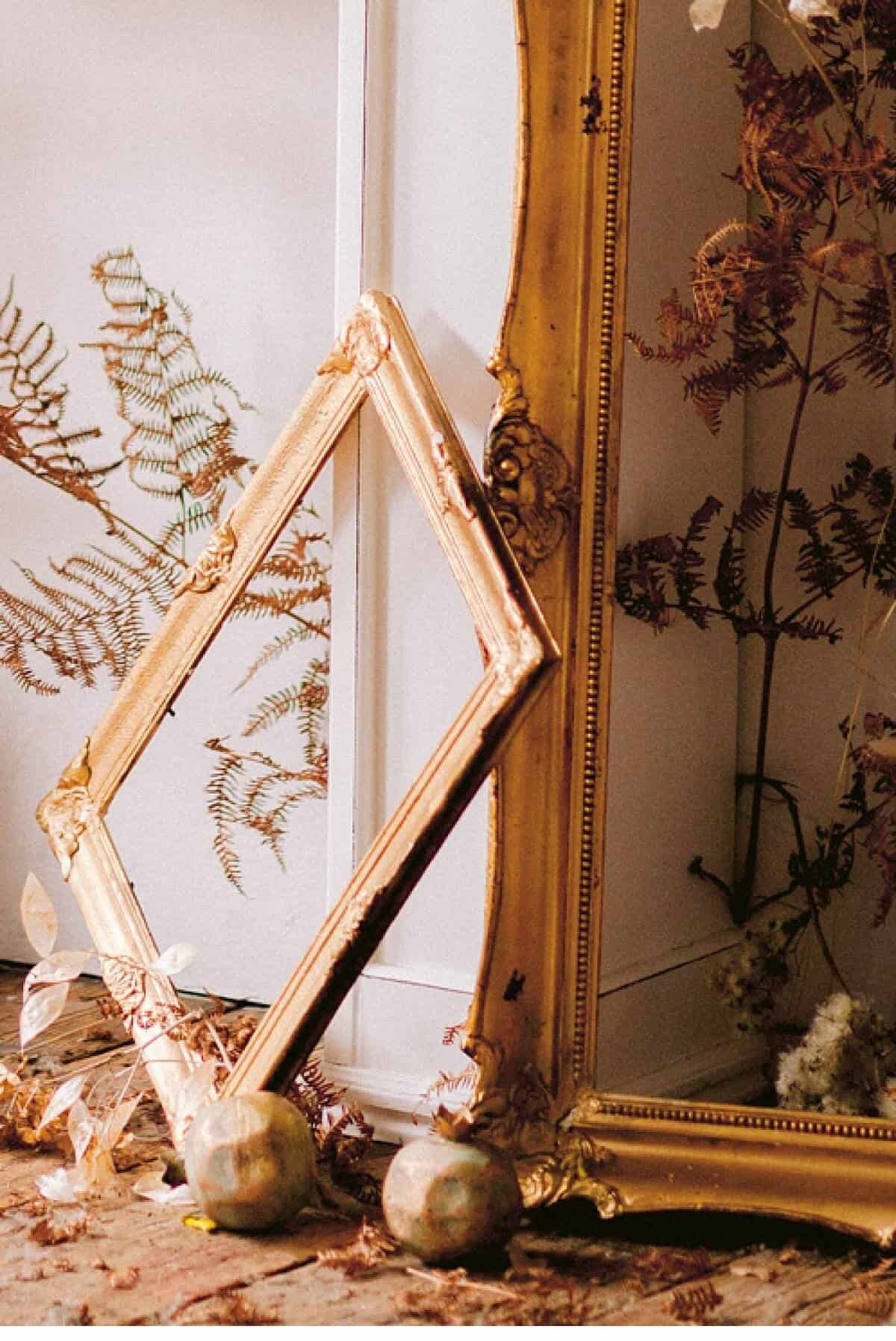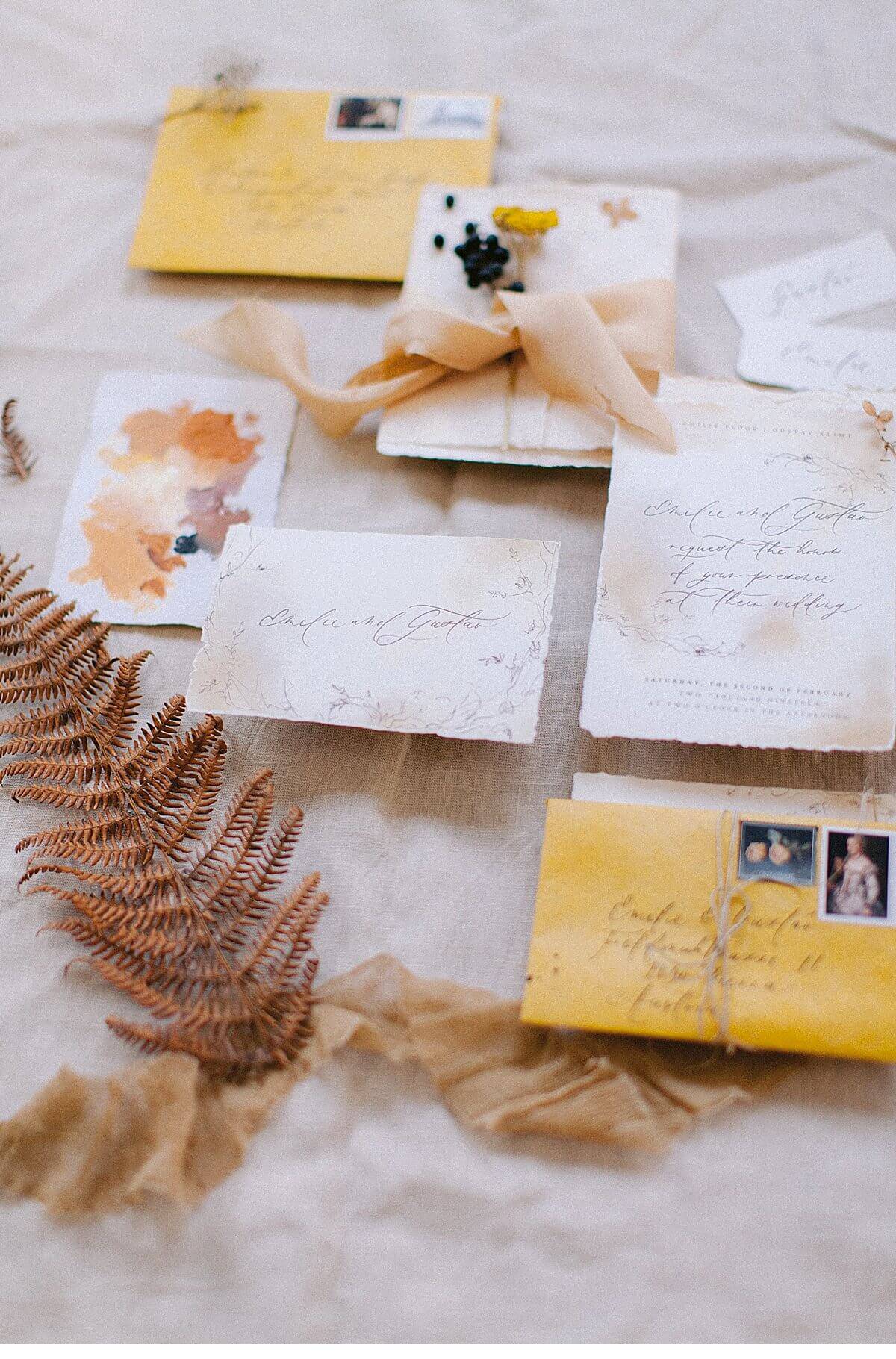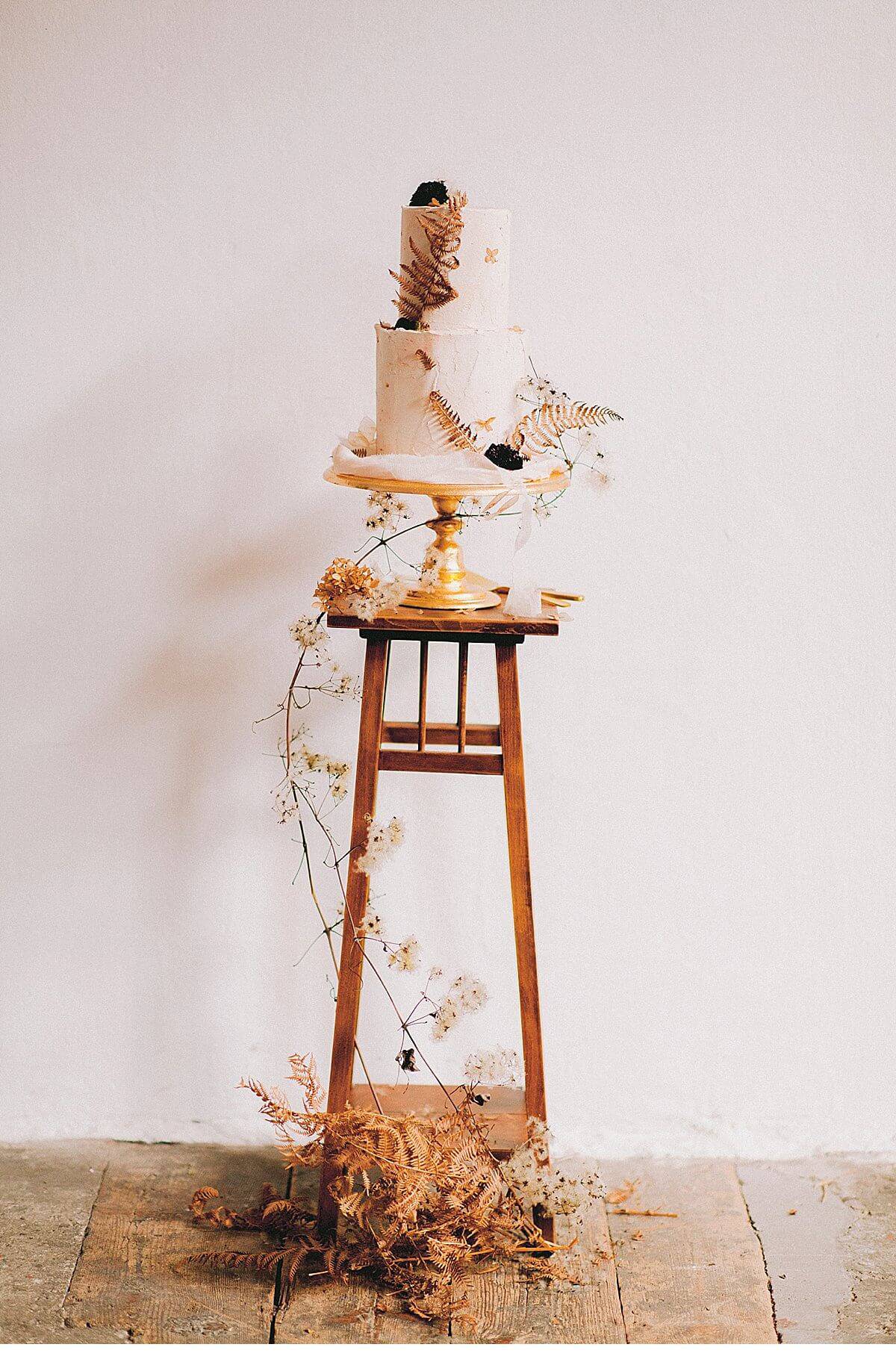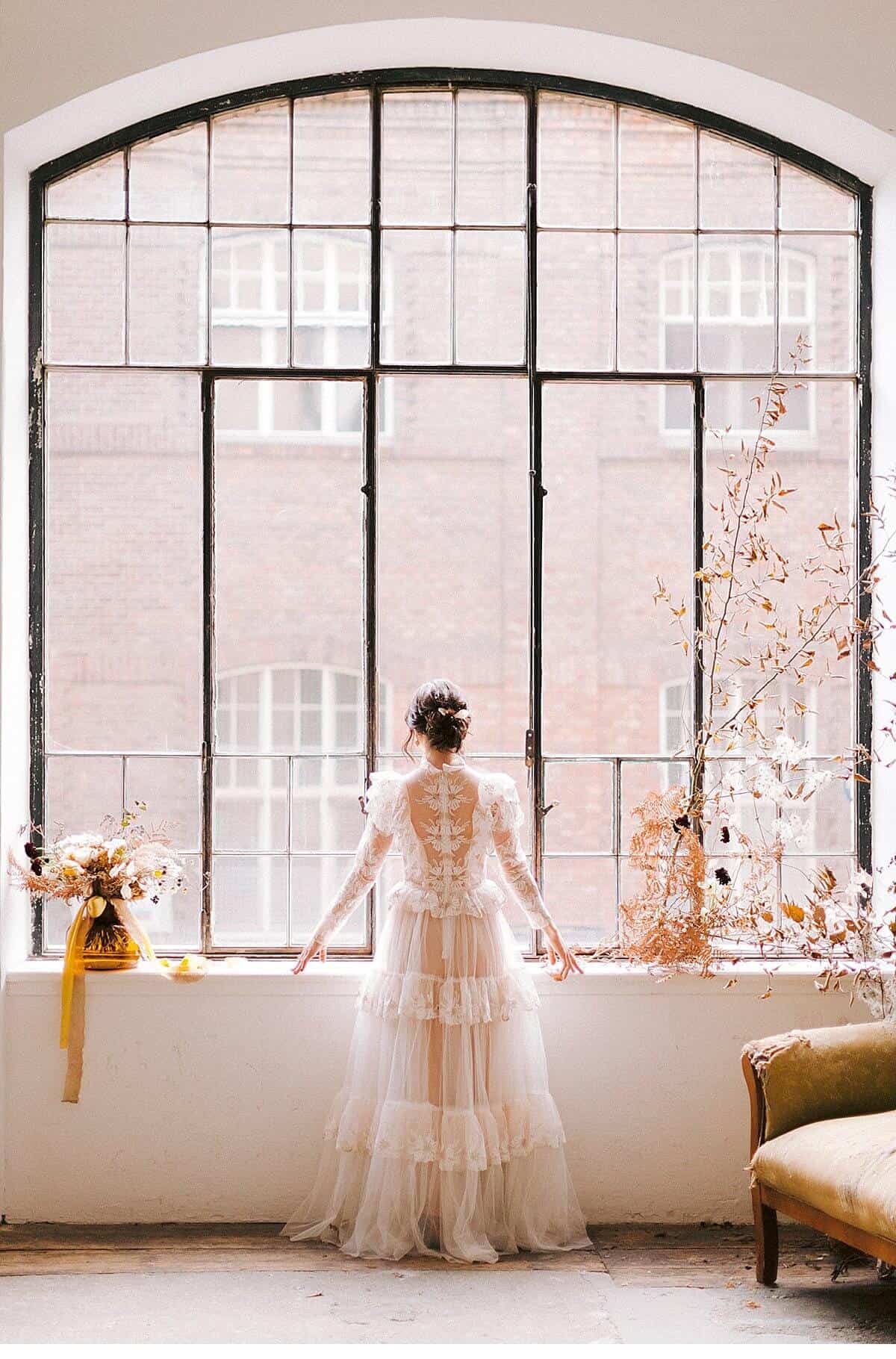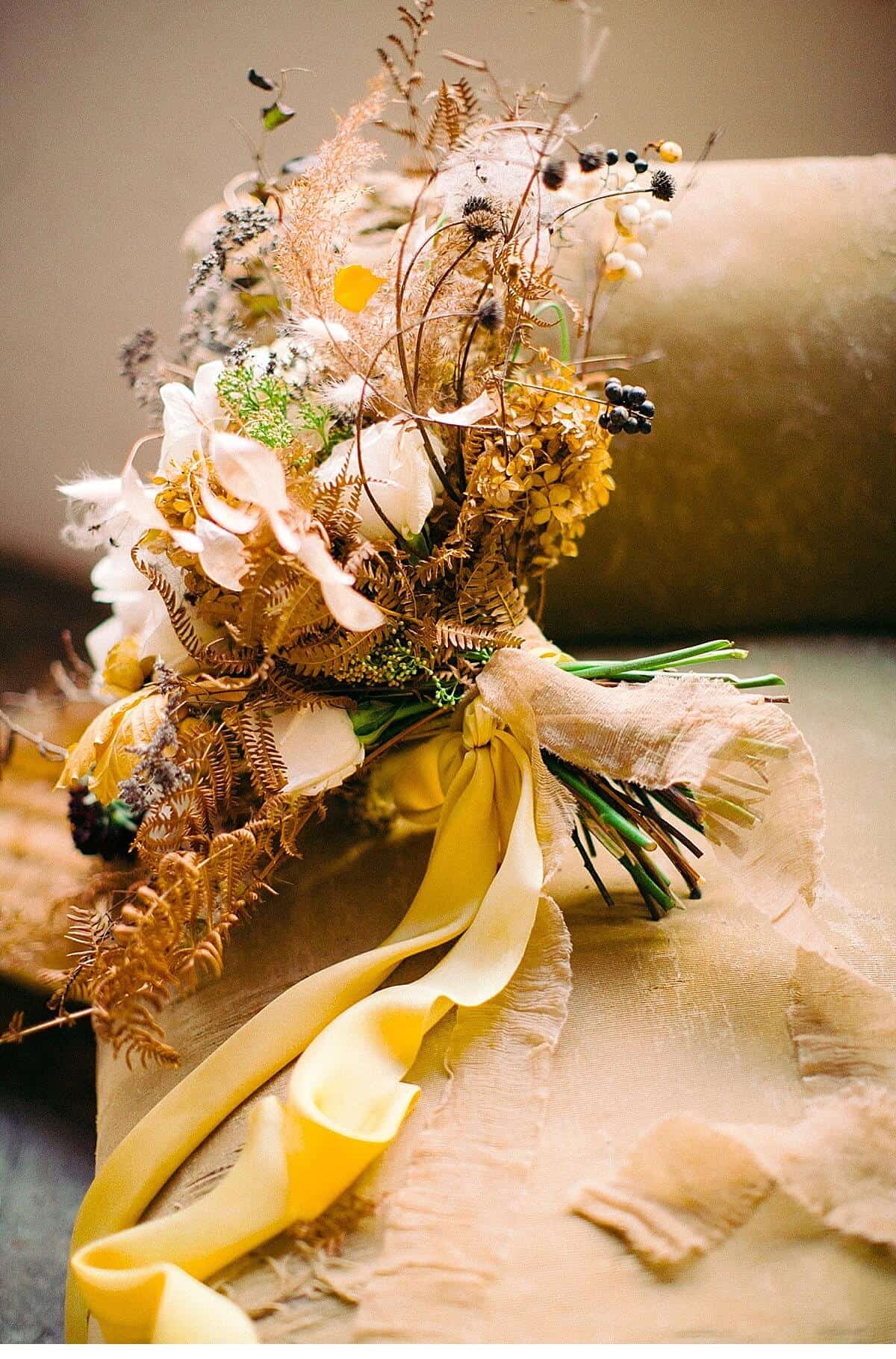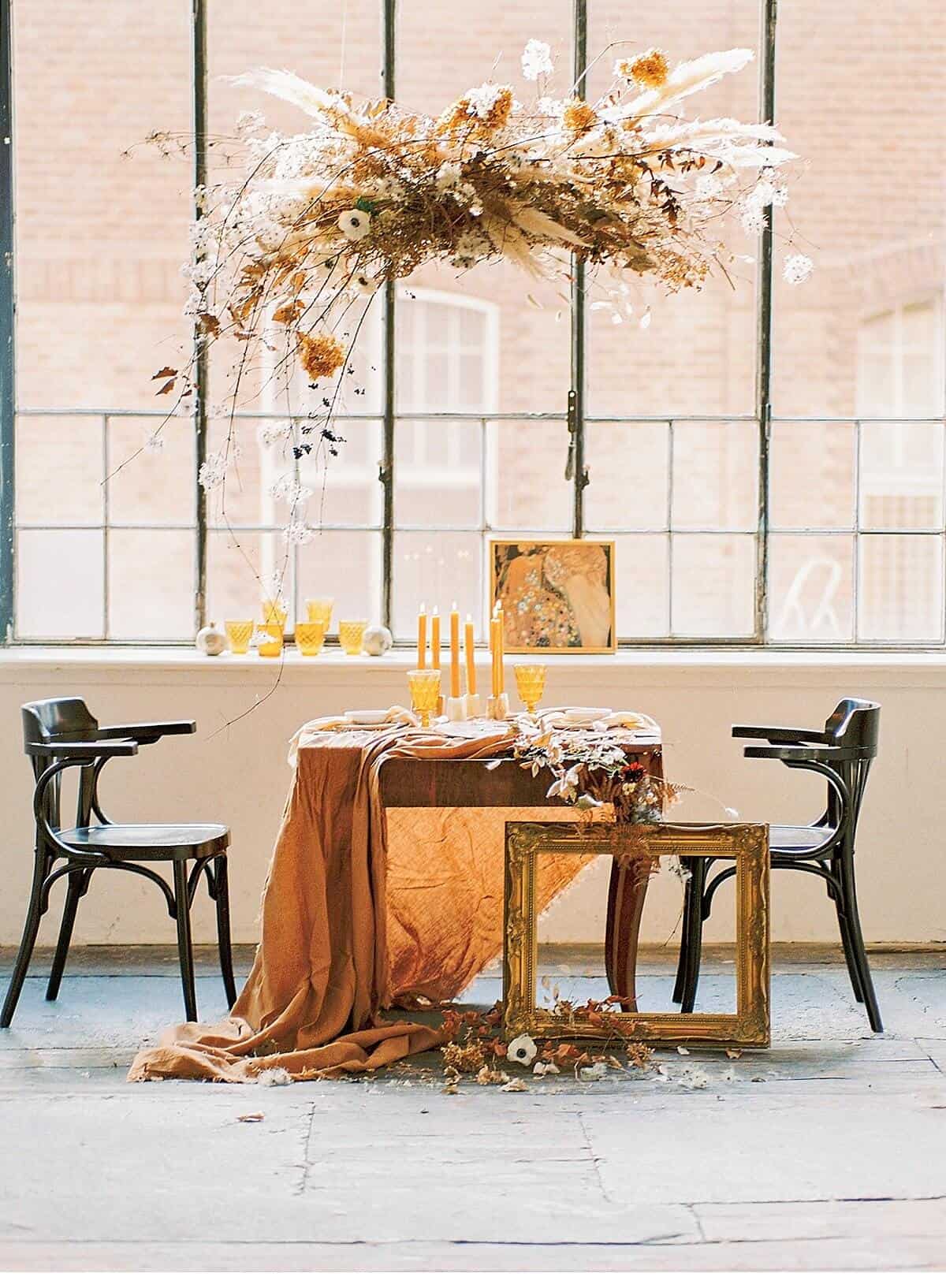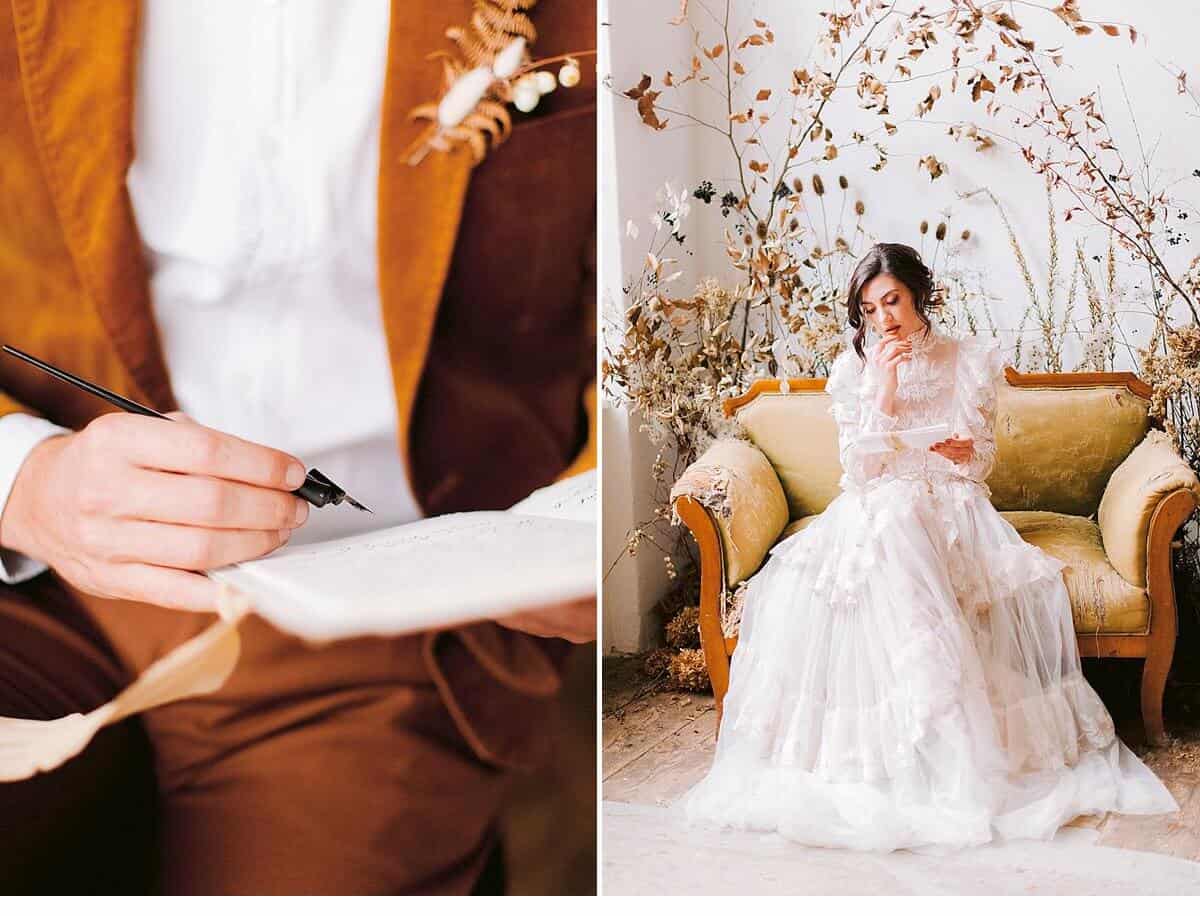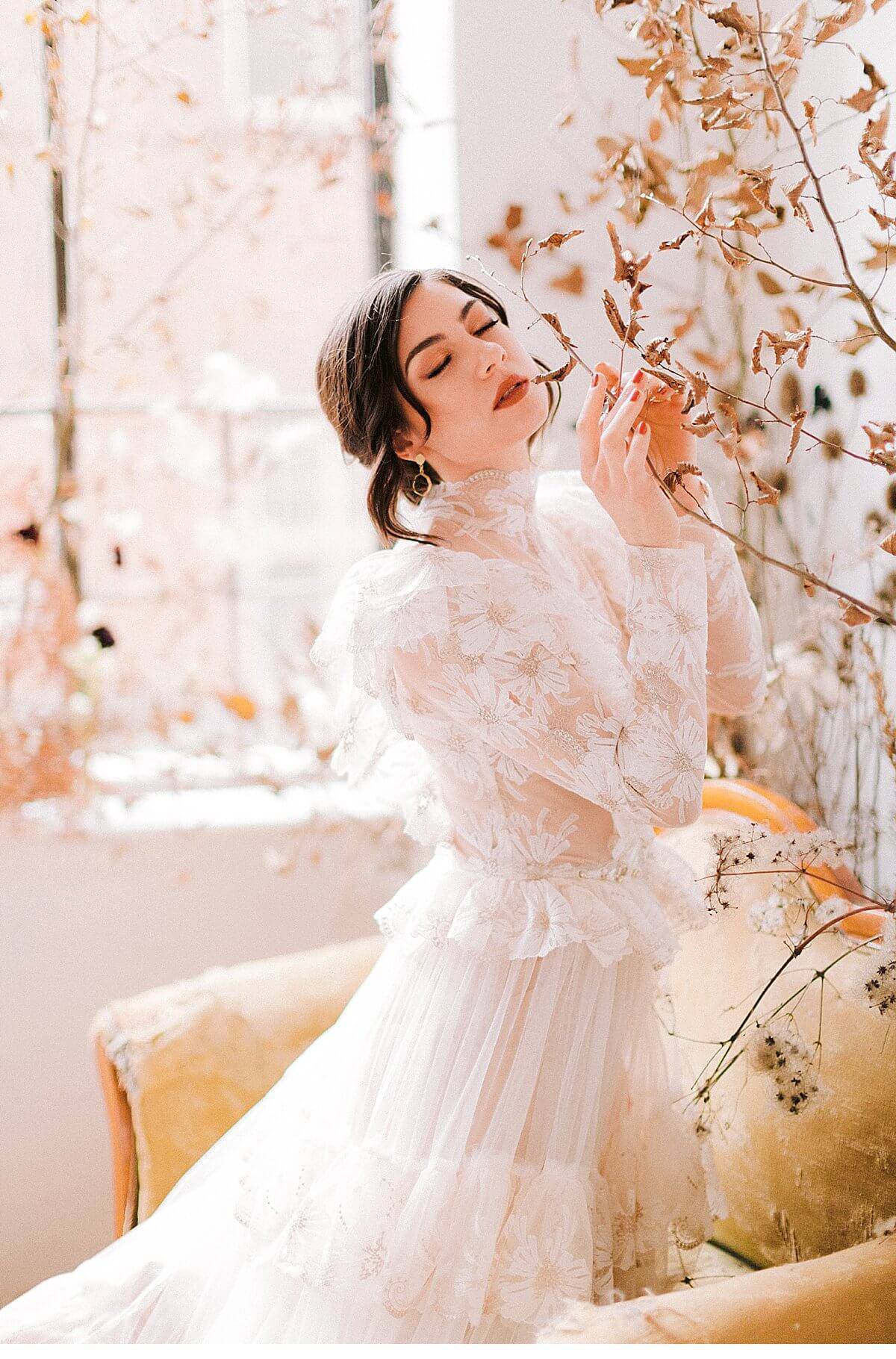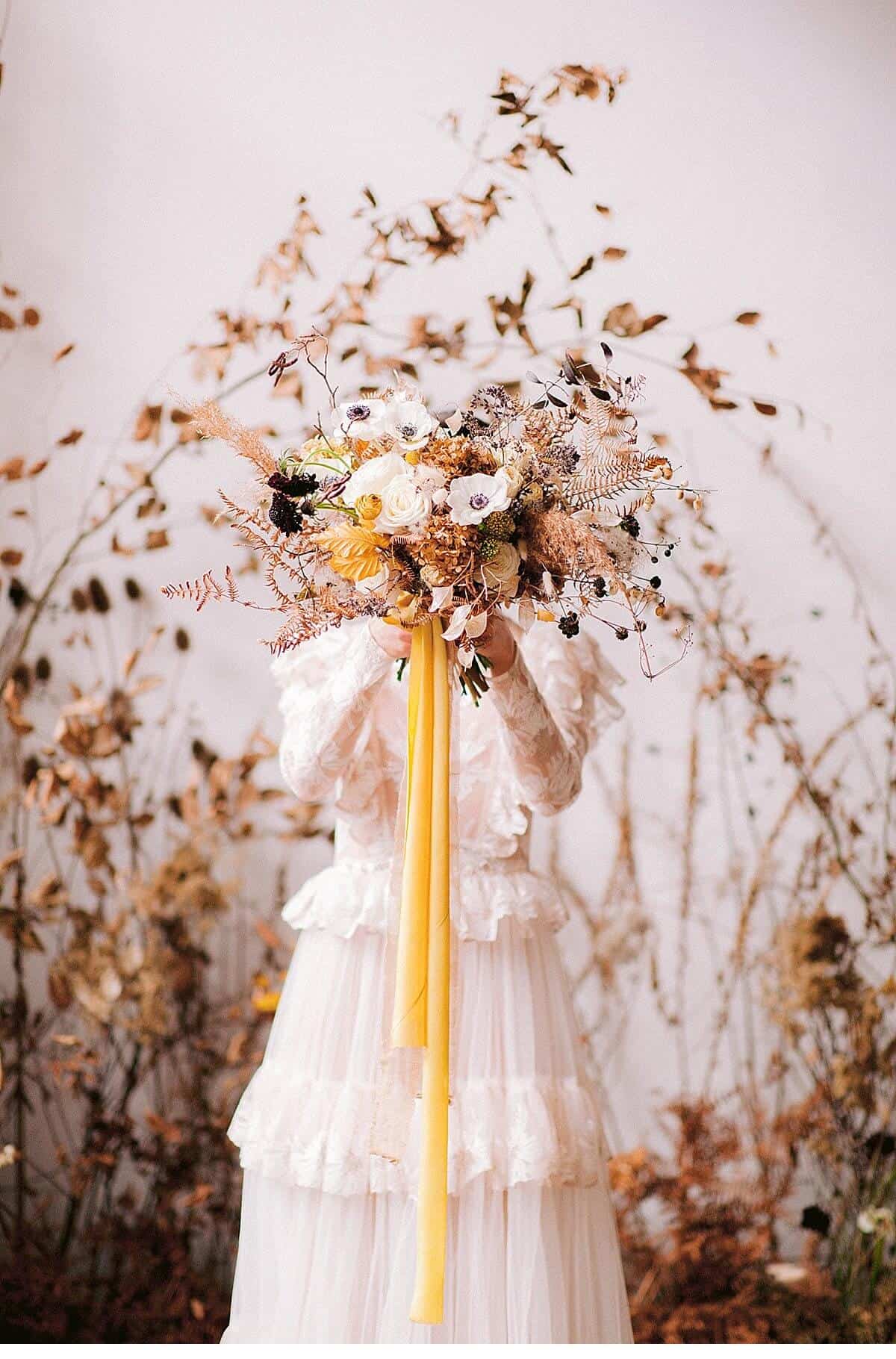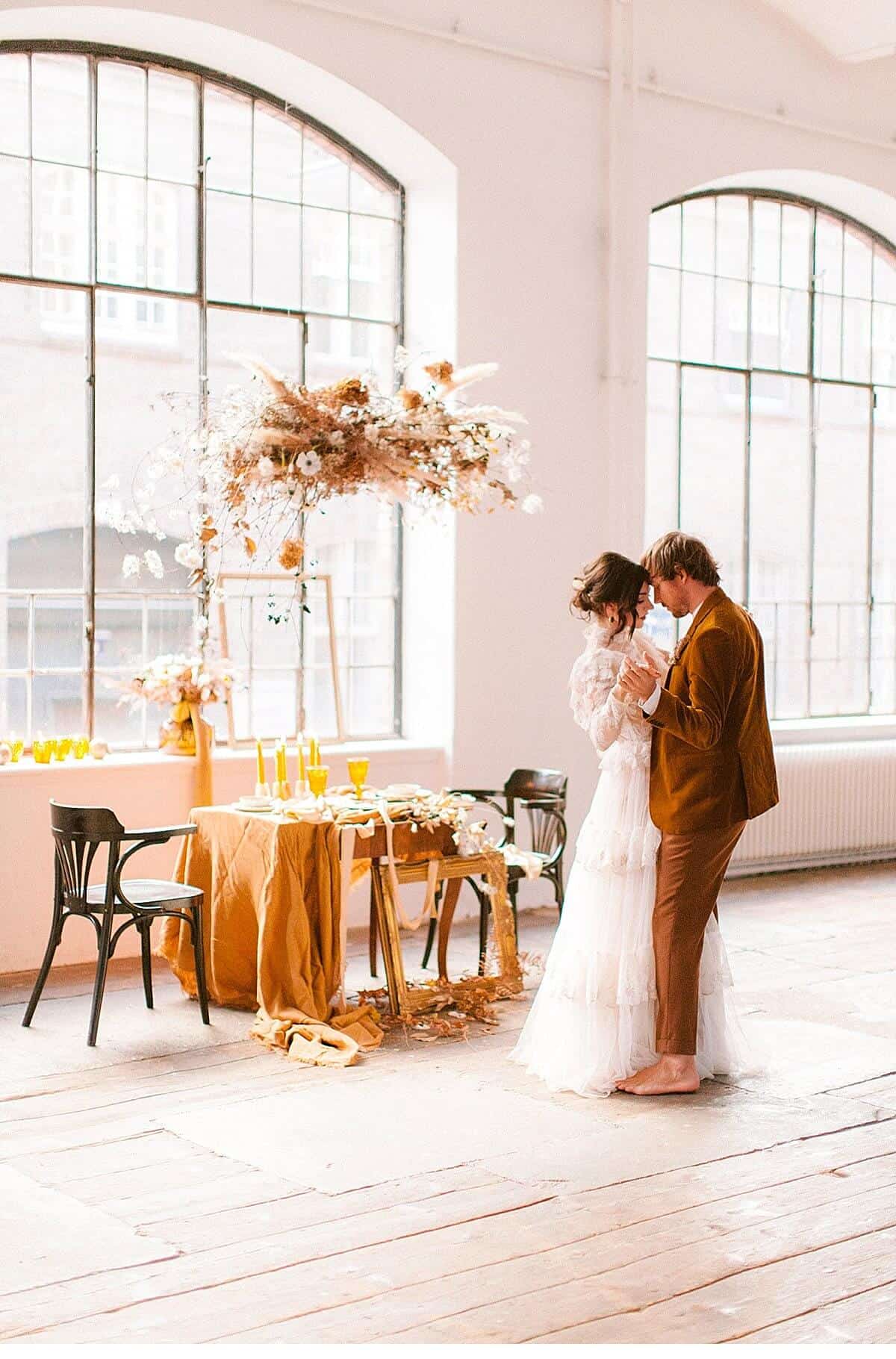 KONZEPT, IDEE & PLANUNG: LOVE Stories Wien, Claudia Fitzinger
DEKORATION: Mademoiselle Fee, Stefanie Rausch
FOTOGRAFIE: The Mezzinoi, Andrei Mezinoi
VIDEOGRAFIE: Santiago Boceta Weddings, Santiago Boceta
PAPETERIE: Atelier Zarah, Zarah Zemlyak
BLUMEN: Florietta, Cornelia Hiermann
KLEIDER: Katya Katya via Brautzimmer
HAIR AND MAKE – UP: Lisa Buchner
TORTE: Kuchen mit Stil, Dagmar Pauser
SCHMUCK: Goldschmiede Michaela Pinter
MÖBEL: Die Möbelei, Timea Oberwagner
BILDERRAHMEN & BESTECK: Wedding Bazaar Vienna
SEIDENBÄNDER: Seidenband
PORZELLAN (Raw Serie – Recyled Porcelain): Feine Dinge
LOCATION: WUK – Projektraum
DRUCKEREI: Druck im 12ten
WEIN: Weingut Felsner
MODELS: Constantin Witt-Dörring, Sophia Grabner, Katja Eibler