Happiness of Love in Hawaii
Nestled only 300′ above the sparkling blue Pacific ocean lies the lovely Hotel Wailea Relais & Chateaux.  Located on the slopes of Haleakala in Wailea on the island of Maui this extraordinary boutique resort boasts not only expansive views but fabulous wedding venues and reception options.
With the stunning images of Stephanie Lynn, today we have the opportunity to travel to this magical location and marvel at a gorgeous editorial. The fantastic team from A White Orchid Wedding impresses us with their attention to detail, sense of beauty and creativity. The arguments are feather light, aesthetic and modern. The visions of a Hawaiian wedding are full of diverse inspirations and captivate the viewer.
From A White Orchid Wedding:  "Rated as one of the top 25 "Most Romantic Hotels in the World" by Conde Nast Traveler, we were pleasantly happy to agree!  Upon roaming through peaceful 15 acres of zen-inspired landscaping we were tickled to explore their tropical gardens, cascading waterfalls, and secret nooks that comprised our inspiration for this shoot.
What we loved immediately was the exquisite architectural features and textures of the construction of this resort.  The combination of lava, river rocks, stone, and natural elements was ideal for our project.  It felt as though we were "In a lovely private Frank Lloyd Wright-designed mansion – kids in a candy shop if you will".  The hospitality was impeccable as well.
Our inspiration was to capture a romantic yet formal feeling for our couple with a minimalist vibe.  Our ceremony setting was chosen on their lower lanai as we felt not only the architecture of the site was perfection but that the serenity of the bamboo forest and palm tree skyline said "Hawaiian Wedding" in a subtle fashion.  Our floral columns with trellises of flowers in warm tones of mustard, cinnamon, and green felt as if they were growing naturally at the altar.  We opted for wishbone chairs to surround the altar.
The Anuhea Ballroom with its grandeur of river rock walls and open-air setting provided our dining room setting. While one open-air wall opens up to the exotic gardens, the other opens up to the sound of their plunging waterfall and pond area unlike no other.  Truly delightful.  Enormous ceilings and hardwood floors are a definite highlight.
It is here we played with the light by adding sheer runners with hints of gold, cream and cinnamon combined with tabletop layering to mimic the ceremony site.  Our entry matched the alter area welcoming you to the next chapter of this experience.
What would be the perfect finale?  The beach of course!  Just minutes away our couple was whisked away to the shores of Makena where they frolicked in the sea for those 'OMG' shots…"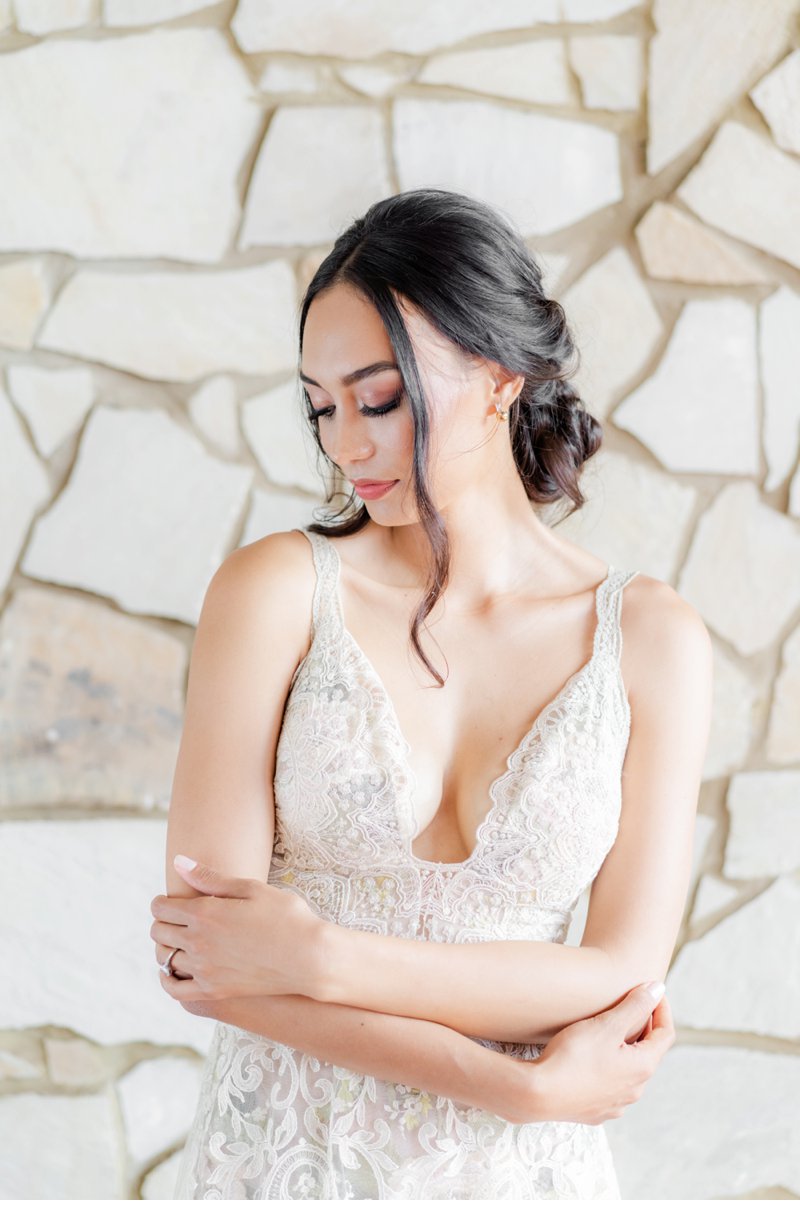 Photography: Stephanie Lynn Co
Planning & Design: A White Orchid Wedding
Stationery: Nancy Huang by Design
Rentals: Rio Event Design
Venue: Hotel Wailea
Videographer: Zeb Films
Hair and Makeup: Maui Makeup Artistry 
Dress: Claire Pettibone
Jewelry: Treasure Imports
Men's formal wear: Elly's Formal Wear
Florals: Fernhouse Flowers Maui
Wedding Submission Services: Published + Pretty